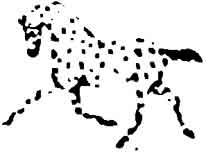 ---
Welcome to "Appaloosa Territory"
a celebration of Appaloosa* horses.

---
---
Appaloosa Territory offers the following:
A complete [1-4932] numerical list of Foundation Appaloosas registered with the Appaloosa Horse Club with the "F" prefix . Some photos included. Offspring lists have been/are being added as time permits. Most likely the lists are Not complete. Any additions/corrections would be most appreciated.


The first 3500, plus #7201-73xx (to date) registered Colorado Rangerbreds are listed numerically. More will added as time permits. Sire, dam, color, foal date, breeder and some photos included.


The first 10,000 ApHC Tentative registered Appaloosas are listed numerically. (Alphabetical list here.) More will added as time permits. Sire, dam, color, foal date, breeder and some photos included. Thanks to Bonnie Newitt for supplying AT with a massive group of scans of these horses, they ARE being added... [February 2016]


The first 1400 Canadian Appaloosas registered with the Appaloosa Horse Club of Canada are listed numerically.


Appaloosa History, short articles about other Appaloosa owners/breeders and/or Appaloosas, both famous and little known, current and past.


What's NEW! Navajo's Candy, the spot source for the Ulrich spots has his own page, with a compete list of offspring thanks to Tracy.



What's NEW! Willow's Creek has her summer photos posted! [July 2016][August 2016]



What's NEW! Production list added to Big John's Domino webpage. [July 2016]



What's NEW! Complete ApHC Production list added to Mansfield's Comanche webpage, as well as several articles. [July 2016]



What's NEW! Shavano F-1679 has a page based on a 2001 Sundance Newsletter article. [July 2016] Update: Shavano's page now includes a complete list of his direct offspring...and a few more photos of them. My thanks to Tracy Meisenbach for furnishing this list.



A page showing how Appaloosas can change their "spots". A page listing Appaloosas registered from two "registered Quarter horse" parents. Additions/corrections appreciated. : )
Links to Appaloosa organizations, and to informational sites
Paintings of Appaloosas (mostly historical; both professional and amateur), Appaloosa spots and Appaloosa characteristics.


Looking for a photo of a particular Appaloosa on this site?
There is now a search box for the entire site here. [Febraury 2016]
There is an alphabetical index of historical photos.
There is an alphabetical index of (mostly) recent or current Appaloosas .
There are some photos in the Foundation section, the Tentative section, and the Colorado Rangerbred section, all are numerical listings, but am working on an alphabetical list as well..someday.
Last but not least, notification about errors/corrections is always appreciated. : ) More information is vastly appreciated!
---
Spots From The Past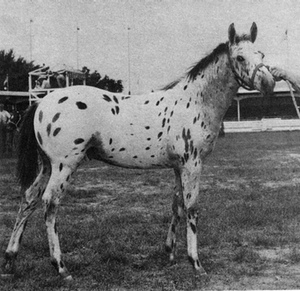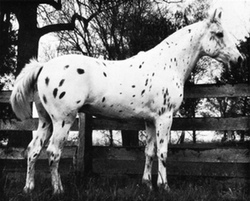 High Thunderbird F-1822 (1955)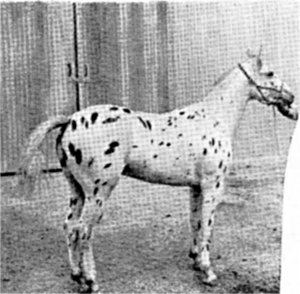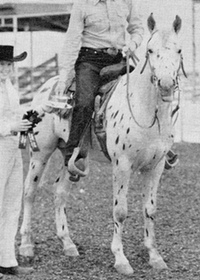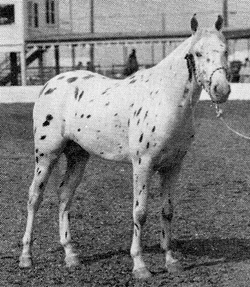 High Thundercloud F-1823 (1957)

Full brothers, sired by Apple F-621 out of Wiggins Boots F-1820.
And I just noticed they have a sister, too: Black Arrow F-1821 (1956), who was black, with white spots over hips!
Anyone have a photo of her?
"Appaloosas are known for the spots that mark them and for leaving a mark on the people who love them."
from Appaloosa Trading Post/Johnsons of Simcoe's Chinook F-1610 fame.
---
*Appaloosas/Foundation Appaloosas:
Those Appaloosas that have not been excessively and purposefully outcrossed to other breeds;
Those descending with little outcrossing, from the original registered stock of the Appaloosa Horse Club, Inc,(ApHC);
The "real" Appaloosas as compared to those that are only "Appaloosa" by virtue of their registration with the ApHC;
Those that don't look like, act like, or have a pedigree of another breed;
Those that don't stand a chance in the breed halter classes, because they don't look like another breed;
"Foundation" as compared to "modern" type Appaloosas;
and Last, but not least, we mean the stereotypical Appaloosa -
those Appaloosas that the world has been brainwashed to view
as "big-headed, big-footed, rat tailed, ugly and crazy," but are far, Far, FAR, from that description.
See for yourself ;)
***
"A good man will take care of his horses and dogs, not only while they are young,
but also when they are past their service."
Plutarch
***
About any Horse...
An old man was picking up objects off the beach and tossing them out into the sea.
A young man approached him and saw that the objects were starfish.
"Why in the world are you throwing starfish into the water?"
"If starfish are still on the beach when the tide goes out and the sun rises high in the sky, they will die," replied the old one.
"That is ridiculous. There are thousands of miles of beach and millions of starfish. You can't really believe that what you're doing could possibly make a difference!"
The wise old one picked up another starfish, paused thoughtfully, and remarked as he tossed it out into the waves,

"It makes a difference to this one."
---
Contact Appaloosa Territory
This page last updated August 2016