Appaloosa Territory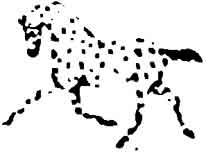 ---
Appaloosa History:
Argentine Appaloosas
---
From Whence They Came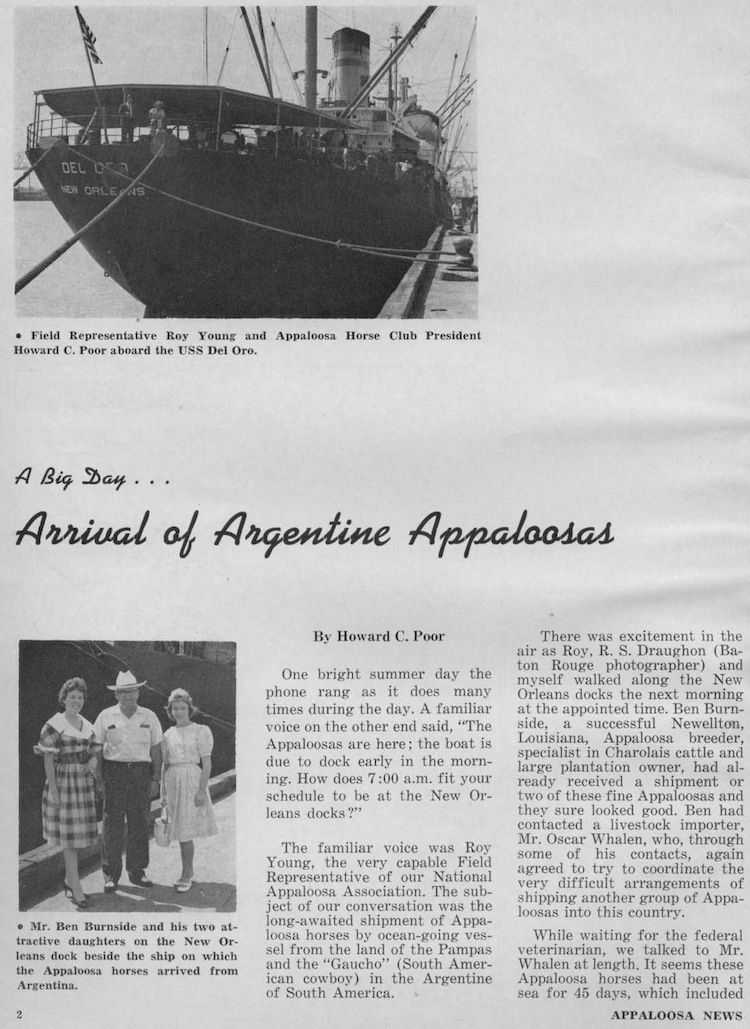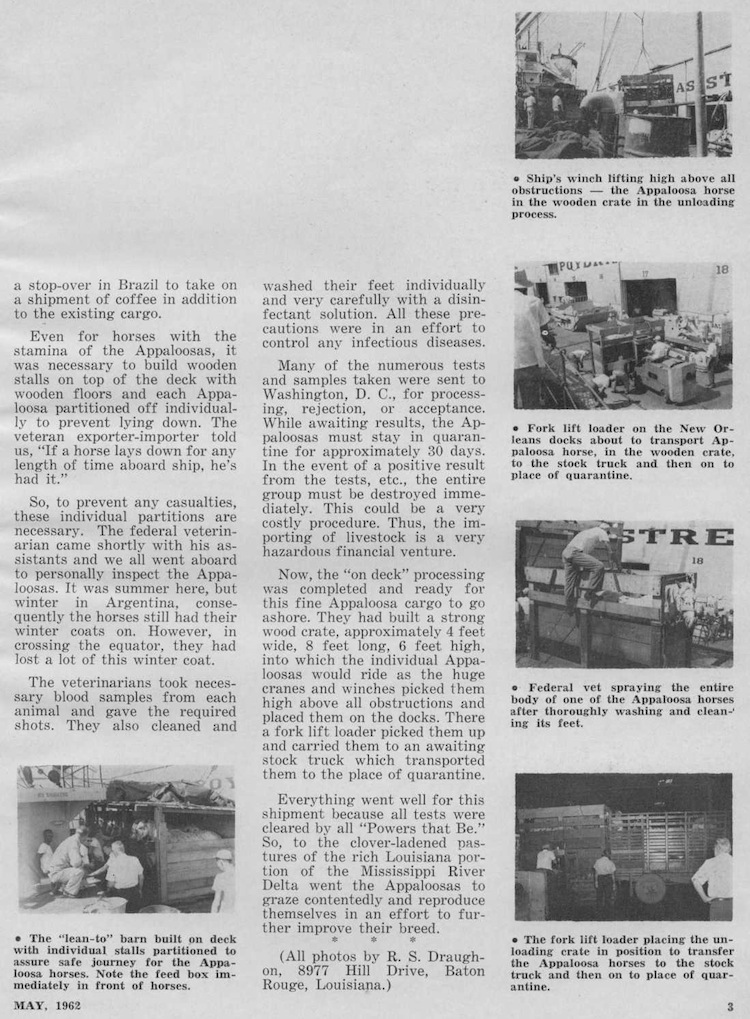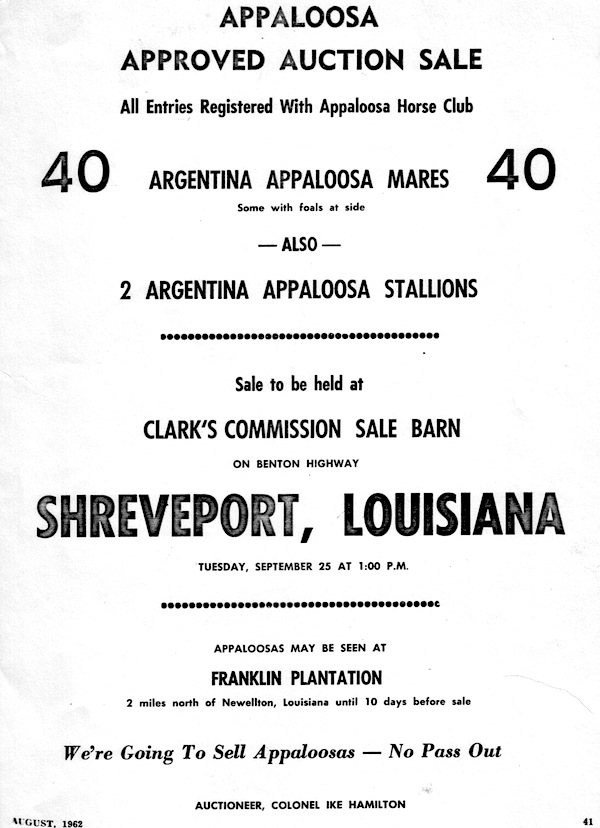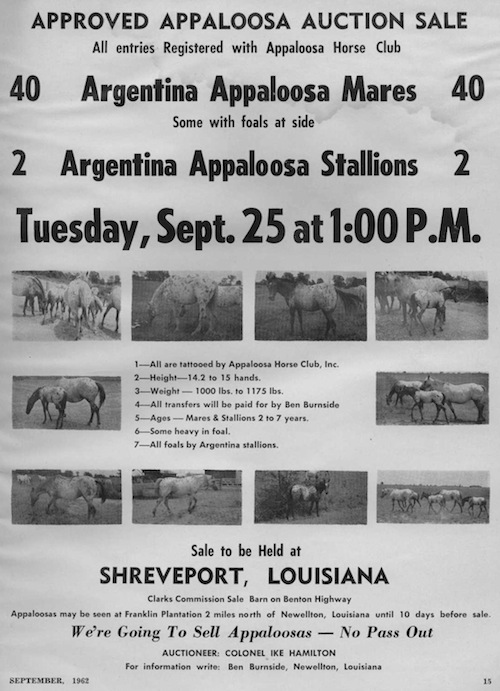 In case you haven't noticed, when leopards are mentioned I perk up and pay attention. So when I stumbled across Ben Burnside's full page ad in the April 1962 Appaloosa News 1, and saw leopard after leopard, my sonar was pinging away. Further looking through 1962 brought me to an May article2 talking about a ship load of Appaloosa spotted horses being delivered to Ben Burnside in the port of New Orleans, Louisiana. There were pictures, and in a couple you could make out a spotted horse or two, but not super satisfying. Reading the article, it turns out this was the third load of Appaloosa from Argentina. Like Holy Cow! Are they ALL leopards? Where did they come from?
Well, duh, obviously there are spots in Argentina. These horses went through customs, were quaranteened, went to the Burnside Plantation, were registered with the ApHC, and some of them eventually ended up in a Burnside sale such as the one advertised in September 1962 issue of the Appaloosa News3 . The imported Argentine stock, now registered with the ApHC by Burnside, was distributed across the country. Burnside's David M, turned out to be the most "famous" horse of the 'Argentine' Appaloosas.
Below is an excerpt from a letter from Elaine Koehler of Pine Forest Appaloosas dated 1975. Elaine owned Bama Jenks, an "Argentine Leopard," and vigorously attempted to find out more about them: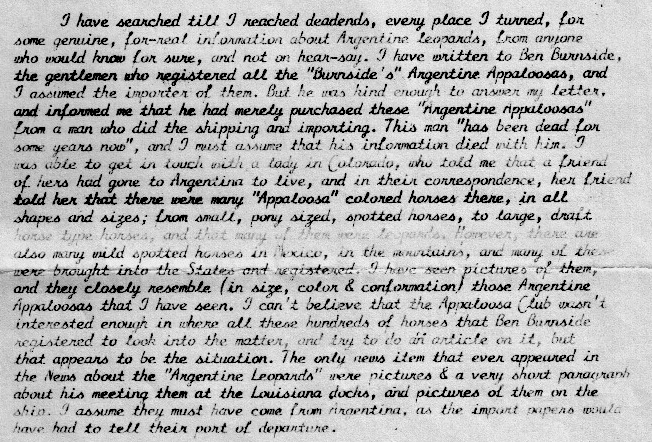 ---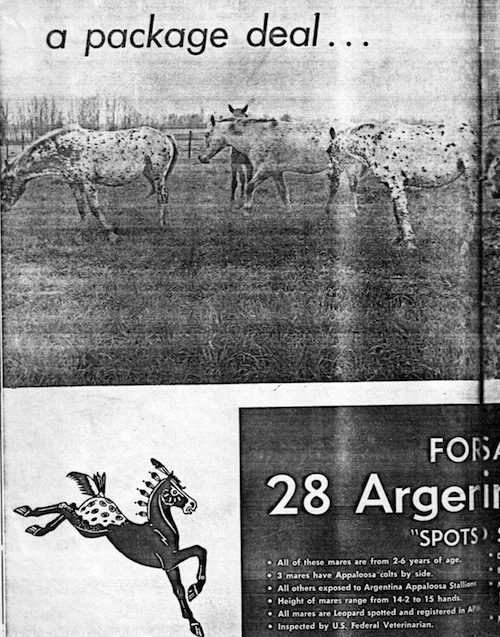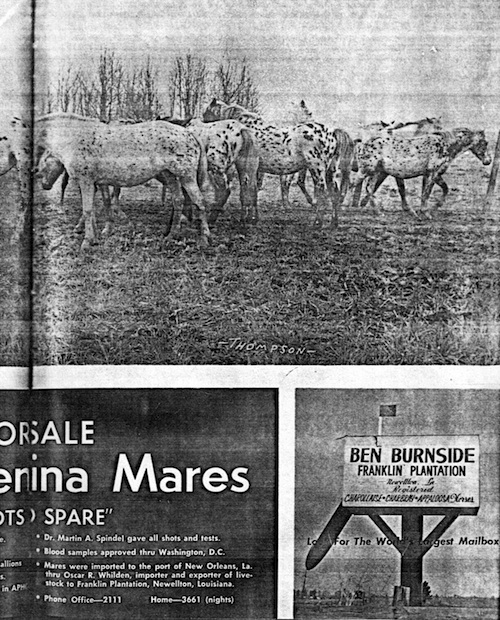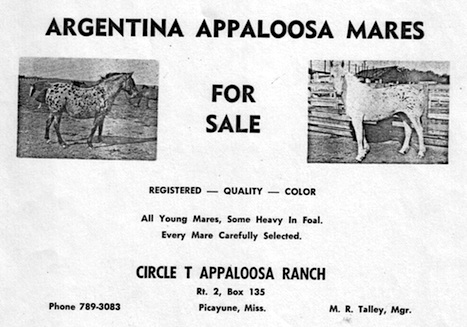 And about a year after the sale, the Argentine Appaloosas start showing up for sale elsewhere.
---
Burnside's David M and the Oxandaburu Ranch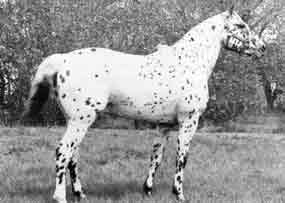 Burnside's David M was owned by the Oxandaburu Ranch of Huron, South Dakota. He was campaigned heavily and won at many shows. In 1965, David M stood at Bill Allen's ranch in Gladstone, New Mexico. Bill Allen was David M's trainer at the time. By 1970 he was being shown by Shorty Russell of Brownwood, Texas. David M became well known not only because he was shown a great deal Ð but because he did well, particularily in performance events such as reining and calf roping. David M was also well advertised by Oxandaburu in the Appaloosa News. Additionally his get were shown and placed, adding to his visibility.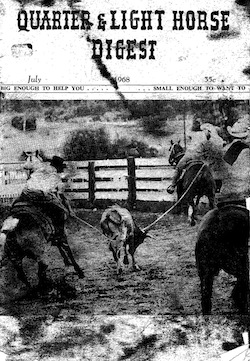 From the Quarter and Light Horse Digest, July 1968, comes this little portion of an article written by Gene Carr:
" Eva and Cadet Oxandaburu, Huron, SD flew their trainer, Shorty Russell from Texas to South Dakota just to compete in the Madison Appaloosa Show. They are Real competitors and are out to prove that thye raise good Appaloosas that can comptete with the best of any breed of stock horses. The spectators watched in amazement as Shorty put Burnside's David M through the reining pattern. It was like watching a tightrope wlker perform on the high wire at a circus. They made it look so simple, as only a professional and champion ca. Eva is one to watch in competition as she was standing in first place in the mare and foal class with a heavy muscled dark brownmare with white spots over the hjips and a leopard colt unti the shaving foam spots started to run down the hips of the mare. It had the humorous touch to the show which makes horse showing so much fun. Eva took a chance and bred her champion AQHA daughter of Pat Star Jr to Oxburn's Buster B and gained a champion leopard colt. Why was it a chance? Oxburn's Buster B is also out of an AQHA mare, which sometmes makes one dubious to try again for an outcross."
---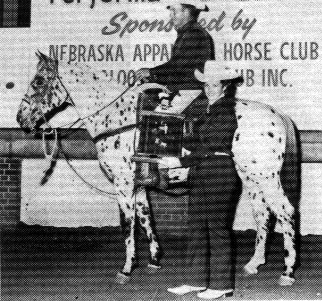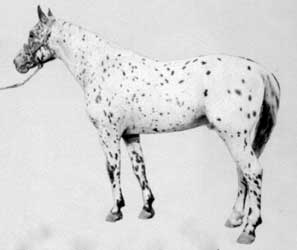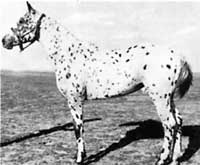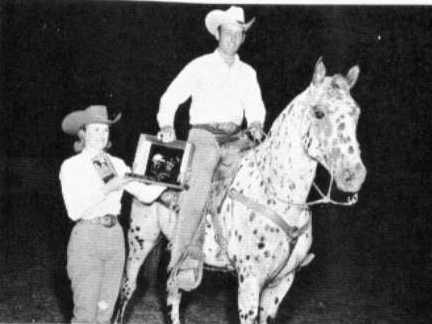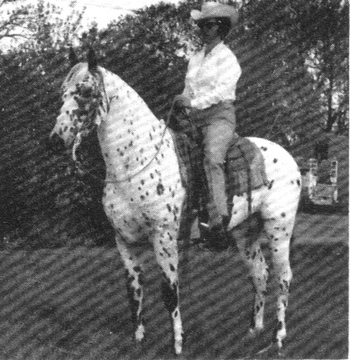 ---
Some of Burnside's David M's Show Accomplishments:4
1964 - Junior Reining Champion - 17th National Appaloosa Show
1964 - World's Champion Appaloosa Performance show, Sedalia, MO, Calf Roping -5th place, Reining, 7th place
1964 - Colorado State Fair: Appaloosa Reining - 1st Place, Open Reining - 1st Place
1964 - Fat Stock Show, Ft Worth, 2nd place
1964 - National Western, Denver - 1st place
1964 - Four Corners Show, Farmington, MN: Grand Champion Stallion, Reining - 1st place, Calf Roping - 2nd place
1963 - Colorado State Fair - Reining - 1st place
1963 - New Mexico State Fair - Reining - 1st place
and a show winning published later in 19655: Grand Champion Stallion, 1st Aged stallions at the South Dakota State Fair
1966 All American Appaloosa Sweepstakes: Senior Reining 1st; Calf Roping 2nd; Team Tying 1st and 2nd
1967 All American Appaloosa Sweepstakes: Senior Reining 1st; Calf Roping 3rd; Team Tying 3rd
1967 James Valley Appaloosa Show, SD: Western Pleasure, Calf Roping, Reining 1st
1967 Grand Champion Halter Stallion, Madison, South Dakota; Ft Pierre, SD; Sioux Falls, SD
1967 National Reining Futurity, Columbus, Ohio: Open Reining in first Go-round: 1st
1969 - World Championship Appaloosa Show - 1st Calf Roping, winning over Coke Roberds.6
1970 - National Appaloosa Show, 1st Sr. Reining7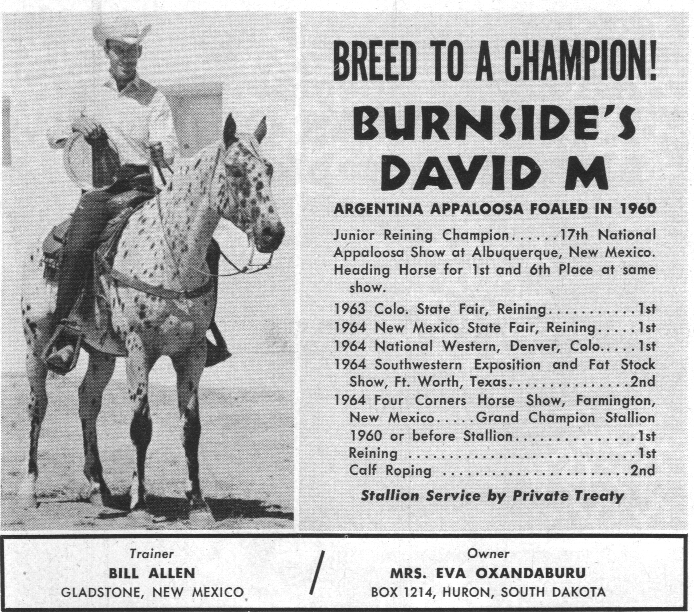 Western Horseman 1964 ad (page 104)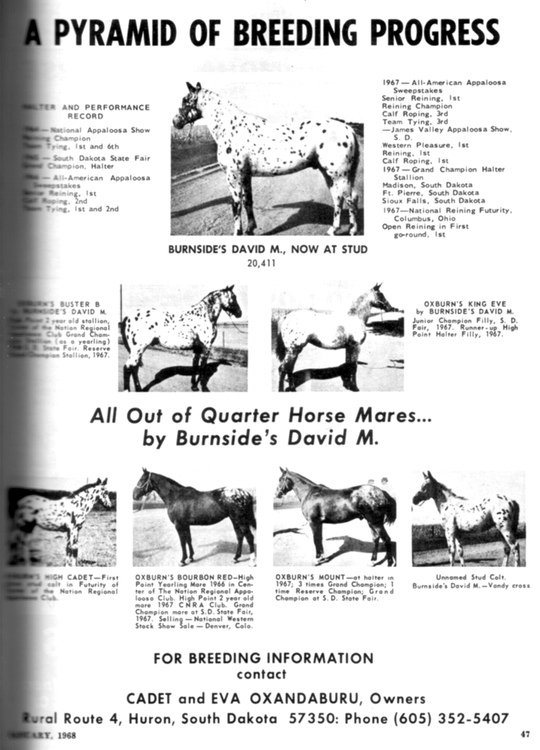 Appaloosa News January 1968
---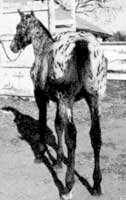 David M's get were also winning in futurities, including one filly being the 1966 CON Champion mare.8and Oxburn's High Doe winning the 1970 CON colt futurity.9
Oxandaburu Ranch offered two horses in the 23rd National Sale. They were Oxburn's Jacquette #108360, a 1969 mare by David M and out of a mare named Jackie who was by High Hand F-3366. Jacquette was a near leopard/body blanket pattern. There is a photo of her in the Appaloosa News June 1970:89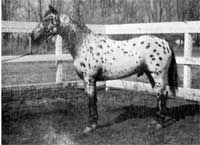 Their other offering for the sale was Oxburn's Pat Star #92749, a 1968 stallion by Trinchera Diablo #20411, a son of David M. Pat Star's dam was a registered Quarter mare. Pat Star was CON 1968 colt Futurity winner, high point colt and high point yearling.
---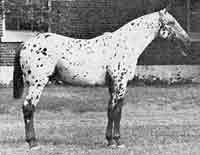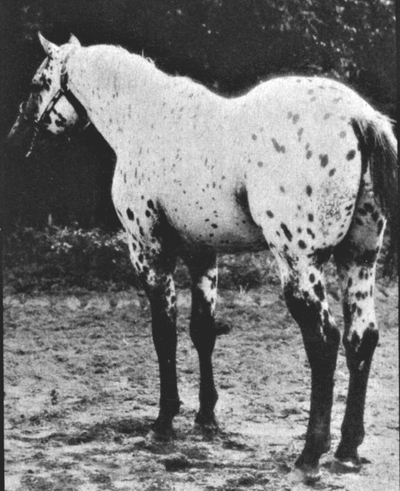 A colt that ended up in New York state was Prince Junior. Sired by Prince Fury and out of Oxburn's Pat Starlette (pictured below), a granddaughter of David M through his son Oxburn's Turk #85230. He was owned by Joan and Robert Welch of Fulton, New York and was Reserve High Point Yearling Stallion for EOYA in 1975.
---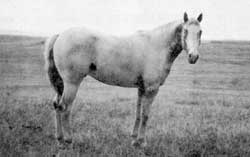 Another son of David M, David M's Flush was a colt advertised in the 23rd National Appaloosa Horse Show Program. Owned by the Lambourn's of North Dakota, they stated that Flush "is proving himself as a good ranch horse. He shows lots of cow sense with the same athletic abilitly as his sire."
---
Some other advertised or winning get and grandget of Burnside's David M: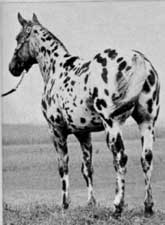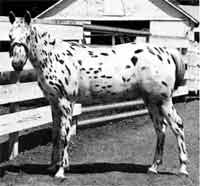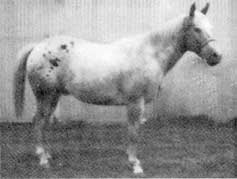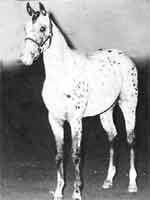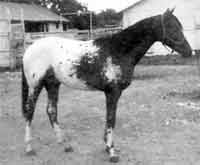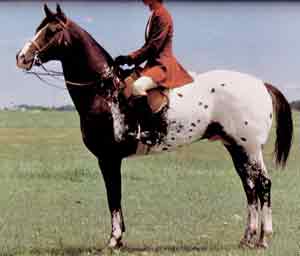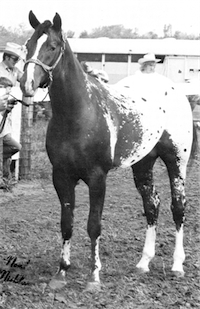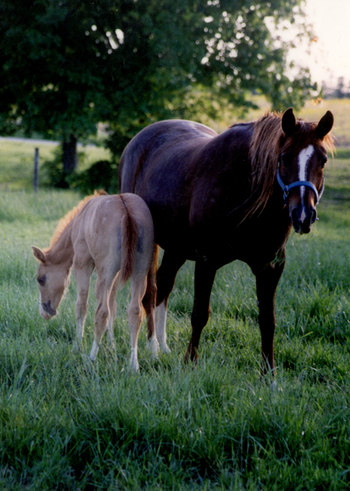 Jeannie Jinx N317209 (Oxburn's Doe Boy x Twiggy Jinx AQ)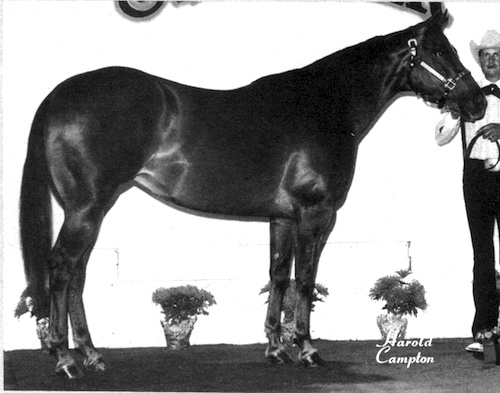 Doe's Fancy Lady (Oxburn's Doe Boy x Rancher's Fancy)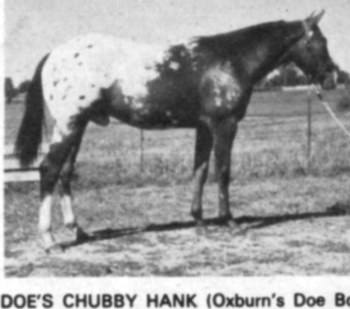 Doe's Chubby Hank (Oxburn's Doe Boy x AQ)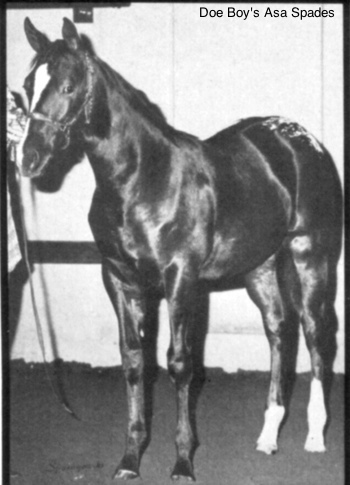 Doe Boy's Asa Spades (Oxburn's Doe Boy x Mario Girl AQ)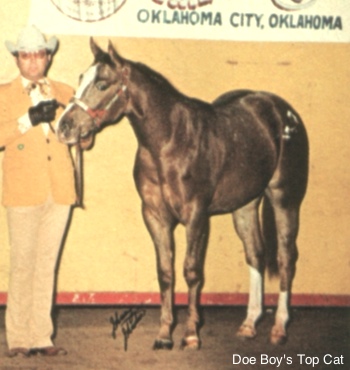 Doe Boy's Top Cat #223045 (Oxburn's Doe Boy x Tom's Flo Fleet AQ)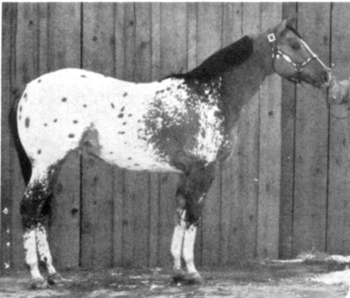 Doe's Chief Wampum #223049 (Oxburn's Doe Boy x Sugar Pok AQ)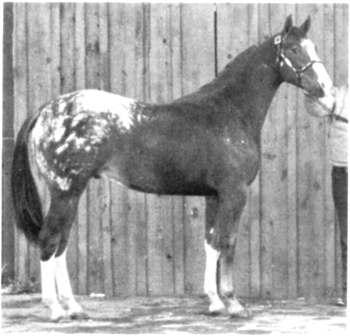 Doe Boy's Iron Dude #223046 (Oxburn's Doe Boy x Elmore's Queen AQ)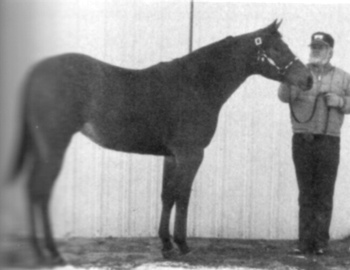 Doe's Rockette PC 1421 (Oxburn's Doe Boy x Wauke's Dream AQ)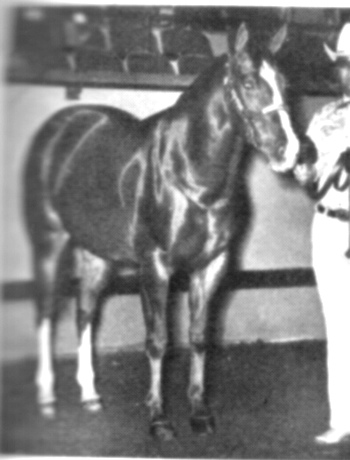 B and S's Doe Babe #165909 (Oxburn's Doe Boy x Elmore's Queen AQ)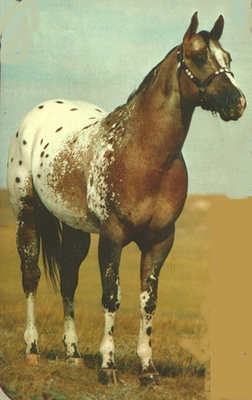 Doe's A Rollin, 223049, a 1975 son of Oxburn's Doe Boy.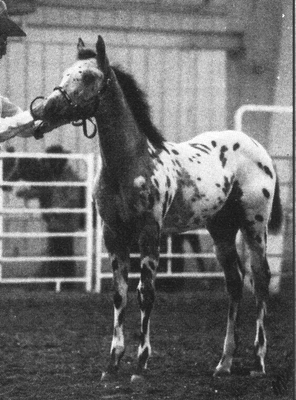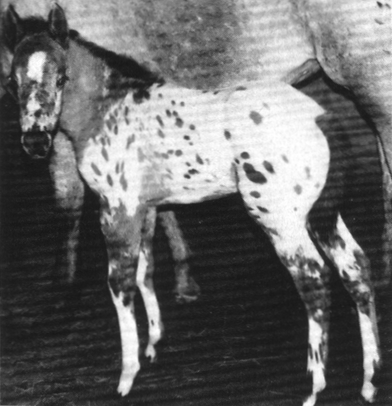 Doe's Unlimited (left), and Ona Count Of Doe (right), full brothers, both sons of Doe's A Rollin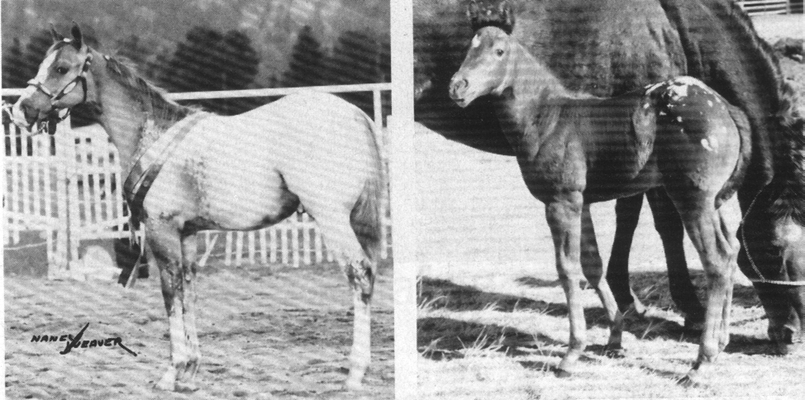 Gopher Doe Midway and Doe's My Daddy #342097, both offspring of Doe's A Rollin.
---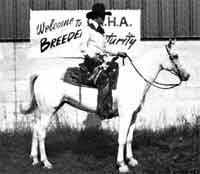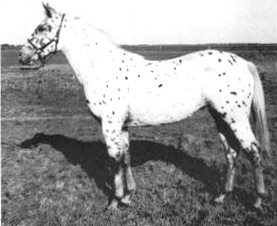 Abrilaire 168777
1972 mare
Sire: JC
Dam was Burnside's Lindy Lou 22975 by/out of "Argentine" Appaloosas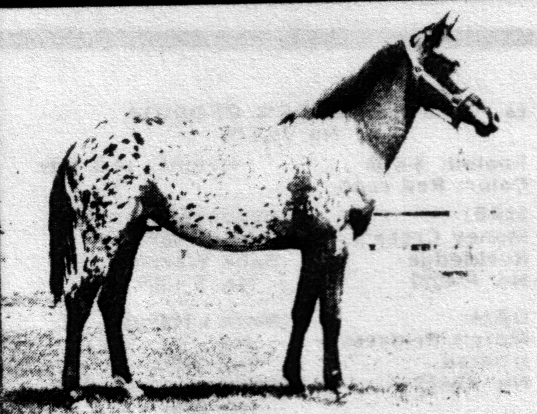 Cinder Mak Queen,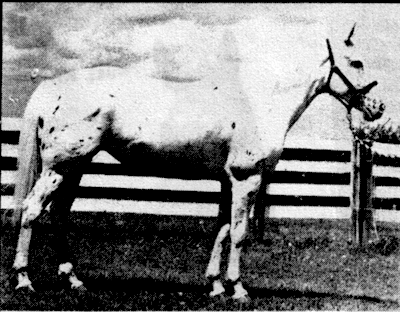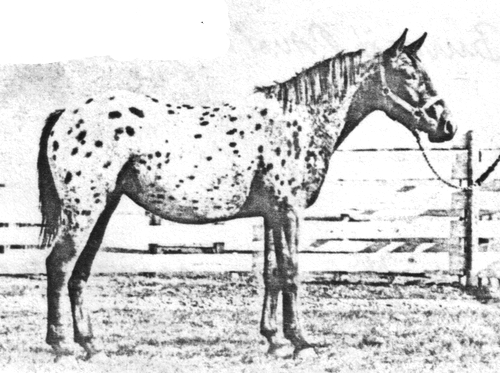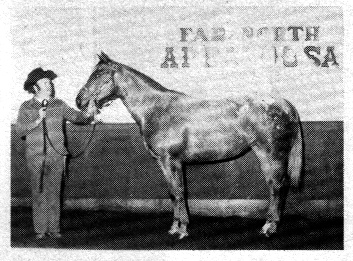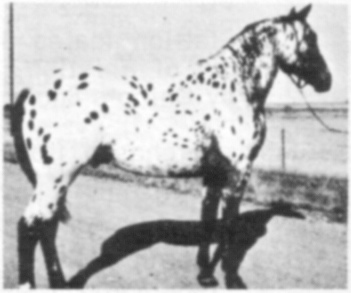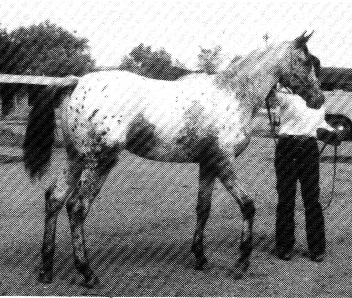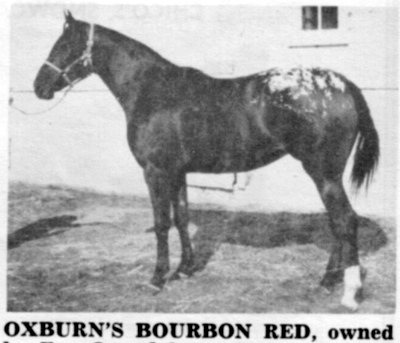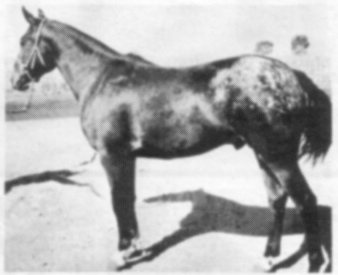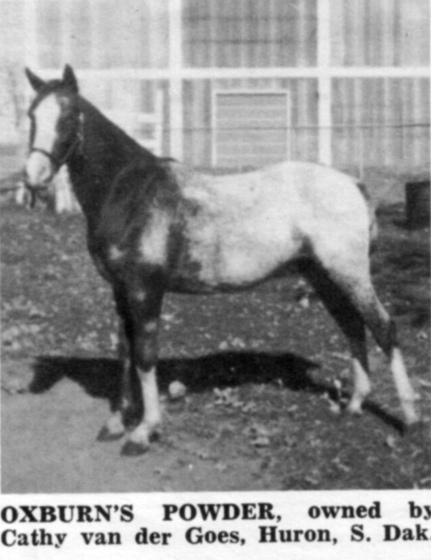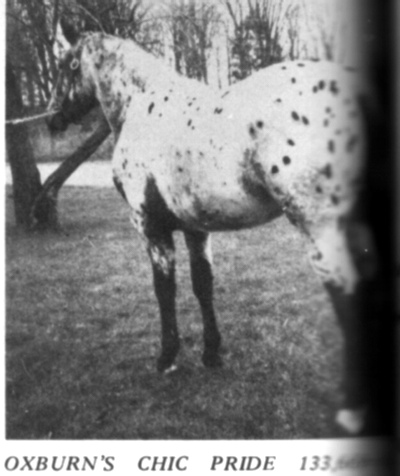 ---
Bama's Jenks and Pine Forest Appaloosas
Again my attention was caught upon coming across another farm's ad that was covered with leopards. This time it was Pine Forest Appaloosas in Alabama. Their main herd sire at one point in their program was Bama's Jenks, a leopard stallion who was 1/2 Argentine Appaloosa. His 'other half' went back to Juaquin F-801 and triple bred Starbuck Leopard. He was sold to Stone Flower Ranch in Ontario, Canada in 1975. He certainly left a legacy of leopard offspring from the Pine Forest program. One of his sons, Snow Fury, was exported to Australia, where he was re-sold for $54,000.
I tracked down one mare thst turned out to be for sale. She was Pine Fores'ts Wild Wind, and she was in Connecticut. We bought her, but I never succeeded in getting any foals from her. My vet said she had a "sick uterus", and while he managed to get her to test clean, she did not conceive. She was, however, a great riding mare.
There was another Bama Jenk's granddaughter, within a short distnace of us. However I did not succeed in making contact. This mare eventually showed up at John Kreider's farm in New York. She was by Snow Fury's Leopard Storm #183118, a Bama Jenk's son, and three of her four grandparents were Argentine Appaloosas. What goes around, comes around as they say. When searching for a "Candy F-320" mare for Friedrich Stocker of Double F Appaloosas in Austria, I came across a daughter of Leopard Storm, at John Kreider's, named John's Pride and Joy. (below)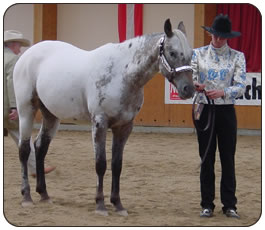 Friedrich purchased this mare, and before being shipped to Austria, she visited with WOA Sarcee Olepi. A year later FF Candy Mitakoza was born in Austria.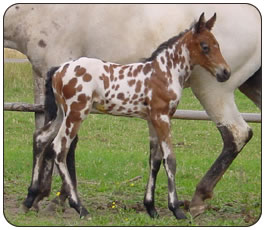 This colt confirmed I was on the right track of crossing Argentine with (my) Candy get and grandget, but I guess it was not to be "right here". Perhaps it happened in a better way with Friedrich and Mitakoza.
---
A Little Closer Home, my own 'Aregentine Appaloosa', Baja de Noche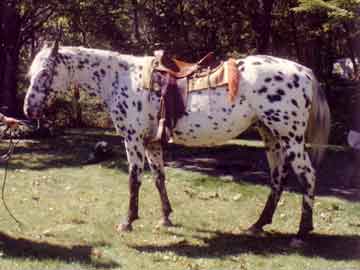 She (Baja de Noche) was being ridden around at a horse sale in central Pennsylvania. I could not take my eyes off of her - a gorgeous black leopard mare. While not at all planning on buying a horse, 'any' horse, we bid on her. Poorer by $530, we now owned this mare, who had been at the sale due to a divorce. She had a bit of an attitude in the beginning - pinning her ears whenever she felt the least bit threatened. It was just a response and she never did more than that - she never followed through. We got our friends to haul her home - thank goodness they had their trailer there. Shortly after we brought her home we bred this twelve year old never-been-bred-before mare to Que B Crow Bar (Ishi). Ishi bred her, and bred her, until he would look at us and say, "Her Again?" Twenty three days later she finally went out of heat. The following year she delivered her first foal, a black-bay blanket filly we named Tatokala B.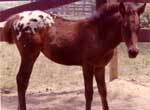 After Tatokala, she delivered a leopard colt by Hyway SunScatWolf, which we named WOA Raindancer.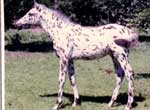 She then had a bay leopard filly by WOA Sarcee's Candy, which we named WOA Cheetah.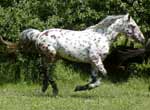 It was with disappointment that she had a solid black colt following the leopard filly. Contaro de Noche was her last offspring. She was not bred again.
So while Wolf Oak Appaloosas did not have much success with the line, I still think it is a super leopard line.
---
Update from a reader:
This leopard colt was born August 8, 2008 at Sable Forest*, Michigan. He was sired by DJ Pirate King, a solid black grandson of DJ Shadow Prints. His dam is Proudfoots Cadence (originally Kingpin's Princess). The colt belongs to DJ Appaloosas**, Michigan.

Sable Forest Website.
Their contact information: Sable Forest Farm, 2114 S. Magrudder Rd., Saint Louis, MI 48880
And **DJ Appaloosas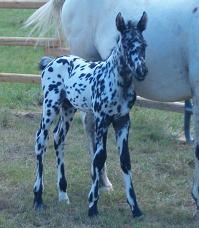 ---
Footnotes
1. Appaloosa News April 1962:30-31 Burnside Advertisement
2. "Arrival of Argentine Appaloosas" Poor, Howard C. Appaloosa News May 1962:2-3
3. Appaloosa News September 1962:15 Burnside Advertisement
4. Appaloosa News January 1965:3 Oxandaburu Advertisement
5. Appaloosa News December 1965:75 Show placing announcement and photo
6. "Snow of Snow Cloud Wins Unprecedented Third World Performance Title" Walker, Don. Appaloosa News January 1970:4-14
7. Appaloosa News September 1970:32 23rd National Show results
8. Appaloosa News January 1970:175 Oxandaburu Advertisement
9. Appaloosa News January 1971:169 Oxandaburu Advertisement
10. Appaloosa News January 1981:239 for sale ad for Prince Junior
11. Western Horsemen March 1970:55 "Appaloosa Performance Champions"
End of the Argentine Story
---
Top
Back to Appaloosa History Index
This page last updated July 2017 ©2003-2017 Appaloosa Territory