Appaloosa Territory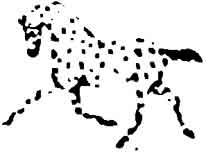 Bo Mar's Jo Star
---

This article was originally published in the Appaloosa News: November 1974:60-62. Written by Barbara L. Cable

---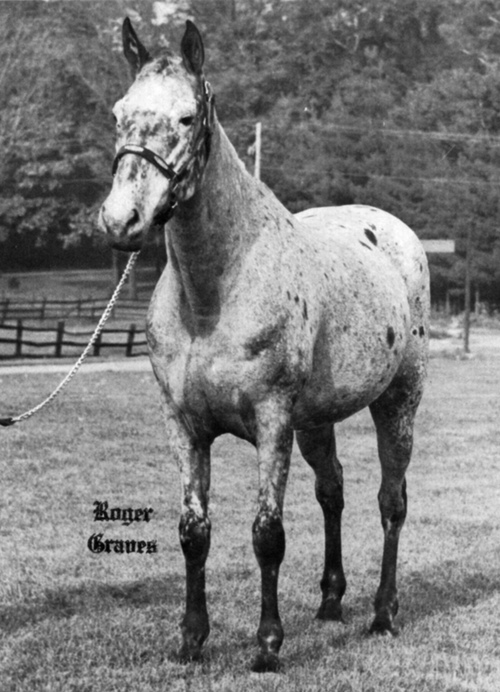 Jo Star... Born for the Winners Circle
When a scrawny filly was foaled 12 years ago she was probably the least likely candidate for racing fame, much less amy kind of special notice.
A bay with little coloring or promise of any, Jo Star was a discard at a sale in the fall of 1962. Nevertheless, she surprised her owners, EJ and Colleen Plott, by turning into a highly spotted champion, winning 20 of 25 races while carrying a foal during each one.
At the discard sale, her breeding more than her appearance tempted the Plotts. Jo Star was the granddaughter of Excite, a Thoroughbred by Stimulus. Her dam was Miss Jo Roan, a quarter mare by Joe Reed. [Her sire, only mentioned near the end of the article, and not by name, (because he was an Appaloosa??), was Warrior Leopard F-3954, a grandson of Sundance F-500 through Black Leopard F-1569. In addition, her full registered name is Bo-Mar's Jo Star, of Bo Mar Farms in Kentucky.] But as Jo Star matured, black spots came out, an inheritance from her Appaloosa background. [OMG she was tainted with Appaloosa??] She was shown at halter as a yearling, always placing in the top five.
Plotts were well satisfied with their acquisition, so it was an unexpected plus when, in the spring of 1963, her racing tendencies became evident.
"We would run Jo Star in a two acre paddock with several other horses," EJ said, "and even in a foot of snow they would run and cavort. Jo Star would never be content for any horse to be ahead of her. After a few laps with Jo Star in the lead, the others would tire of the game. So she would try to tease the others in to running again. She loved it."
Even though she was not receiving, and never did receive,formal training, Plotts decided to enter her in a race. It was strictly a test - for horse, rider, and owners. Plotts were neophytes. Jo Star was the first horse they had ever started.
---
"That first time out was remarkable," EJ remembered. "Without previous work ans with no exposure to a starting gate, she ran beautifully and was just barely beaten."
Apparently Jo Star herself discovered she was born to race. But fate had a different plan. In the summer of 1963, while traveling between shows, Plotts had a near accident on the road. In the trailer, Jo Star's right front ankle was jammed into the stall. It swelled to the size of a melon and the examining veterinarian said she wouldn't be able to show or ride. She would never be sound, and racing her was out of the question.
"Even though we'd been told her racing days would never materialize," EJ recalled, "we put her in a large stall a foot deep with sawdust and left her there through the fall and winter. Gradually the ankle receded and she became sound on it."
Jo Star was defying not only her unlikely origin but her doctor's diagnosis as well. When her recuperation was complete, Plotts took her to the track.
"Never in her racing career did she take an unsound step," said EJ. "She remains sound to this day and passes this characteristic on to her foals. She has never had special race-horse treatment or training other than Hudlow's formula for a leg brace - keeping the legs tightened at all times." She has never received special blood builders. Any step she ever tok, she took because she wanted to. Her only peculiarity is that she insists on having a wide place in the trailer, as a result of the accident. She wants to spread out and protect herself. But she creates no problem in any other manner. She's not a finicky or fussy eater. She shows complete faith and trust and confidence in her handlers, loves attention and adulation - and loves to race.
---
"But way back in the 60s, we knew so little about racing and training that we would blow her out twice in an afternoon, then load her on the trailer and travel 200 to 300 miles to a race. Ralph Henley, owner of Powder Smoke, was visiting us in Ohio on one of these occasions and was amazed when we blew her out twice on Thursday, traveled to Michigan on Friday, put her in three races on Saturday and won them all."
"On two different occasions, in 1964 and again when she was in foal in 1965, we entered Jo Star in three different races on the same day because of a need to fill the gate at a major show. She would run the 220, 440 and 880, winning every one."
"One day in a lap and tap race, the jockey thought the starter said 'Go!', when he said No and Jo Star took off. The jockey was unable to hold her and she finished her one-horse race alone. He walked her back to the starting point and, with a fair start, won the race by five lengths!"
"Actually she ran four times that day, and won every race."
---
The most unusual factor of Jo Star's career is that she carried a foal every year, beginning in 1965 with Acorna. "She won the Ohio Derby at the Ohio State Fair while in foal with Acorna," EJ said, "and carried two more foals up to 1968, when she was retired from racing. Since her retirement she has continued to carry foals."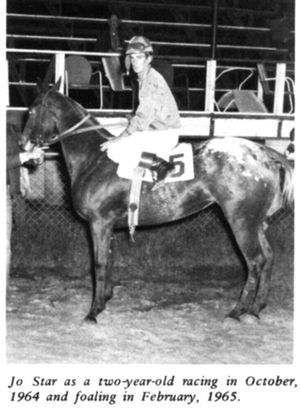 ---
Jockies [Jockeys] loved the spotted mare. They didn't need a bat or machine to get her going; a free steady rein and "Come on Jo" sent her toward the finish line. Their greatest difficulty was pacing her when running more than one race a day.
In her later years, jockies [jockeys] were asked to hold her in and follow the pack in an 880 yard race - then give her her head in the last 100 yards. If she wanted to win the race, she would - and did. The jockey would turn her loose when she was about five lengths behind but she'd win by three at the wire.
Even though Jo Star never had formal gate training she was never beaten out of one.
"She would come out of a gate so fast," EJ recalled, "that she was two lengths ahead of the other horses. Spectators accused the gatekeeper of opening only her gate. I often heard them say, ' How come only her gate opened?' when it was simply because she was all alone and out front. She waited while other horses fidgeted, poised like a gold medal runner at the Olympics, feet in the best position to propel her forward. She simply wanted to run and was always ready."
For several years, Jo Star held the world record for the 550 yard race on an oval track. She became highly prized by other horsemen as well as a target for them.
"My mission in life, " Paul Travis, owner of race horses, once said, "is to be able to beat Jo Star." He never did.
Some of her trainers, riders and other owners have nothing but praise for Jo Star as a racer and as a mother.
"We think Jo Star is the best Appaloosa mare in the nation," said John Page of Stroud, Oklahoma. "What other mare has raced, set records and produced get and grandget that are doing the same thing? When you raced against Jo Star or her offspring, you found you had to be ready, because even then you wouldn't beat them too often.
"We speak with experience as we have run against the mare and her offspring many times. We have also had the privilege of training her get and grandget. They are beautiful animals, give you all they have and they are true athletes. When Jo Star raced, she always had a foal beside her and one inside her. How many horses - or human athletes - have ever done that?"
---
Johnny Robinson, another of Jo Star's admirers, was also her handler. "I rode this mare for two years and won every race, even though she carried a foal both seasons. When Jo Star retired from the track her foals kept her name where it belongs, among the winners," Robinson said.
"Admittedly, Jo has been bred to some of the best stallions, but as any geneticist will tell you, the stallion can't be counted on for more than 50 per cent. Few horses can brag of a 100 per cent win record for their offspring, either. Jo can."
Jo Star carried a foal every year since she was 3. After Acorna, a filly by Medicine Man's Little Acorn, in 1965, she was bred to Boogie Britches, a AAA rated Appaloosa. From that union came Star Britches, her 1966 filly. Her sire, Boogie Britches, had won the World Wide Futurity and the World Wide Derby. So, Star Britches seemed to be headed for a winning racing career. [Reference Appaloosa News 9-75:140, 11-74:61(in article)]
But on her way to the stallion station to be bred to Tuleg, there was an accident. Star Britches fell out of the trailer, damaging her left hock. After she was well, she was exercised lightly and was scheduled in races at Norwalk Downs with many horses handled by the same trainer. She outran the others easily, but the next day the hock was swollen. The veterinarian said to stop racing or cripple her, so Star Britches was placed in the brood mare barn.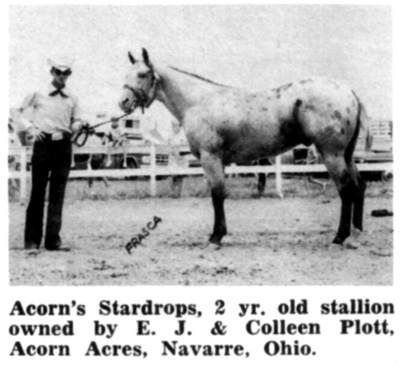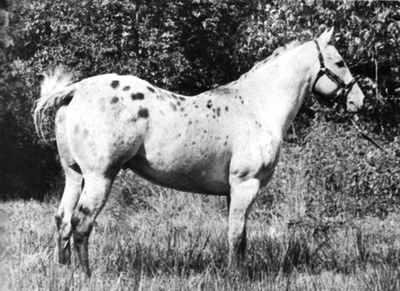 Acorn's Star Drops
Meanwhile, Jo Star was bred to Navajo Tear Drops and, in 1967, produced Acorn's Star Drops [#93409], who subsequently won the [1969 Kendallville Futurity,] the Indiana Futurity and Ohio State Derby [in 1970]. A stallion, Acorn's Star Drops is the sire of a number of foals who have gone to the track and won. ["He is the sire of Miss Top Time and Bargain Britches. Star Girl , his first foal to go to the track, is sure enough a race mare! [She won two of her three starts. AN4-75:173] We have all our Thoroughbred mares and speed bred mares in foal to him this year (1974) and we will be using his half brother, Star Ledge, for breeding next year. Without this replacement, he would not be for sale."
"As a three year old, Stardrops came off the track early September and 30 days later was placing second, third and fourth in large pleasure classes, English, Men's, Ladies, Youth Westerns. He is many times Grand and Reserve champion halter horse and has a disposition that you wished most of your friends had! He finished the 50 mile endurance ride as a four year old with only three weeks to get ready. Two horses died within an hour of crossing the finish line, three never finished. Stardrops was judged the best conditioned horse by two vets, a fantastic feat considering the others had been in training for six months. He will win your heart, win for you and produce you a winner!"]<small> [References: Appaloosa News 9-71:96 2-76:126, 4-75:173, 1-70:94, 10-76:124, 11-78:73, 11-74:25/61(in article)]
Jo Star's 1968 offspring was another filly, Star Bar by Bar Tex Bar. Injured as a yearling, Star Bar never went to the track.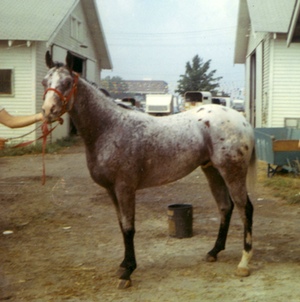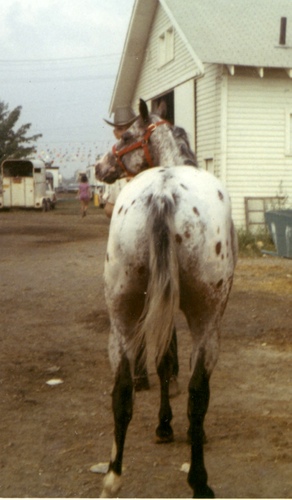 Starleg
At the Lexington, Kentucky stallion station, Jo Star was bred to the Thoroughbred Tuleg. The 1969 product of that mating was Starleg, who won the first Ohio State Futurity raced under pari-mutuel. He was the easy victor of several races that year - 1971.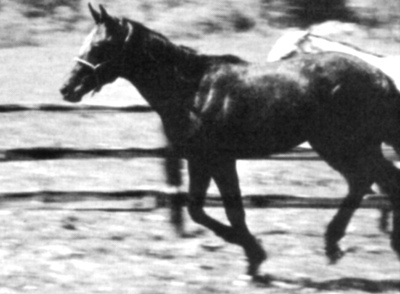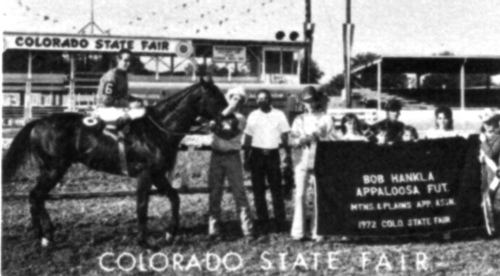 Acorn's Starledge
Jo Star's 1970 foal was Acorn's Starledge by Star Deck [or Ledge Deck ? - AN4-75:171), a World Wide Futurity winner by Top Deck. Starledge won the Colorado State Futurity and ran second in the World Wide Futurity in Albuquerque, New Mexico. [Reference: Appaloosa News 9-71:96, 11-74:62(in article), 4-75:171, 2-78:278]
In 1971 Jo Star produced Star Lady Bug, a filly by Lady Bug's moon, number one Quarter stud on the list of leading living sires of money-earners.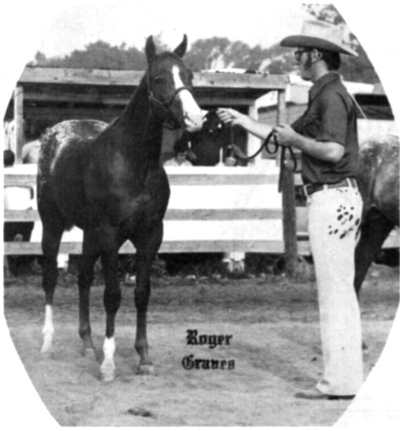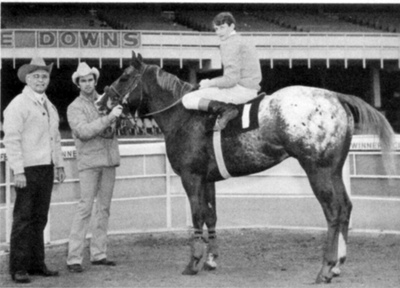 Star Bug
Jo Star's 1972 foal was Star Bug, also by Lady Bug's Moon, who ran his first race in March at Claremore, Oklahoma. He qualified for the finals at the Texas Appaloosa Futurity in May. [Star Bug ran 19 races as a two year old, winning 9, placing second in 4, placing third in 4, and placing fifth in 2! He was the only two year old to enter seven major Futurities and to qualify (for) each one with first, second, or third fastest qualifying time! Star Bug ran sound every step of the way. } [Reference: Appaloosa News 1-76:194, 4-75:172, 8-74:44/92, 11-74:62(in article), 12-74:39]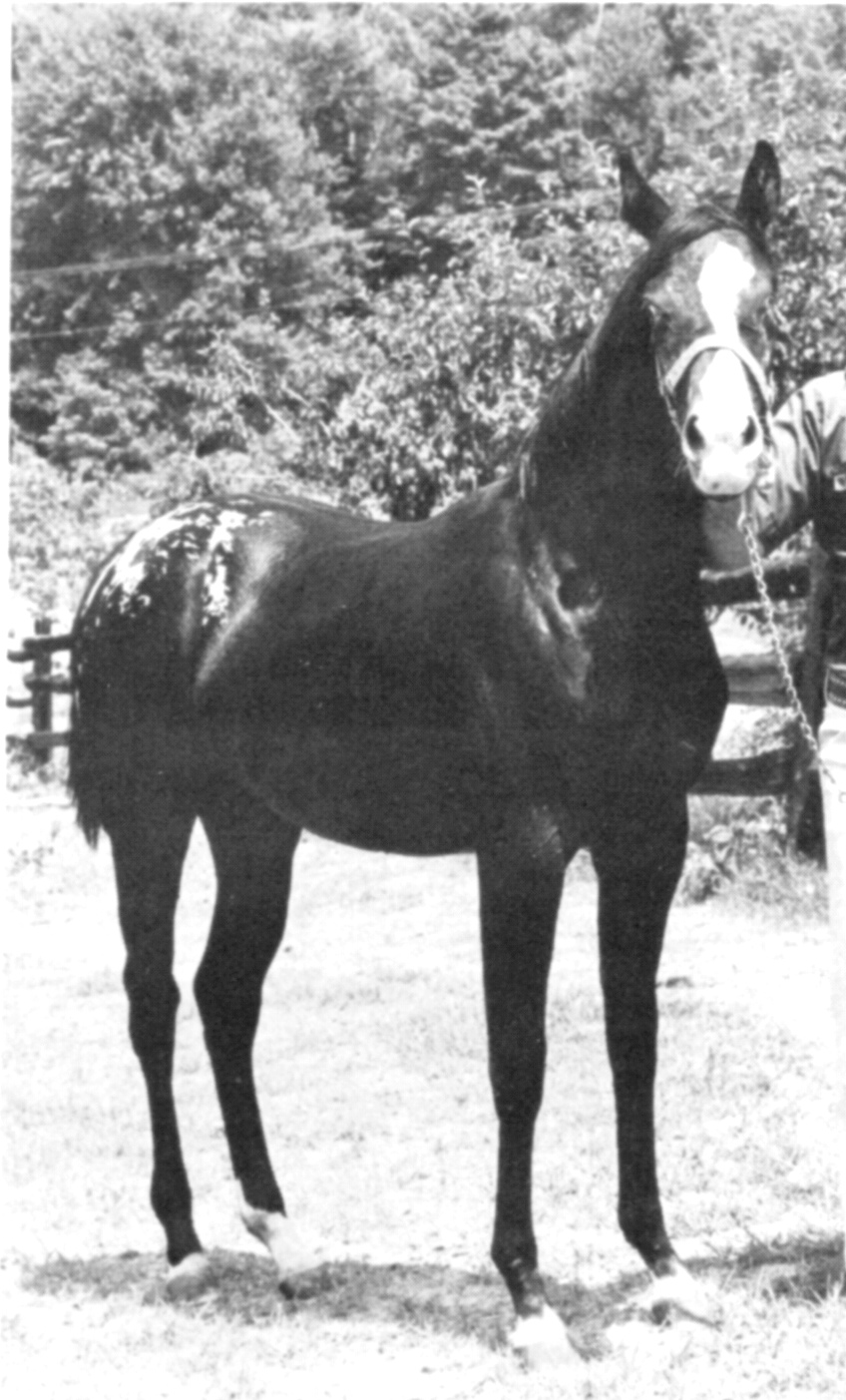 Star Lady Leo
Jo Star's Star Lady Leo, a filly born in 1973, is by Leo San Bar.
Not only do Jo Star's offspring race, but they all show the same liver and black spots of their dam's inheritance from her sire, who was a gradson of Sundance. Even her grandget have picked up her winning ways. Races are being won by Star Girl P, her first granddaughter.
Bill Hudlow of Shawnee, Oklahoma, owner of one of Jo Star's earliest mates, Boogie Britches, is another of the mare's admirers. "In November 1964," Hudlow recalls, "EJ asked me to pick up Jo Star at Midway Downs in Stroud, Oklahoma where she had been running and defeating some of the top 2 year olds in the country. EJ told me she was bred and wanted her to foal here, then be bred to Boogie Britches. Actually she didn't look in foal and the way she was running, I sure questioned it. After having a vet check her, sure enough she was carrying a big foal and it arrived in late February - a colorful colt by Medicine Man's Little Acorn. She was one of the top mares in the breed at that time and time has continued to prove this to be true."
---
Plotts watch their spotted mare now with pride and admiration, wondering what goes on in her head when spring comes and the other horses go to the track. Before she was retired, EJ recalls riding her, exercising her with some others on an oval track. "At 175 pounds, I rode her and felt two unique sensations. First, she leaned so much into the turns that I actually felt my left foot could have been dragged in the dust. Second, she made me squint my eyes from the wind tearing at my face. Her speed was phenomenal, even in practice.
"Occasionally we take Jo Star on trail rides and she seems pleased to be going someplace and doing something, although embarrassed by the Western saddle."
Many of Jo Star's offspring have been reintroduced to their dam after an extensive training period. She always acknowledges her get, EJ observed.
One foal, Star Drops, was recently judged the best conditioned horse in a 50 mile endurance ride, although he had only a month to prepare for it. Eleven horses started the ride, eight finished and two dropped after the finish.
Star Bug appears to be the real successor to Jo Star's achievements. Offered $50,000 for him, EJ may sell him as he has several of Jo Star's other foals. But he wouldn't sell his favorite, Jo Star.
I'll sell anything on the place," he grins, referring to his Navarre, Ohio, farm, Acorn Acres. "But Jo Star?" Never! She has made Acorn Acres "the home of the Stars."
---
This page last updated January 2015.