Appaloosa Territory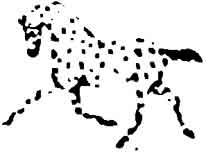 Caliente's Baldy
---

This article was originally published in the Appaloosa News: April 1977:114-115.

---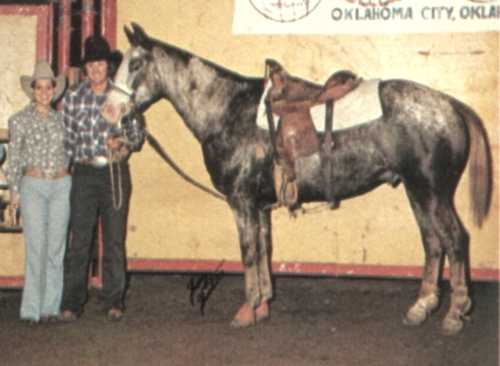 Caliente's Baldy
50249
Caliente's Baldy - Medallion Winner and Then Some
The Appaloosa Horse Club awards horses only one medallion per category and attaches prestige to the horse which can win in several categories.
There should be adulation, however, for the horse able to win in a category and come back to win again and again at his speciality. Such a horse is Caliente's Baldy. His speciality is performance, but his form of "specialization" is actually versatility rare for any horse.
A bronze medallion winner, Baldy earned that honor in 1974 when he won the heading and heeling at the Shelbyville Nationals. But before that he was the 1966 world champion rope race horse, 1970 world champion rope race horse, 1971 national champion stake race horse, heading and heeling horse and national performance champion. In 1976 he won the rope race at the World Championships.
Those are just his first place wins. Foaled in 1963, Baldy has been to 12 World Championships, never failing to place in the top eight horses, and has been to every National Show except Santa Rosa since 1968.
He has carried his owner to numerous youth championships in performance, and his regional performance championships have long since ceased to be counted. It's no wonder, since his first regional performance championship was earned before he was two years old.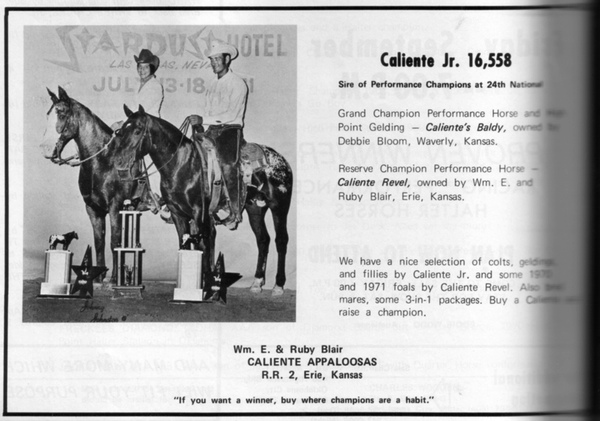 Baldy has been the performance champion at nearly every major stock show, including his most recent win at the 1977 Oil Capitol show in Tulsa. He competes in stakes and stumps, rope race, calf roping events, English and Western pleasure, jumping - you name it, and he's done it.
---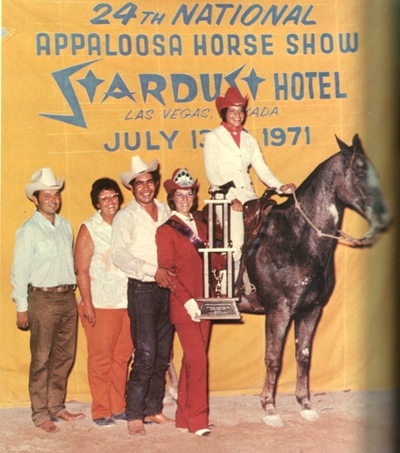 And just to prove he isn't limited to performance events, Baldy lays claim to a room full of halter trophies from his younger years, and won the 220 yard stock saddle race at a Kentucky horse show for five consecutive years.
It is doubtful even a horse like Caliente's Baldy could have achieved all this had he not been guided by his loving owner, Debbie Bloom White, and Debbie's husband Jack. When Debbie was 16 and Baldy was 6, Debbie's grandfather, JO Southerd Jr, bought the horse for her at Bill and Judy Blair's sale. Debbie had shown Baldy for the Blairs prior to the sale, and says "if Grandpa hadn't bought him for me I would have just died. I fell in love with him the first time I rode him."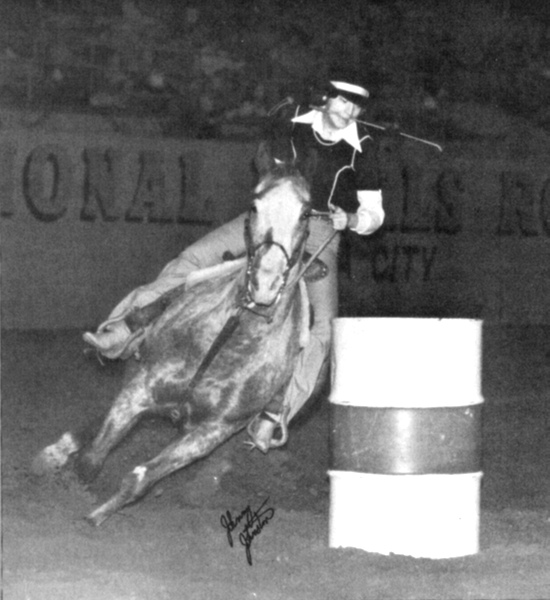 ---
For Debbie, Baldy is "that one" horse every horseman dreams of owning. An example of their close relationship occurred a few years ago when Debbie was involved in a near fatal car accident. Ignoring all predictions she would never ride again, Debbie secretly climbed aboard her horse. Usually full of fire, Baldy reserved his cat-like maneuvers and was docile as a child's mount until Debbie regained her confidence. Today she and Baldy are back in top form.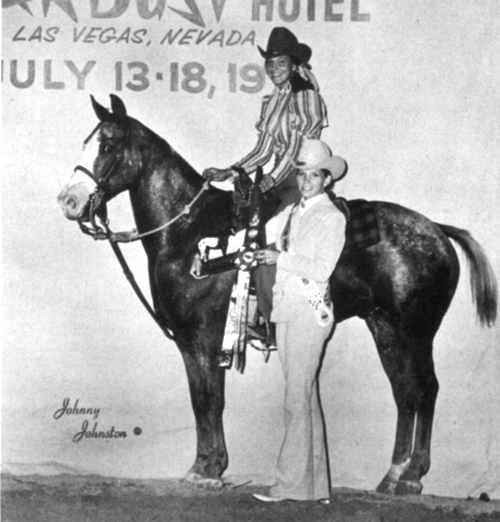 Debbie now teaches at Williamsburg School near Melvern, Kansas, where the school children are Baldy's greatest fans. When the Whites take Baldy to a weekend show, they know they will have to face the Monday morning question, "Did he win?" from the kids. Usually Baldy doesn't disappoint them, and the kids pin another laurel on their equine hero.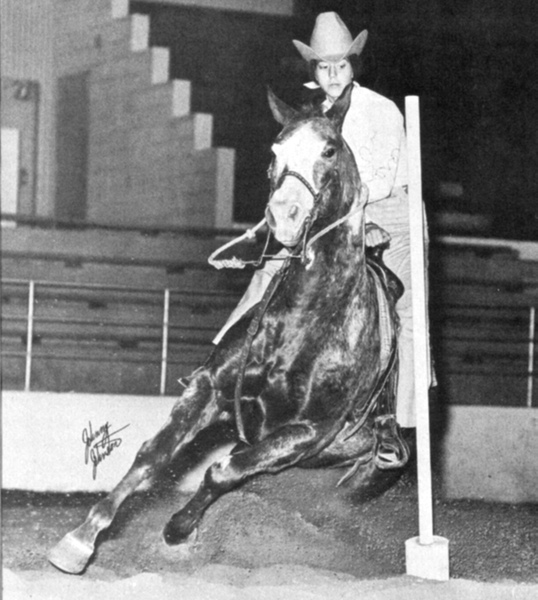 Sound and fit as ever, Baldy shows little sign of slowing down or getting tired, even at 14. In fact, Debbie claims he is extremely jealous and sulks if she pays more attention to another horse. He waits anxiously at the paddock gate when the trailer pulls up to leave for a show.
---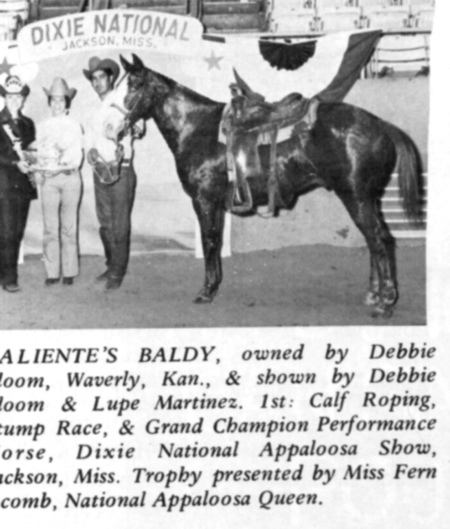 With his supremacy as a performer well-established, there may be a new field for Baldy to challenge. Debbie has expressed interest in trying competitive trail riding with her champion, and if that turned out as well as Baldy's other conquests he could well earn a silver medallion.
But even if he never gets out of the show ring, Caliente's Baldy is a greater credit to the Appaloosa breed than his single bronze medallion could ever imply. Even an awards program like the ApHC medallion system can't do justice to some horses.
---
Inducted into the ApHC Hall of Fame in 2000.
Pedigree of Caliente's Baldy
Dr Howard
Mansfield's Comanche F-3096
Juanita M
Caliente
F-3288
Mansfields' Comanche F-3096
Leah
Susan
Caliente Jr 16558
---
---
---
Kiowa Lady
---
---
---
---
---
---
---
---
---
---
Lucky

---
---
---
---
---
---
---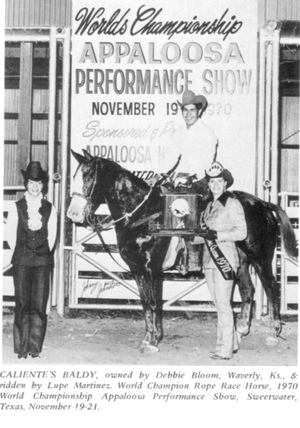 ---
This page last updated March 2015.