Appaloosa Territory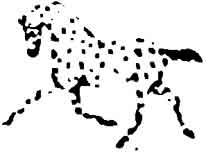 ---
Appaloosa History:
Cherokee Red Rex F-3487
Foundation Appaloosa
---
On a recent buying trip through the south, a friend of mine and I wandered into the Bo-Mar Dispersal sale, where, because no one had seen fit to tie my hands and tape my mouth, I purchased yet another Appaloosa. When we asked hopefully from the auctioneer's podium if anyone had horse room headed for Connecticut, a very well-dressed gentleman approached me and drawled: "I can take your mare to Indiana and that would be quite a help for you wouldn't it, as Connecticut is next to Indiana."
Of course Connecticut is not next to Indiana, but is on the other side of New York state. And offhand, Connecticut does not seem the likely place to raise horses either. Especially Appaloosas which are so prominent in the west.
But when Appaloosa history is written, Connecticut will have to be mentioned, for it is the home of the great sire, Cherokee Red Rex. Rex is not old as immortal sires go; only 12, but in his dozen short years he has left a colt record that many a stallion could envy. Rex earned his foundation number of F-3487, and they just don't come that low anymore.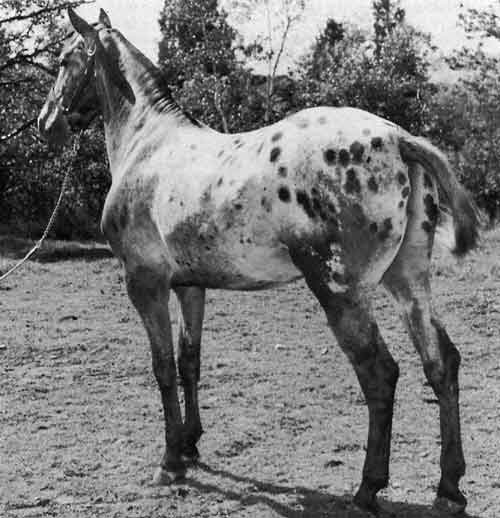 ---
Born in Illinois, Rex' stud career began at National Director's George Bryant's Springfield farm. A big, stout, powerful bay with a brilliant white blanket with huge red spots in it, he was quiet enough to be trusted with the Bryant grandchildren who rode him to the school stop and the local swimming hole. "It was a familiar sight,"reminisces Mr. Bryant, "to see Rex galloping home from an afternoon wading with the kids, with all of them on bareback at once."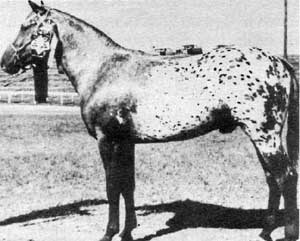 Between baby sitting chores Rex sired a fine colt crop. One, named Apache Boy, was singled out to go to the shows. When Boy hit the circuit, he was soon showing his potential by taking the blue at the competitive Illinois show. Branching out he showed at Michigan and won there. Many other wins and he was on his way to the huge Five Club Regional. At the age of two, Apache Boy was named Junior Champion and Grand Champion at this show. In 1961, after winning every major show he entered, he tackled Texas. At the famed Southwest Exposition and Fat Stock Show, Apache Boy defeated High Stakes at halter. Although any win after this would be an anticlimax, he went on to win the Ladies Pleasure Class at the National.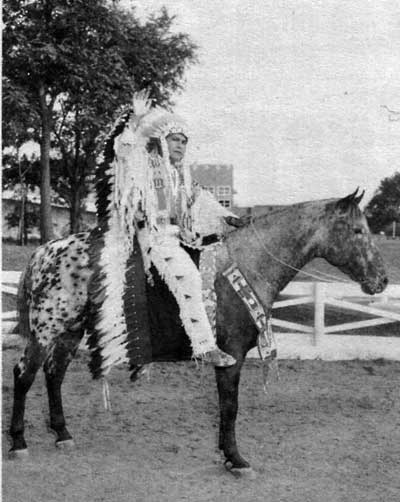 By then it was evident [Apache] Boy would follow in his dad's footsteps, as his yearling daughter, MS Franchita, won her class in yearling fillies at the same National and Apache Boy had Get-of-Sire win under his belt represented only by yearlings. He was still very young himself to garner such an honor.
---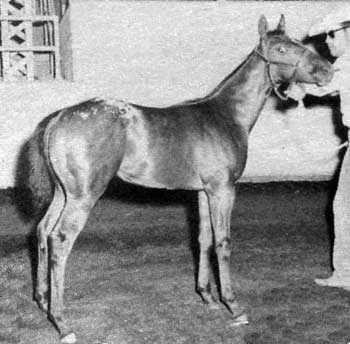 Obviously the Cherokee Red Rex strain would be a potent one, but one champion does not a great sire make. But fast nipping on Boy's heels was another colt of Rex's named Bryant's Apache Lad. Almost black with a huge white blanket, Lad became as hot a contender in the show ring as his brother and he began to bring home ribbons from Michigan to Ohio. Winning the yearling class at the Regional, and being named Junior Reserve and the Reserve Grand Champion as a yearling makes him mentioned along with National Champion Pateeka as one of those rarities who change club rules. But the judge was not wrong when he saw the potential in this youngster as proved in 1964 when, as an aged breeding stud, Bryant's Apache Lad traveled to Waterloo, Iowa, and broke the reported 107 blue winning streak of Cheeta's Wahoo.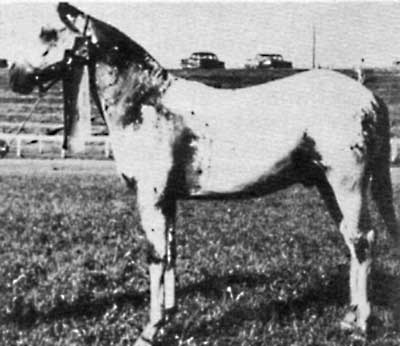 As with his predecessor, Lad was also siring winners. His son, Lad's Billy, already had the land of Lincoln award, and Lad's Devil Diver was a J.E. Baker futurity nominee. Apache Lad Jr, the new baby, is out winning now.
---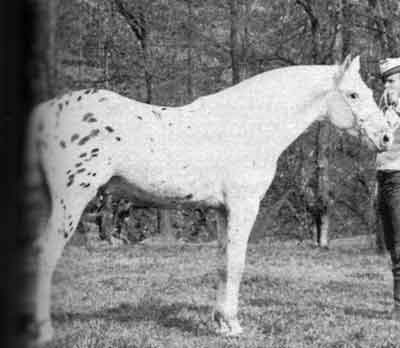 But Cherokee Red Rex was still not to be outdone. Along came a little black and white leopard aptly named DeRosa's Cochise. A slow starter, Cochise began by only collecting red ribbons as a colt. Was Rex slowing down? He showed in Illinois, Missouri, and the huge Midwest Show, where he was still only a bridesmaid. Cochise became the property of Russell Bliss, of Ellisville, Missouri. Under his handling, Cochise showed and raced successfully at the National and was finally victorious in his own state when he was named Grand Champion Stallion at the St. Louis, Missouri show. In 1961 Cochise was named not only Hi-Point Halter Stallion of the state, but Hi-Point halter horse over every Appaloosa showing. Already put to stud duties, he proved another Red Rex son could produce, as he was in 1964, Reserve Champion Get-Of-Sire for the state and his yearling son, Cochise Tom-Tom was 1963 champion.
---
While Rex's sons were showing, they bumped heads. Thanks to the great showmen who owned these separate horses, all would band together and Cherokee Red Rex, now owned by us at Twin Brooks Farm in Woodbury Connecticut, would hear of another Get-of-Sire win or placing.
Cherokee Red Rex has done more for us since we purchased him in 1959 than we ever dreamed possible. With limited chances at top mares he has proved his tremendous prepotency. Always the grand old man to us we still showed him at halter at the Terryville Appaloosa show and he won it. Quite an accomplishment as he was ten years old.
Rex has produced for us since his first crop of foals in Connecticut in 1960, 59 foals. Discerning breeders add his foals to their show strings regularly. Mr. Lyle Burton of New York, a horseman with an unfailing eye for champion stock, purchased Lazy River's Cherokee Princess two years ago when she was a weanling. She rewarded him by being undefeated yearling filly at every major New York show and ended up with the year-end award.
Some of the new Red Rex colts out now are Cherokee Red Rexson in Farmdale, Ohio, and Little Watusi, Lake Mohegan, New York. Both have gotten their show ring feet wet very successfully.
One prominent breeder remarked to us while watching the great Cherokee Princess chalk up the All-Breed victory at Syracuse "The only way to beat a Red Rex colt is to buy it and leave it home."
Our proudest possession to date is a little press clipping from the Appaloosa News show results column. The St. Louis Show Get-of-Sire...1st...Hands Up...2nd Cherokee Red Rex...and a host of other fine studs listed below. Not bad for a twelve year old. When we call him as a Sire of Sires, we've got a right.
---
After reading the article in the Appaloosa News about Cherokee Red Rex and Apache Lad, I thought some of the readers might be interested to know that the Old Man, Cherokee Blue Rex (4790) is still going strong at the age of 16.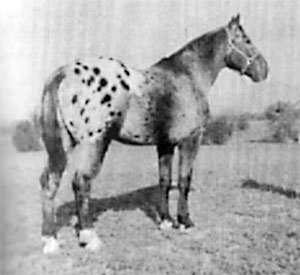 Cherokee Blue Rex
Although I do not keep a trainer and I ride him myself, for the pleasure of it and my love for horses, Old Blue wins his share of blue ribbons and trophies in pleasure, bareback pleasure, trail and costume. He won first in costume and fifth in pleasure at the Illinois State Fair in '66. We didn't get to show in the Illinois Appaloosa show in '66, but in '64 he won first in Men's Costume and Bareback Pleasure. We don't go out for points or shows too far from home, but for pleasure and sportsmanship we have a good time. Sincerely, John E. Humphreys, Waynesville, Ill.
---
Footnotes
1. "The Pride of Twin Brooks: Cherokee Red Rex" McGloon, Joan. Appaloosa News December 1966:10-11
2. "The Old Man" Humphreys, John. Appaloosa News March 1967:41
End of Cherokee Red Rex
---
Top
Back to Appaloosa History Index
This page last updated on November 16, 2006.