Appaloosa Territory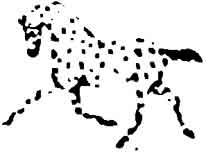 Chief Navajo F-1970
---
---
---
The common ancestor was a horse named Chief Navajo. Foaled in 1944, he was a descendant of the Marcus Crowley Appaloosas. Marcus bought a leopard mare named Esther from Bert Babcock. Both of these men were early Appaloosa breeders. From Esther's descendants came Chief Navajo T-690. Although the connection to Esther was known by owners of Chief Navajo's offspring, his sire and dam are listed as unknown in the ApHC Stud Books. He is described as a red roan, white with dark chestnut spots over loin and hips. Chief Navajo was, more or less, the foundation of two lines of Appaloosas: the Absarokee and the Timberline (Ulrich) line.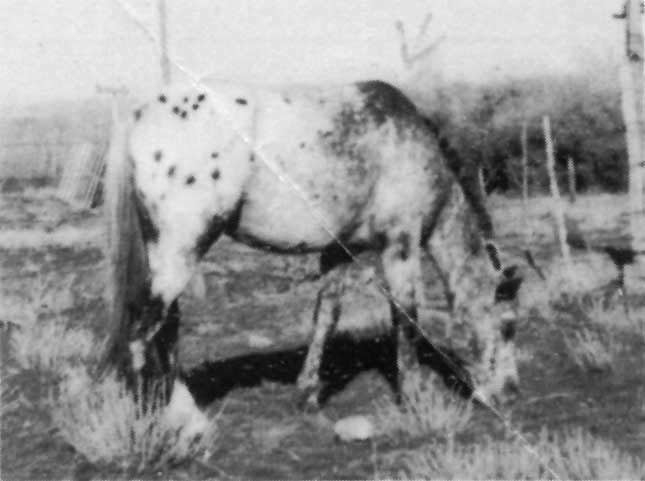 Chief Navajo
---
Absarokee Line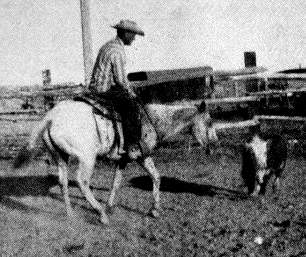 Flamingo of AA
Chief Navajo sired Flamingo of AA T-1061/F-3982. Appaloosa breeders Matt & Laura Boggio of the Double A Ranch, Clyde Park, Montana bought Flamingo. They used him on a few mares before they sold Flamingo to Gwen McKittrick of Fishtail, Montana. Mr McKittrick used Flamingo on his mare, Powdered Sugar T-1266. She was the granddaughter of a Quarter horse name Wildfire. Her dam, Flicka (dun blanket), was out of Nancy Lee (blue roan). Nancy Lee was a daughter of Old Blue, an Appaloosa from Wyoming. Powdered Sugar had two colts by Flamingo that became well known: Absarokee Sunset 7322 and Absarokee Beaver 7325. [The name Absarokee comes from the Absarokee Mountains near McKittrick's home.]
Powdered Sugar
---
Both Sunset and Beaver became outstanding performance horses, and sired performance horses. The name Absarokee has become synonymous with performance. For a time it seemed that if you wanted to win on performance classes, you got yourself an Absarokee horse.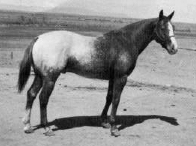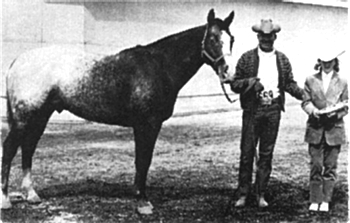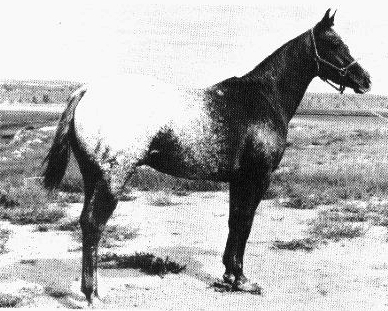 Absarokee Sunset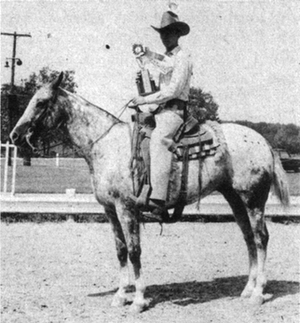 Absarokee Sunshine, daughter of Absarokee Sunset
winner of the 1968 5-Club Regional Show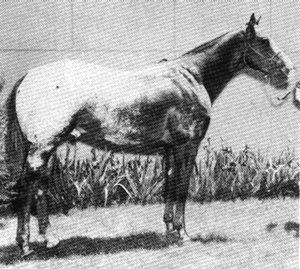 Absarokee Sun, son of Absarokee Sunset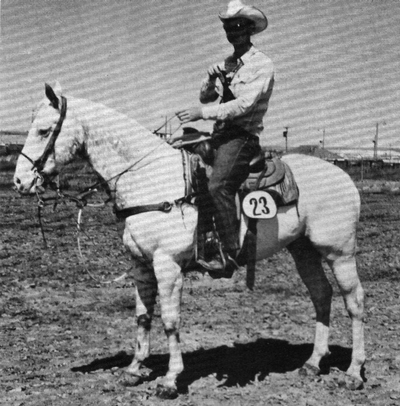 Absarokee Beaver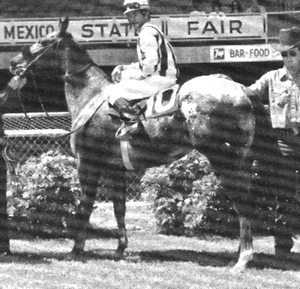 E2's Absarokee Maid, granddaughter of Absarokee Beaver
Some other offspring of Flamingo of AA were Fire Opal of AA T-2129/F-4034, Chief Redheart T-2287/F-4027, Flamingo's Pride 80150, Trio's Indian Rose, Gorgeous George, Flamingo May, Australian Opal 83386, Little Bug of AA, Buckshot P T-2392, Miss Reno, Absarokee Candy 7320, Absarokee Jewel 7321, Absarokee Queen 7323, Absarokee Doll 7324, and Absarokee Shamrock 7326.
---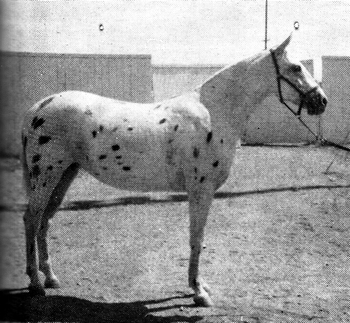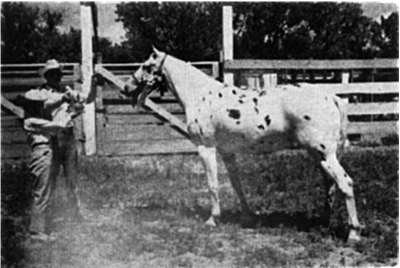 Queen Bee of AA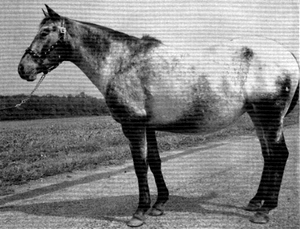 Navajo Turquoise of AA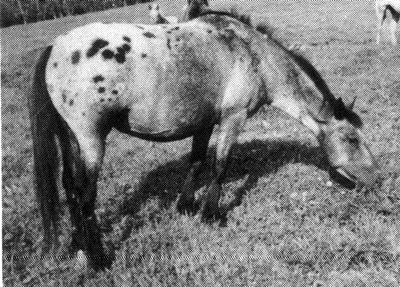 Money Creek's Deer Falls
Other Chief Navajo offspring were Queen Bee of AA T3831, Vanguard of AA F-2999, Rob Roy of AA T-3832, Johnny Walker F-4835, and Navajo Turquoise of AA. All were bred by the Boggios. Queen Bee was Matt Boggio's favorite mare. He felt she was something special the day she foaled. Queen Bee fulfilled his hopes by winning her share of ribbons, including Reserve Champion Mare at the 1961 Nationals.
A few other get of Chief Navajo were Chief Tahoe 12380, Little Missouri Haska F-4226, Senorita Negra 12126, Money Creek's Deer Falls 60092 and of course, Crusty T-691.
---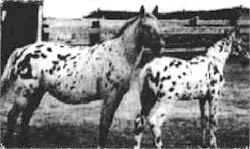 Crusty T-691, with her colt, Navajo's Candy.
Crusty T-691 brings us to the Timberline (Ulrich) line. It commenced when Chief Navajo accidentally bred an own daughter - the result was Crusty. She was owned by Ralph and Helen Brown of the Timberline Stock Ranch, Broadview, Montana. The Brown's leased the leopard stallion Candy F-320 and Crusty was one of the mares he bred. Crusty produced a leopard colt, Navajo Candy 85389, grandson of Chief Navajo, who became the focal point of the breeding program at Timberline Stock Ranch. At one point the Brown's had approximately 90 broodmares. They produced many leopards from Navajo Candy. The majority of these foals were sold before they were named. Thus the Timberline name is not as well known today as it should be.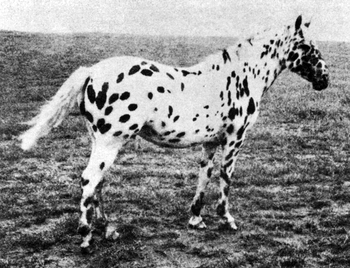 Navajo Candy
A number of these unnamed foals and other mares were purchased from Timberline by Don Ulrich of Cody, Wyoming. One of those Ulrich purchased was a bay leopard son of Navajo Candy that he named Ulrich's Many Coups 211687. Many Coups became the focal point of the Ulrich program and boosted Ulrich's leopard production. Many Coups was succeeded by his sons, Ulrich's Monarch and Ulrich's Papillon. The Ulrich herd was dispersed in 1991, sending the blood of Chief Navajo to many locations in the world.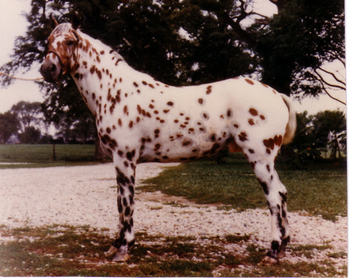 Ulrich's Many Coups
---
The accomplishments of his descendants and their continued breeding in current day Appaloosas provide him a place in Appaloosa history.
---
Registered Offspring
Crusty T-691 1952 mare (photo above)
Money Creek's Deer Falls #60092 1962 mare (photo above)
Senorita Negra #12126 mare
Navajo Turquoise of AA F-2645 1958 mare (photo above)
Flamingo of AA F-3982 1953 stallion (photo above)
Vanguard of AA F-2999 1958 stallion
Little Missouri Haska F-4226 1951 mare
Johnny Walker F-4835 1958 stallion
Chief Tahoe #12380 stallion
Frosty Ann G T-694 1952 mare
Alamo Annie T-1016 1952 mare
Roblene's Eijoke T-2687 1956 mare
Honey Gold of AA T-1058 1954 mare
Lemgo T-1102 1953 mare
Frisko C T-1254 1956 stallion
Roan Chief T-2055 1955 stallion
Diamond Chief of Three Forks T-2056 1953 stallion
Navajo's Shiek T-2044 1951 gelding
Chimaka T-2038 1954 stallion
Acoma T-2037 1956 mare
Blue Spirit of AA T-889 1955 mare
Cumberland I T-2951 1954 stallion
Silver Navajo T-3229 1957 stallion
47 War Whoops T-3519 1958 stallion
Queen Bee of AA T-3831 1958 mare (photo Above)
Rob Roy of AA T-3832 1958 stallion

Pow Wow of AA T-4063 1958 stallion
Miss Chief of AA T-4064 1958 mare
Chief Navajo's Duchess T-4792 1951 mare
Duffer Dee 5193 1956 mare
Tiger 5586 1952 gelding

Miss Three Forks 8215 1959 mare
Miss Montana M 8216 1959 mare
Shunka V 8390 1955 mare
Haskell's Chief Tomahawk 9281 1959 stallion
Chief Wampum 9282 1956 stallion
Chakita 9283 1959 mare
Cherrycow 9348 1959 stallion
Kelsey's Virginia 9535 1958 mare
Kelsey's Georgia 9536 1958 mare
Kelsey's Montana 9537 1958 stallion
Kelsey's Earthquake 9538 1959 stallion
Kelsey's Venus 9539 1959 mare
Kelsey's Leo 9540 1959 stallion
Kelsey's Capricorn 9541 1959 stallion
Kelsey's Taurus 9542 1959 stallion
Kelsey's Firefly 9822 1957 mare
Kelsey's Poke 9823 1956 mare
Kelsey's Riffle 10242 1956 mare
Y's Navajo Gal 9999 1960 mare
Chief Navajo died at age 19 in 1964.
.
---
"Absarokee Sunset - A King of the Appaloosa", Appaloosa News March 1964
This page last updated August 2017.