Appaloosa Territory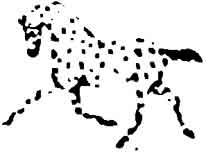 ---
Appaloosa History:
Cojo Rojo

I received a lovely e-mail from Sylvia Durando, who owned Cojo Rojo for a time, and brought this particlar Appaloosa back to the center of my attention. Doesn't everyone know this is the equine star of the Marlon Brando movie, The Appaloosa?
Majority of the images posted with permission from Sylvia. [Thank you!]
---
Introduction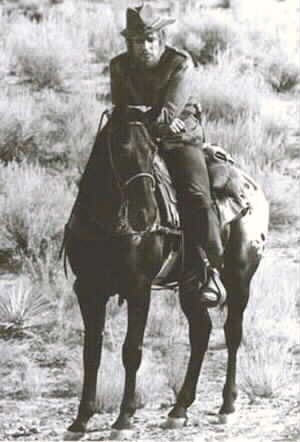 Cojo Rojo and Marlon Brando
Jack and Sylvia Martinez, Centurion Ranch, bought Cojo Rojo #10535 and Bixby F-3270 (a half brother to Cojo Rojo) as yearlings. They did all the showing and training. Sylvia's husband Jack worked at Universal Studios and saw the Appaloosas coming and going. One day he asked what it was all about, and was told they were looking for an Appaloosa for thr movie South West to Sonora (later changed to The Appaloosa). Jack and Sylvia brought in Bixby as they wanted a black blanket. Bixby had a roached mane so he was out. The director said get me one like Bixby with a mane, so they pulled Cojo Rojo from the Bay Meadows track. The studio said, after seeing Cojo Rojo put through his paces, we'll take him, but make him black. They dyed him black, Sylvia said the rest is history.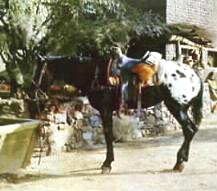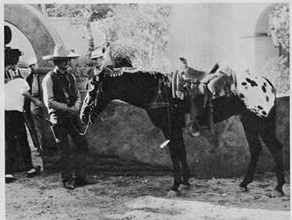 ---
Basic Info
ApHC Studbook data:
Cojo Rojo #10535
Sire: Cojo Mapachi F-1813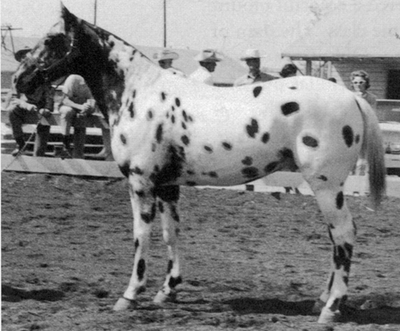 Dam: Cojo Idaho JC
(pedigree at bottom of page)
Foaled 1960



---
A Little More Info and Photos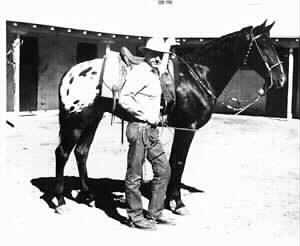 Trainer Bobby Davenport at the stables with Rojo.
Notice his dye job on the blaze has worn off.
Rojo was sold shortly after the film came out to Mr and Mrs John Anderson, Lomita, California from 1967 to the late 70s. The Anderson's daughter spent her time showing, parading, and training him after the movie. She rode him on stage at The Stardust in Las Vegas, he toured the southern states, several celebrities like Michael Landon would ride him.
He was at stud for short periods in the off season, my sister and I (granddaughters of the Anderson's) had several foals from him. We got to go to a lot of different venues, as kids, ---notably; The Hollywood Christmas Parade (Grand Marshall), Las Vegas Stardust Hotel stage, Ripleys believe it or not, the Patsy Awards at Universal Studios, etc., and met a great deal of celebrities because of him.Ê
He was such a pet! Like a dog... Park a horse trailer any where near him and he would prance right over and load himself, seemingly excited to go "bye bye"! I remember being a kid and taking him to the Patsy Awards the year he won. I believe it was at Universal Studios in 1967.
He was later sold to Deborah Bailey, who moved from Solana Beach, California to Tilamook, Oregon. Rojo went with her and passed away after 5-6 years in Oregon.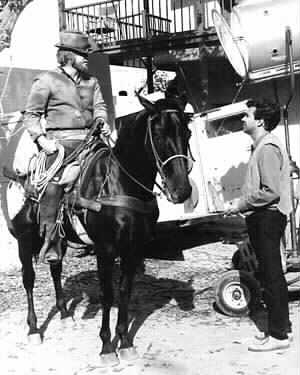 Movie director Sidney Furie discussing something with Marlon Brando.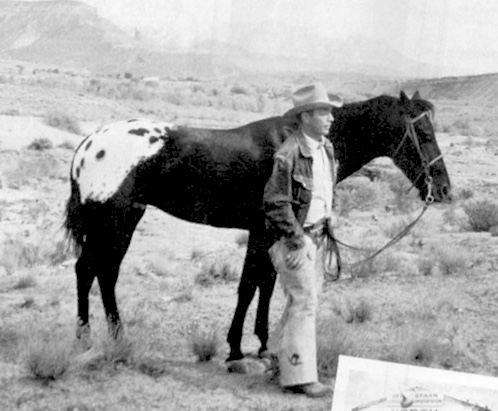 Cojo Rojo on location with trainer Roy.
Sources: Appaloosa News 2-65:87, 11-65:2, 10-71:56*, 11-71:73*, 4-72:133*, 2-73:153*, 1-75:33,
Websites: Horse Fame, and Horse Fame update, and the Barnlot.
---
Many thanks to Sylvia Durando for sharing this information. Any additional information and or photos would be most appreciated!
Pedigree of Cojo Rojo
---


Top
Back to Appaloosa History Index
This page last updated on July 2016. Originally published 2011 on Appaloosa Territory.