Appaloosa Territory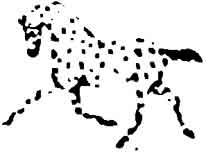 ---
Appaloosa History:
W-M's Copper Dollar F-3187
Appaloosa Historical Tidbits # 5 by Robert Lapp
---
Introduction: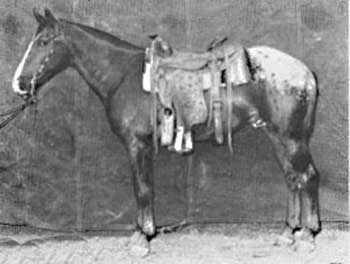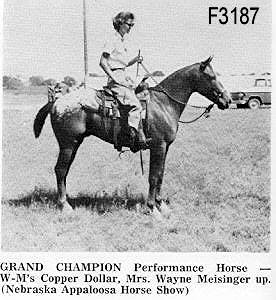 W-M's Copper Dollar
A.╩ He was like the children's story about "The Little Engine That Could". Barely 14.2 before being trimmed, he was The Little Horse That "Did", did it all, often, and in a big way...but not in the beginning, for his rise to World and National fame and the cover of Appaloosa News could not have been predicted early-on..
B.╩ This unregistered little fella, the horse with no name, was hauled with a load of cattle from Oklahoma to an auction in Council Bluffs, Iowa, and purchased by Kansas horse trader, Guy Holland. Not quite the kind of beginning we'd expect for a champion-to-be, especially with an unknown pedigree and the name, Red Horse, on Holland's application for ApHC registration.╩ Then again though, maybe it was.....a little horse...with cattle....eventually sold to his final home, the W-M Cattle Company, Plattsmouth, Nebraska.╩ "Cattle" truck...."Cattle" Company....destiny in the making? But let's not get ahead of the story.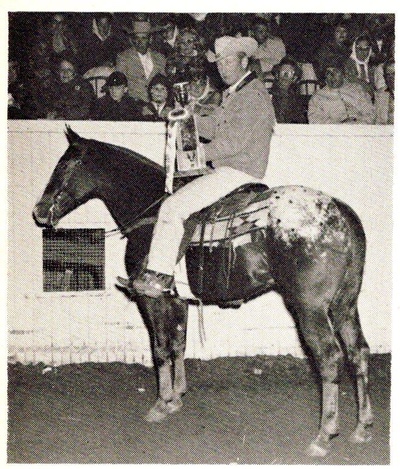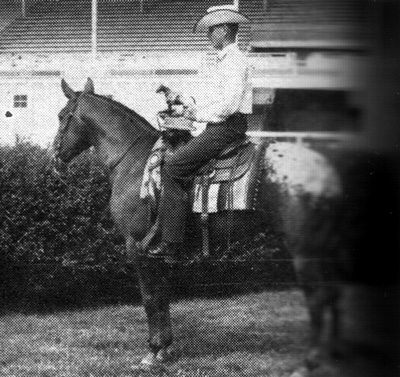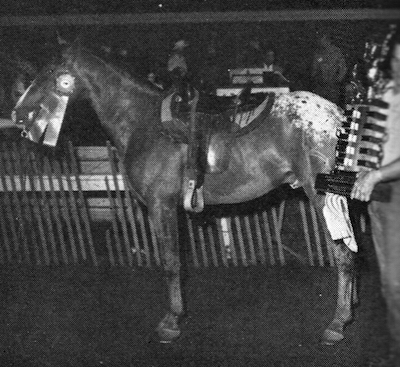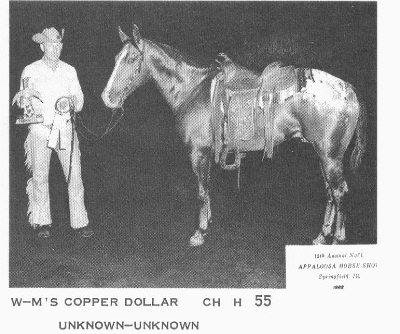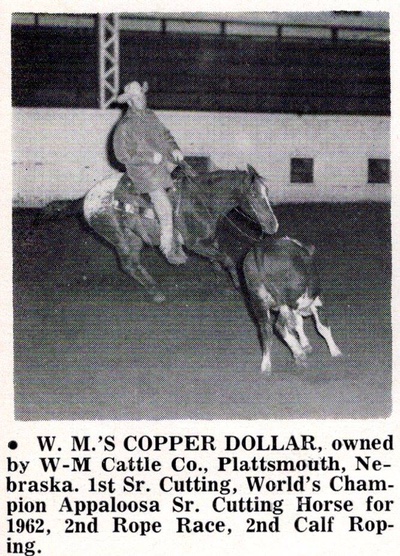 C.╩ Some of you have undoubtedly heard the name, Lowell Ferrel, nationally- known 50s/60s reining, roping, cutting horse trainer and major stock show judge from Imperial, Nebraska.╩ Remember that name, along with a lady named Marj, a young girl, Diana, and a little boy named Dennis.╩ All will help make this little Appaloosa remembered as something special. Remember also names from Appaloosas past, like the great cutters, Revel Junior, Buster Q, Cooterville Mackey's Pride, and other greats, Absarokee Sunset, Hawk Eye and Quanah. They would one day find out that this indeed was "The Little Horse That Could".
D.╩ A story from by-gone days probably gives us one good picture of what the little horse named "Punch" had done.╩ Seems as though a show secretary received a phone call right before a show--the caller asking, "Will Copper Dollar be there?" "Well, we think so," was the answer.╩ And the caller's reply? "Guess I won't bother then."╩ The little horse with the big reputation...
The Basics:
a.╩Studbook data:╩ W-M's Copper Dollar, F-3187, advanced from T-1681. Foaled, July 8, 1955; bred by Bob Moore, Kansas City, Kansas. Owned by Guy Holland, Hutchinson, Kansas.
b.╩Sold by Holland in February, 1958, to Wayne and Marj Meisinger, W-M Cattle Company, Plattsmouth, Nebraska, Copper Dollar's long-time and final owners.╩
c.╩Studbook and ApHC data leave many questions unanswered. Unknown is whether or not Copper Dollar was in fact registered by Holland. While his application is on file, dated April, 1957, no available data indicates Holland's application resulted in assigning the horse a registered name or number. The name, WMCD, was provided by Meisingers, not Holland.╩ On the other hand, studbook transfer data (Vol. IV p. 1005) lists a transfer from Holland to Meisinger.╩How a horse with no registered name or number could be transfered in the first place has, to this date, not been determined. The ApHC file has no transfer document and is very incomplete.
d.╩According to an App. News story, and confirmed by Marj Meisinger: December 1968, Copper Dollar failed to appear one evening for feeding. Since it was dark, a search the next morning found Dollar dead, frozen in ice on a creek. While no cause of death was officially determined, he appears to have fallen into the creek and broke his neck--a tragic ending to the "Little Horse That Did."
The Pedigree:
a. Studbook, Vol. IV:╩ Sire and Dam, unknown
b. ApHC files:╩ Sire: Appaloosa Stallion, Dam: Sorrel mare.
c.╩At this point, the discrepancy between a/b has not been resolved.
d.╩ The "Rest of the Story"? Recent conversation with a man who knew Guy Holland does not confirm a sire or dam but represents an opinion shared by others who knew the man and the horse.╩ According to this account, Copper Dollar's dam was a QH mare, a TB/QH cross and perhaps AQHA Appendix registered. No specific name was known.╩ The sire could have been a Foundation Appaloosa stallion named Mr. Chico, very similar in size and color to Copper Dollar and described as a stallion "who worked cattle like a cat".╩ Attempts to locate Holland and others associated with Dollar's pre-Meisinger days have not been successful.
The select show record:
According to Marj Meisinger, the unnamed little sorrel or chestnut stallion was "rough broke" (green!) and bucked when she first mounted him at Guy Holland's farm in Kansas.╩ Obviously undeterred, she bought him anyway, started more training herself, and soon thereafter placed him in the hands of the famous Lowell Ferrel. Both Lowell and Marj would campaign Dollar, producing a rise to fame remembered even today by old-timers from 1960s Appaloosadomn. Those successs are represented below, but only partially because they were many.
a.╩World/Nat'l Shows:╩ 1958, Nat'l Chmp. Ladies Western Pleasure, 11th National, Hutchinson, Kansas; 1959, National Chmp, 4 and over Stallion, (ahead of Duke of Windsor and Cojo Mapachi) an Res. Nat'l Chmp Stallion, 12th Nat'l, Santa Barbara, Calif.; 1961, 1st World Show, Sedalia, Missouri, World Chmp Calf Roping, ahead of Absarokee Sunset, Quanah, and Hawk Eye; 3rd in cutting behind Mackey's Pride and Double Five Domino;╩ 1962, 15 Nat'l, Springfield, Illinois, Nat'l Chmp, Senior Cutting, Nat'l Chmp, Camas Prairie Stumps, Grand Champion Performance Horse;╩ 2nd World, 1962, Sedalia, World Chmp, Senior Cutting, ahead of Revel Junior, Buster Q., and Mackey's Pride;╩ 1963, 16th Nat'l, Boise, Idaho, Nat'l Chmp, Nez Perce Stake Race, Reserve Nat'l Chmp. Peformance Horse; 1964, 4th World, Sedalia, World Chmp, Rope Race and Reserve WC Performance Horse;╩ 1964, 17th Nat'l Albuquerque, N.Mex, JUNIOR SHOW, 1st Place English Pleasure and 15-18 Stake Race, ridden by Diana Jones;
b.╩Regional Shows: Many wins/placings in numerous events and awards of Grand Champion Performance Horse. One example shows not only Copper Dollar's performance achievements, but also those of his offspring.╩ It was at the 4th Annual Nebraska Appaloosa Show, June 1961, Columbus: He earned Grand Champion Performance Horse honors over Charley Peterson's infamous, General Custer.╩ A son won 1st in 1960 Stallions; another son won 1st, 1961 stallions, still another son won 1st in 3 and under Geldings and╩ was named Grand Champion Gelding; a daughter won 1st, 1960 mares; Dollar won Get of Sire; Of note only a year earlier, 1960 Wissota Show (Wisconsin), Dollar won 1st Place Junior Horsemanship, 14 and under, ridden by Dennis Peteriet.╩ He was shown also by Meisinger's 8 yr. old daughter in youth Walk-Trot classes.╩Another example shows both his ability and versatility.╩ Summer, 1961, the big Midwest Appaloosa Horse Show, Spencer, Iowa. Copper Dollar wins 1st Cutting, 2nd Roping, 3rd Jr. Horsemanship, 5th Ladies Pleasure, 1st 220 yard Race, 1st Trail Class, 1st Stake Race, 1st Sr. Reining, 2nd 1/2 mile Race. Not unexpectedly, named Champion Performance Horse.
c.╩1964, Missouri Girls' Rodeo Association Third All-Girl Horse Show:╩ Ridden by Marj Meisiner, he won three events, placed in five others, and was awarded All Around Trophy.
d.╩A short story about Copper Dollar summarized it best:"Copper Dollar has done everything...he has consistently won and placed in many classes, over and over again."
The offspring:
╩ a. Copper Dollar produced 71 registered foals, the first in 1958, and last in 1969.╩Notwithstanding his own halter wins, he was never regarded as a halter horse, and with an unknown pedigree, did not attract top mares.╩Despite his size and pedigree, the record shows a sire of winning halter and performance horses. The list of Copper Dollar show get and achievements is extensive. Among them:╩ Copper Valentive, who himself would justify a tidbit; Copper Penny, Copper Nugget, Copper Skyrocket, Copper Savage, Hi-Boy, Bunge's Chipper, Tea Copper Skip, Cocoa Banner, Copper Reno, W-M's Gambler II, and Copper Strawberry.╩
b. Folks will remember the Disney TV production, "Run Appaloosa Run", and especially the cute little booger of a foal in the early scenes. That baby, ApHC registered as Christian Ohadi,╩ was sired by W-M's Copper Nugget, Copper Dollar's son.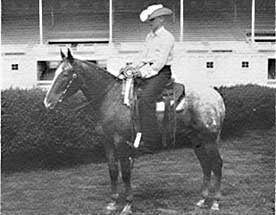 W-M's Hi Boy F-4345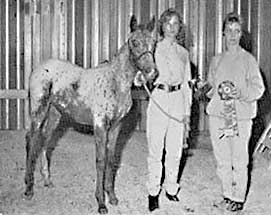 W-M's Copper Penny T-8681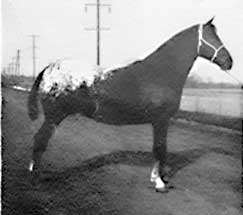 W-M's Copper Savage T-5771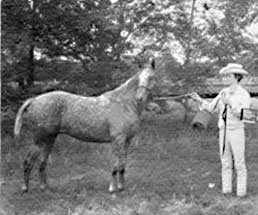 W-M's Copper Skyrocket T-14010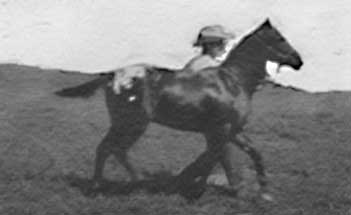 Cocoa Banner F-4606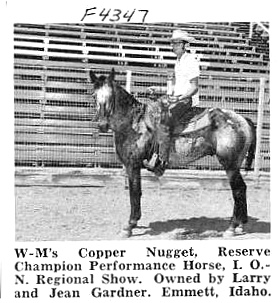 WM's Copper Nugget F-4387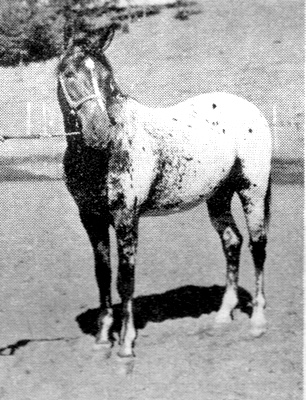 Bunge's Chipper 22236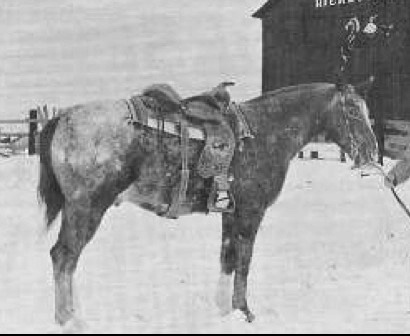 WM's Copper Valentine 9729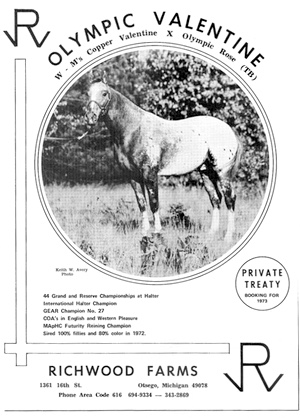 Olympic Valentine, grandson of WM's Copper Dollar
Picture reference:
╩ Though shown primarily at the larger regional and national Appaloosa shows, Copper Dollar's achievements produced many pictures for the Appaloosa News. Some pictures are far better than others.
W-M's Copper Dollar
Cover, August 1962
August 1961, p. 38;
October 1961, p. 52;
September 1964, p. 17;
December 1964, p. 7.
Appaloosa News S-O 58:7, J-A59:4/55, S-O59:22, 8-60:29, 10-60:36/49, 11-60:35, 8-61:38, 10-61:52/55, 12-61:27, 7-69:20(article)
Western Horsemen 10-64:124
FAHR Tidings 08-1:24
Partial List of Offspring
W-M's Cooper Skyrocket/W-M's Hi-Boy, August 1961, p. 22;╩
W-M's Copper Penny, August 1961, p. 29;
W-M's Copper Valentine, October 1965, p. 112;╩
W-M's Copper Savage, April 1961, p. 42;╩
Cocoa Banner, April 1961, p. 53;╩
W-M's Gambler II F-4346, April 1966, p. 59.
Tea Copper Skip 21239 AN 2-65:96
Bunge's Chipper AN 1-66:80, 11-65:82, 4-71:141, 5-71:91, 5-67:77
WM's Copper Nugget F-4347 AN7-69:80
WM's Tamby Lass F-4348
WM's Copper Kate F-4349
WM's Copper Koke F-4350
WM's Copper Sprinkle F-4351
WM's Tamby Lad F-4352
WM's Gambler F-4606 AN4-66:59
Santanta H T-4301
Kansas Pride T-4305
Cherry Scat AN 7-69:20
WM's Sweet Pea 5773
WM's Sally Two 5777
WM's Copper Kip
---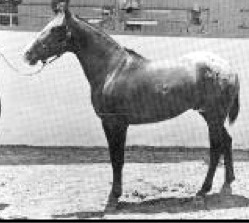 Final Thoughts: ╩╩╩╩ He was a stallion whose disposition allowed children to show him in youth classes.╩ He was shown by professionals at high-powered shows and ridden in many events by a lady, competing primarily against men. Copper Dollar was more than just a versatile horse. He was one very special Appaloosa who deserves to be more greatly appreciated in today's Appaloosa world. Researching and constructing this "tidbit" has been no small challenge. I hope I have done justice for this equine version of "The Little Engine That Could".╩ The Meisingers loved him, and now live near a lake they constructed on their property. Its name, Copper Dollar Lake. Many thanks are owed to Marj Meisinger for filling in many details about ole "Punch".╩ Considering the many events in which he competed and won, Marj probably described him best with only a few words when she said, "He was one tough little horse."╩ Yep...and Amen!! Bob
---
Addendum
MR CHICO - AN 12/68 pg. 42, "Sire Leaves Heritage by Ken Nielson".╩ Its about the death of MR. CHICO in 1967, owner, etc...and goes on to state:╩ "During his lifetime he sired over 300 Appaloosas colts".╩ HMMM...that would mean that over half his foals were not registered.╩ And of those unregistered, how many went down the road with an unknown bloodline?╩ He sired 132 registered ApHC foals.
Also..interesting to me, is the fact about the transfer in the ApHC Stud Book VI from Holland to the Meisingers.
WMCD's daughter W-M's COPPER KIP was owned by Louise Emanuel, Clinton, Md., and ridden by his wife Elizabeth Emanuel in Ronald Reagan's Presidential Inaugorial Parade, Jan 20th, 1981.╩His son W- M's COPPER VALENTINE was used in a high school speech demonstration on reining.
Palmer also shows a strange pedigree for W-M's COPPER DOLLAR...for those who don't have his book...it reads something like this.╩Sire:╩ Unknown by ?Arabian.╩ Dam: Appaloosa by Saddlebred, out of Appaloosa.
I don't see that Jan Haddle wrote anything on WMCD other than his accomplishments.╩ Nor do I see anything in Frank Holmes "Spotted Pride"...unless of course I have missed something.
Pat Mefferd
---
Looks like Copper Savage enjoyed a name change. The stud book lists T5771 as╩ W-M's Frisky, which I sent a foal photo of previously. The one attached here from your reference AN April 1961 p 42, shows Copper╩ Savage with the number T5771. Cocoa Banner advanced to F status, photo attached.
Bonnie Newitt
---
Yep Bonnie. I knew about Savage's name change and advance to "F". In fact, I found a number of different pictures of Savage after I knew the name change. Pics were not good ones, and I thought he actually looked "Frisky".. figured the name fit but was changed to improve it.╩"Savage" wasn't much better though!! Just about didn't even mention him but found a decent pic and a few bits about his own record. Decided to use him. Since you found that pic, you know the ad said "spirited"...which is consistent with what I figured!!! lol
Another interesting fact about W-M's C/D record. The ApHC printout shows him producing 79 foals. You folks will remember I said he had 71.╩The ApHC printout number is wrong. A number of C-D's foals were advanced to "F", BUT, the printout shows both the T and F numbers, which means the horse is counted twice.╩A lot of the data on old horses is like that too--and the disparity of numbers on some is considerably greater than 8!! Bob
---
List of winnings from Pat Mefferd:
1961 World Show Cutting Horse, placed 3rd.
1962 National Champion Sr. Cutting Horse.
1962 National Show Stock Horse, placed 4th.
1962 Springer Cutting Horse Trophy (National Show)
1962 World Champion Sr. Cutting Horse.
1962 World Show Sr. Reining Horse, placed 6th.
1963 National Show Sr. Cutting Horse, placed 4th.
1963 National Show Stock Horse, placed 4th.
1964 National Show Stock Horse, placed 5th.
1964 National Show Sr. Cutting Horse, placed 4th.
1964 World Show Sr. Cutting Horse, placed 6th.
Top
Back to Appaloosa History Index
This page last updated on April 2016. ©2006 Robert Lapp et al