Appaloosa Territory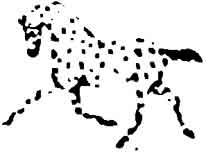 ---
Appaloosa History:
El Morrocco F-18
Research by Pat Mefferd
---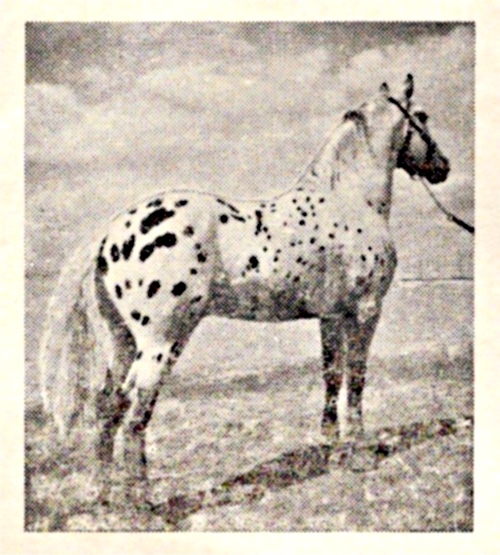 El Morrocco
1935 stallion. Light blue roan, white w/black spots over body. At maturity he is said to have stood nearly 15 hands and weighing 1000 pounds. Pictures indicate thin mane and tail.
The Sire and Dam:
Sire: Leopard Stallion (Foaled sometime between 1912 and1932). Reported to have been a beautiful white horse, well-marked with black spots, from western South Dakota. At maturity he was described as being 15.2 hands and weighing in at 1200 pounds. Bob McCombre said this stallion had lots of style and action. He was destroyed in a fire in Aberdeen (Atlas pg.03 B-10; Northeast part of SD).
Dam: A black mare of Saddlebred breeding.
Both Bob Peckinpah and Dr. Francis Haines felt that El Morrocco may have been bred from Chief Joseph stock left at the end of the retreat in Montana. I personally have not seen any proof, however both men did so much research of those early Appaloosas, they may have known something that I don't. I would suggest that this is only speculation and should not be assumed or taken as fact.
Breeder: Not shown in ApHC Stud Book Volumn I indicating that the breeder was not listed on the ApHC Application for Registration and probably not known to the person who registered him. Possibly from western SD area (see sire).
Timeline: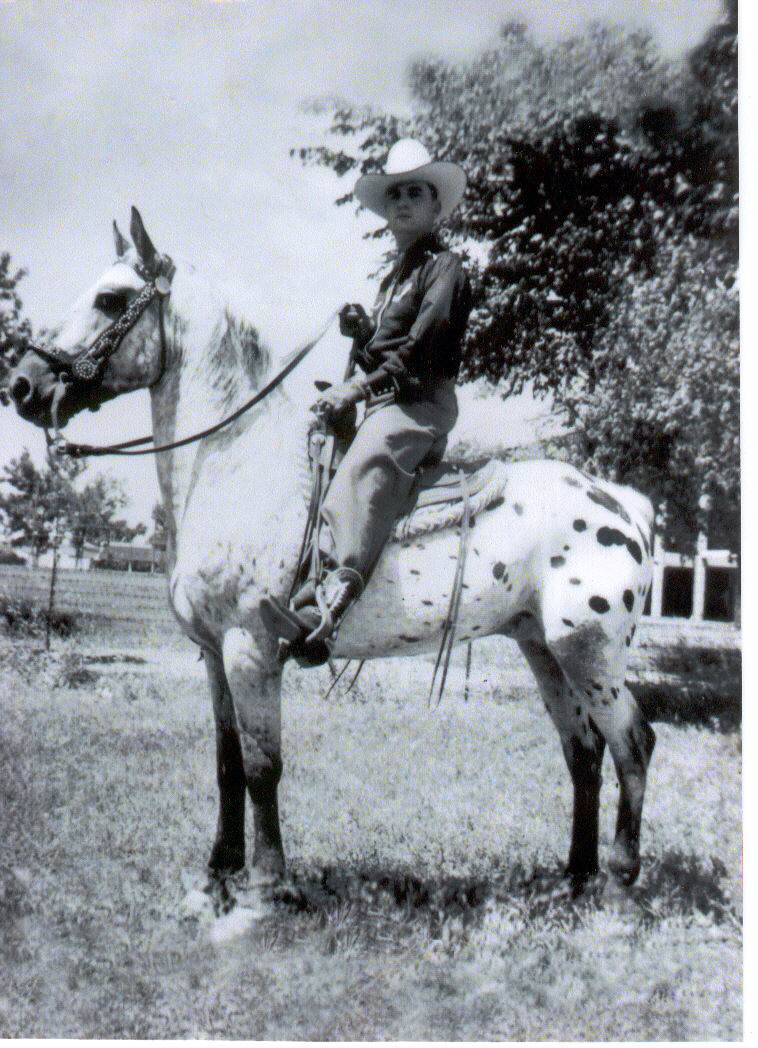 1935: Year foaled.
1936: Bob McCombe, Redfield, S.D. purchased him as a yearling.
1939: Sold to Glenn Spiller, Huron, S.D.
Spiller brought El Morrocco with him when he moved from S.D. to the Evansdale Farm in Yorba Linda, California. Spiller later moved to Long Beach, California and it is believed that El Morrocco may have been at that location for a time.
Spiller high schooled El Morrocco and trained him to jump. He used him and two other horses in a 3 horse "Roman Standing Team".
Spiller reported that he bred over 200 mares to El Morrocco in less than 3 years, however there is no known record of how many mares actually produced foals. These were the early years and the majority of the resulting foals were not registered
1941: Sold to cowboy singer/actor Gene Autry of Hollywood, California. Autry used him in his "Rodeo Performing Troupe" Gene Autry bred at least one registered foal from El Morrocco F18…that being Autry T-152.
194?: To M.R. McBride, Bad Axe, Michigan.
1947: To Harry Prowse, Marlette, Michigan.
1952: To Fenton Loss, Vassar, Michigan
1959: To James and Ardella Drudge, Tekonsha, Michigan The Drudges bred him several times to their mares Tammie [F-2677] and Shawnita [T-4778].
1962: To Perry R. Klinger, Ada, Ohio. El Morrocco was put down in February 1962, due to a kidney infection…he was 27 years old.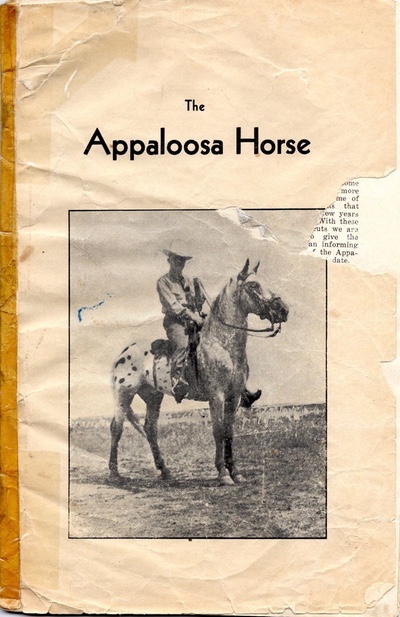 El Morrocco F-18
Offspring - Sire of: 26 ApHC foals. [24 (23?) listed]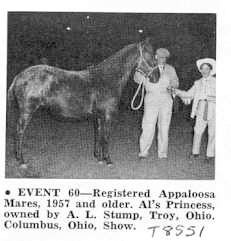 Al's Princess 8551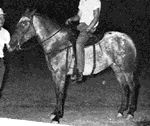 Squaw Valley Babe F-3286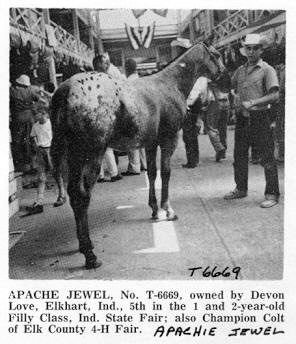 Apachie Jewel 6669
05/18/38…La Hermosa F-104
Dam: Blanca Reina
Mare - White/black spots over body.
Breeder: H.G. Rettmer, Zell, SD.
06/01/39…Prince Freckles F-305…
Dam: Unknown
Stallion – Lt. blue roan/black spots over l/h.
Breeder: Ed Jasewski, Tulare, SD.
05/28/40…El Militar F-105…
Dam: Blanca Reina
Mare – Roan/white w/dark spots over loin/hips.
Breeder: H.G. Rettmer, Zell, SD.
06/24/41…Last Chance F-910
Dam: Marilyn Joe
Stallion – Blue roan/white w/black spots over hips.
Breeder: Paul G. McCoy, Frankfort, SD.
06/??/41…El Marroco F-198 (sire shown as Unknown)
Dam: Unknown
Stallion – White/black spots over body.
Breeder: Unknown.
Registered by: Gene Holter, Colliersville, NY.
06/??/41…Gypsy Sweetheart F-197
Dam: Unknown
Mare – White/black spots over loin/hips.
Breeder: Unknown.
Registered by: Gene Holter, Colliersville, NY.
00/00/41…El Ranger T-10658
Dam: Unknown
Stallion – Lt. Red Roan/white w/black spots over l/h.
Breeder: Wayne Harrington, Ackron, MI.
["El Ranger [T-10658] is Michigan bred and owned. He was foaled in 1944. He was purchased as a 2 year old from his breeder. He was still siring foals in Michigan in 1950. El Ranger was born black, but turned white (said to be due to an illness?). Sonseeray [F-3295] is a noted son of El Ranger. Also note that the El Morrocco/ El Ranger lineage is known for black leopard production. The Tomahawk lines are not known for leopard production." ~Sherry Byrd]
06/02/45…Nesheim's Buttons F-1030
Dam: Spot
Mare – White/black spots over loin/hips.
Breeder: Unknown.
Registered by: Oscar Neshiem, Sherman, SD.
06/16/47…El Sirocco F-296
Dam: Silver Speck
Stallion – Lt. dun/white w/dark spots over l/h.
Breeder: Gene Holter, Jamestown, ND.
[Note: ApHC studbook has El Marroco F-198 as sire, not El Morrocco F-18]
07/20/47…Frisco F-716
Dam: Helen
Mare – Red roan/white w/bay spots over l/h.
Breeder: H. and G. Prowse, Marlatte, MI. (Harry and Grace Prowse).
07/??/47…Autry T-152
Dam: Unknown
Stallion (Gelded) – Blue roan/white w/black spots over l/h.
Breeder: Gene Autry, Hollywood, CA. (I question the foal year).
04/29/48…Rocket II F-717
Dam: Billie
Stallion – Blue roan/white w/black spots over l/h.
Breeder: Harry Prowse, Marlatte, MI.
04/19/50…Chiquita Del Morrocco [8303]
Dam: Apache Rose [F-628]
Mare – Blue Roan/light w/blue roan spots over l/h.
Breeder: John Logan, Goodells, MI.
??/??/54…El Teko Shawnee T-4780
Dam: Shawnita T-4778
Stallion – White w/blue roan spots over entire body.
Breeder: Harold Warsop, Battle Creek, MI.
??/??/55…El Teko Tonia T-4779
Dam: Shawnita T-4778
Mare – White w/black spots over l/h.
Breeder: Harold Warsop, Battle Creek, MI.
??/??/56……El Teko Chapito [Chipitto in studbook] T-4781
Dam: Unnamed
Mare – Brown/brown roan over l/h.
Breeder: Harold Warsop, Battle Creek, MI.
00/00/56…El Teko Lad T-4785 [F-4234]
Dam: Tammie F-2677
Stallion – Blue roan/white over l/h.
Breeder: Harold Warsop, Battle Creek, MI.
05/11/56… Al's Princess T-8551
Dam: Nellie
Mare – Blue roan/white spots over entire body; white strip in face.
Breeder: Wayne Harrington, Akron, MI.
00/00/57…El Teko Umpquah F-2792…
Dam: Tammie F-2677
Mare - Red roan/white w/bay spots over l/h.
Breeder: Harold Warsop, Battle Creek, MI.
00/00/58 El Teko Kid F-3236
Dam: Tammie F-2677
Stallion – Bay/white w/bay spots over l/h; blaze face.
Breeder: Harold Warsop, Battle Creek, MI.
05/22/59 Apachie Jewel* T-6669
Dam: Unnamed
Mare – Lt. Bay/white w/bay spots over l/h; star.
Breeder: Harold Patch, Coldwater, MI.
[Reference: Appaloosa News Nov60:29]
08/00/59 ['55 in studbook] Elteko Streak T-6670
Dam: Unnamed
Stallion (gelded). Red Roan/red spots over entire body.
Breeder: Harold Warsop, Battle Creek, MI.
[1960 Squaw Valley Babe* F-3286
Dam: Apache Rose F-628
Mare - Blue roan, blanket
Breeder: Leo Lloyd, Stryker, Ohio]
[1947 El Morocco's Chip F-528
Dam: Boots
Gelding - red roan, spotted blanket
Breeder: Robert Ross, Marlette, Michigan]
---
Reference:  Appaloosa News Mar-Apr60:14
Any text in [...] added by editor. : )
Top
Back to Appaloosa History Index
This page last updated on April 2016. ©2006 Pat Mefferd (Updated: October 19, 2007)