Appaloosa Territory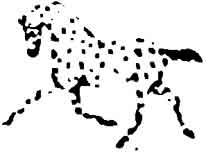 ---
Appaloosa History:
Paisano F-1023
Appaloosa Historical Tidbits # 3 by Robert Lapp
---
Introduction: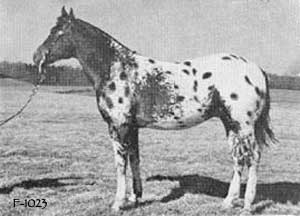 A.  The old phase, "where East meets West," is literally the headline for presenting Paisano's story.  Born in the Far West to an early leader in the development of the Appaloosa industry in California, Paisano was "met" by a trainer from the East and hauled across country to his second home in New Jersey. Essentially lost to Appaloosa history for the next six years, Paisano was purchased by a Thoroughbred breeder whose horses were often sold at famed Saratoga (NY) and Keenland (KY) and moved to his final home in Virginia where he became part of a fledgling Mid-Atlantic Appaloosa industry.
B.  Other early Eastern U.S. Appaloosas are more well-known than Paisano: Acomb's Hawk Eye, foaled in 1955, was a very young horse whose reputation was still ahead of him when he arrived in New York;  High Thunderbird, foaled also in 1955, didn't arrive in Virginia from Texas until 1957, but became famous through the massive promotional efforts of cattleman Joe Schwerin and owner/trainer Max Tappero of the famed Creswell Farms.   Little Navajo Joe, foaled in 1962, would go on to become an outstanding and eventual  ApHC Hall of Fame performance horse and sire; Beau Lane's Rivers Bend's great stallion, Flying Star (by Colida), foaled in 1963, was already a champion Appaloosa before arriving in Virginia in 1969, just as Paisano's career as a breeding stallion was coming to an end.  Although perhaps overshadowed by others, Paisano was a good horse, pretty, well mannered, versatile, and a stallion whose history goes back to early California and whose later history contributed to the popularity of Appaloosas in 1960s Virginia and the Mid-Atlantic states.
The Basics:
     a.  Paisano...sometimes spelled incorrectly as Piasano, due in part perhaps to the correct spelling of one of Paisano's noted reining and reined cow horse sons, Piasaro, who established his own reputation as a sire in California.
     b.  Paisano foaled March 6, 1946; bred by the pre-ApHC California breeder and exhibitor, Myrtle G. Brown, Arbuckle, California.  (for a more complete story of Mrs. Brown's life with Appaloosas, see App. News, April 1983, p. 100) Myrtle was born in 1898 and along with early California breeders and exhibitors, Con Ruff, Fred Hulseman, Mabel Woodward,  helped develop Appaloosa  popularity in California long before the ApHC was even an idea. Showing stock horses in the 1920s/30s at County Fairs and even at the famed Cow Palace in San Francisco, Myrtle was part of a small group whose efforts, at one time anyway, resulted in California having the greatest number of ApHC members and registered Appaloosas. 
     c.  Paisano had three owners, although ApHC transfer records show only two. He was shown at the 5th ApHC National Show, 1952,  Quincy, California, (the first National outside of the Palouse Country) where he was 2nd in Aged Halter to the famous Chocolate Sunday and won 3rd place in Ladies Western Pleasure.  East met West at that show, where a hunter/jumper trainer from the East, Jack Goodwin, purchased Paisano for NJ businessman George Brewster, altho an official transfer was apparently never made or recorded. Evidence of this purchase was noted in the Horse Lover's November 1952  report from the ApHC National Show. Brewster used Paisano primarily as a trail horse, and as production records will indicate, did not stand him at stud. While official ApHC records show that Paisano was transferred from Myrtle Brown  to L. Clay Camp, then of Rockville, Virginia, in point of fact, Mr. Camp, according to a recent conversation I had with him, bought Paisano from Brewster in early 1958. Jack Goodwin, who worked for Brewster, was a friend of Camps, and thru their acquaintance, Mr. Camp came to admire and eventually purchase Paisano.
d. Paisano's life of 32 years ended in 1978 after a long struggle resulting from  complications of an eye infection which had resulted in one eye being removed.
The Pedigree:
     a.  According to ApHC studbooks: Sire: Arizona Gold,  Dam: Bunny, both unregistered and no indication of breed.  After extensive research however, a more extensive pedigree can be detailed and documented.
   b.  Sire: Initial research suggested Arizona Gold was sired by the famous foundation QH, Lucky Blanton (a foundation line which continues to this day); AQHA pedigree records in fact show an Arizona Gold, 26618, foaled 1941, sired by Lucky Blanton, 1746, foaled in 1936. Given Paisano's foaling date and finding no registered Appaloosa named Arizona Gold, the best evidence argues that Arizona Gold, a QH, was his sire. (Note: Lucky Blanton can be placed in the Arizona/California area in the 40s/50s)
          Dam:  Although the stud books indicate Paisano's dam was unregistered, there is in fact a registered Appaloosa named "Bunny"...F-521, foaled on April 10, 1939 and bred by Ed Brown, Arbuckle, California, who was Myrtle's husband.  That foaling/bred by.. information argues rather convincingly that the F-registered Bunny was in fact Paisano's dam. We dig further though. Prior information had already provided a pedigree for the unregistered "Bunny"; Red Wing (or Wings) a Morgan, X Freckles, unregistered, but had to be an  Appaloosa in order to account for Paisano's color. We come full circle by looking at Bunny F-521's studbook pedigree-the same as found for the unregistered Bunny! But there's more: A "Bunny", owned by Con Ruff, was shown at the same 1952 ApHC National Show that resulted in Paisano going East. Bunny won the Trail class.  Doubtful that we have two "Bunnys", one registered and the other unregistered.  But what about Freckles? Again, further research indicates Freckles was sired by El Capitan, an unregistered Appaloosa owned by Myrtle, shown in California in the years prior to formation of the ApHC, and whose picture appears in the previously cited article discussing Myrtle Brown's life!
     c.  Back to Arizona Gold: His dam, Babette 2,  is listed by AQHA as an unregistered horse with an unknown dam but four-generation TB topside. All told, Paisano's lineage includes four breeds, Appaloosa, Morgan, TB and QH. Per Pat Mefford: ARIZONA GOLD AQHA 16618...He was foaled in Wilcox, Az...and then purchased by C.E. Nichol, Cottonwood, Ca. BABETTE (dam of Arizona Gold) was by BOB SHANNON, a TB Remount Stallion. BOB SHANNON was under the guidance of Civilian Agent, Eli Rogers in Wilcox, Az. for a number of years, and later could be found standing in New Mexico.
The select show record:
     a.  Paisano's 1952 ApHC National Show record is the only show information I've been able to document without considerably more research. In all likelihood however, he was probably shown quite extensively in California.
  b.  Appaloosa News stallion ads for Paisano plus telephone conversations with his last owner, Clay Camp, indicate more about his show performance. "Paisano has won every Parade Class in which he was entered in California". "Major show winner in working stock and trail classes." (in the East). "Champion in Trail and Western Pleasure Divisions in many of the National Horse Shows including the Pennsylvania National." Mr. Camp also indicated he had been shown in hunt meets, reining, shown at Devon, and to top it off, you could rope off him and go pheasant-hunting on horseback.  Some kinda horse??? Not really, just another good ole versatile Appaloosa that deserves more credit than received to date!
The offspring:
a.  Paisano produced only 44 ApHC registered foals. The first 9 were born in California between 1949 and 1953. No foals were produced from 1954 thru 1958 (when with Brewster). The remainder were produced from 1959 to 1971 after being purchased by Mr. Camp. 
   b.  Considering how few foals were produced, Paisano's record as a sire is remarkable--for a very high percentage of his offspring had outstanding show records on both the West and East coast: among them were: Piasaro, Paisano II, Paisano's Charro, Paisano's Nutmegger, Paisano's Janie, Paisano's Mark, Paisano's Red Clay, Paisano's Snowfall, Paisano's Sox, and Paisano's Blue Runner (1972 Res. Nat'l Champion Mare and 1972 Nat'l Champion Broodmare). Note: A Paisano mare, River Susie, was owned by famous Hollywood actor and Florida Appaloosa breeder, Burt Reynolds!
c.  Remember the reference to Creswell Farms' Joe Schwerin, Max Tappero, and famous High Thunderbird?  Paisano must have impressed Tappero, for he not only showed offspring for Camp, but owned at least three of Paisano's foals.
Paisano will probably not make it to the ApHC Hall of Fame, but he was a good Appaloosa who represented the finest of "Appaloosa" at a time when our breed was just beginning to develop a foothold in the equine industry of the Eastern U.S. Mr. Camp probably put it best: "He was a gentleman who passed his manners to all of his get."
Picture reference:
Paisano:
OAP file;
AN 12/60 inside FC;
W-H 12/60 p. 20;
W-H 2/59 p. 44;
AN 1-65:102, 10-65:111(produce)
Good offspring pics:
Paisano's Sox, AN 8/69 p. 50;
Paisano's Janie (jumper) AN 9/69 p. 30; AND AN 7-65:45 (dam a TB), 12-60:FC
Paisano's Mark, AN 12/67 p. 66;AND AN 12-65:63
Paisano's Red Clay, AN 10/61 p. 47;
Paisano's Blue Runner, AN,11/68 p. 90; AND 7-65:70
Paisano's Nutmegger, AN 12/65 p. 68;
Paisano's Snowfall, AN 2/62 p. 62, 12-60:FC
Painsano's Socks AN 12/81:190
Paisano's Destiny (x P's Socks) AN 2-81:247
Paisano's Bold Star AN 6-70:69
Paisano's Debutante (x P's Socks) Appaloosa World 01:64
Paisano's Fancee AN 7-75:77
Paisano's Nav-O-Nod Kid AN 10-75:19
Paisano's Kat (x P's Socks) AN 12-75:51
Paisano Patch AN 12-75:113
Paisano's Bull Lea AN 12-75:135
Phlaxen Sunup (x Paisano's Bull Lea -Sundance) AN 12-75:135
Sheza Grand Slam (x Paisano's Debutane) ApJl 10-89:52
Codacrome Fanticy (x P's Jill) ApJl 12-89:177
Ranchers Codasocks (x P's Jill) ApJl 12-89:177
Heritage W. Feather #90717 (x P's Fleck)
Cheyenne Summer ApHCC 19737 (x Paisanos Aprilday ApHCC 19735) 1980
Band's Crispy Critter (x Paisano's Nav-O-Nod Kid) CPAA 4-77
Paisano Cloe AN 6-69:68
Paisano Charro AN 12-60:FC
Paisano War Bonnet An 6-64:39
A special thank you must be given to Clay and Barbara Camp, now of Charlottsville, Virginia, for information that filled in many research holes.  They knew Paisano best, and I know appreciate telling his story here. Bob
---
Addendums
I came across some data on Paisano's next to last foal--a stud named, Here Paisano.  He was 5th in his class of 2 yr. old colts at the 1972 ApHC National show.  While 5th may not impress too many people, we must remember that back in "those days", classes were huge.  And...5th..out of a class of 79 entries ain't too shabby!!  Among other things, he was also 1972 North Carolina State Halter Champion. This is one VERY NICE Appaloosa.  If anyone can find the pic and post it, I'm sure you all would be impressed with what Paisano has produced..and out of the great mare, Piance Creek. App. News, February 1973  p. 113. Bob
---
Hi, Fay George, Bucksport, Maine; I Owned the above stallion, by Paisano #F1023, He was an awsome horse, will have to scan some photos, of him and his more sucessful get.  The coment that they were ahead of their time (right on).  Beauty, brains, disposition; I rode that ole horse, english, western, drove him in winter while I snow winged, we did Dressage way back.  Lendon Gray, got Shavano's Pride, her first real ride into the world of Dressage. She was still hunter, jumper; oriented; Bill Stinekraus, worked S Pride out of working trot over, 4 foot high, 4 foot spread jumps at a University of Maine Clinic.  Shavano's Pride, was bred by Claire Grant of Stoneacres Farm, at Bangor Maine; as was Stone Acres Son Of Paisano; who I bought as a 5 yrs old, and he lived to be 27.      I'm now 62, and still have 2 of his daughters, in their 30's, un- regd. I gave up papering when the club (club) that's what they act like a click club. decided they weren't going to reg. App., Arab cross; any longer.  Oct. 9, 2005, chestnut blaze faced colt out of pure arab mare, a grand son of SA Son of Paisano F4911; he'll go 1/2 Arab; beleave he'll roan to color, he has a couple flakes on is butt at birth.       Had to let you know, Maine had their Foundation horses; with some good promenant lines in use. Best to All:  When you went Paisano # 1023, you brought back tons of memories.  It pleases me to see folks still see what special horses they were.   Regards Fay March 2006
---
I have data on when Maine formed their regional club..and have a story about Mrs. Grant bringing the first Apps to Maine back in the early 60s.  The story is the App. News, January 1963 page 40.  AND...the story includes a small picture of a young and very good-looking Stoneacres Son of Paisano being ponied!!!!!! (also have quite a bit about Maine that I got from Margo Condon..assume you know her) Bob
---
Bingo!  It was that sorta day.  Spoke with both the Nichol's brothers this date, something I had planned on doing for a long time, and just never remembered to ask, when I would run into them at the local sale barn, etc.
Their Dad, C.E. Nichol (Cottonwood, Ca) purchased ARIZONA GOLD AQHA 22618 from guess who?  Yup...Ed and Myrtle Brown (Arbuckle, Ca.) in the mid late 1940's.  Picture hopefully will be coming soon, along with more information.
I understand he was some kinda horse.  He does not have an official race/show record with AQHA, and only 17 registered get, 1 performer w/2 points...but back in those days, many people did not register their QH's, the same with many ApHC's., etc.
I was told that his "bush" race record was something like this...17 starts, 2 or 3 wins, 10 placings.  $ was not known.  He is said to have held a track record at Santa Rosa.  This was all prior to the senior Nichol, purchasing him.  So...maybe the race info came from the Browns, or he had a reputation.  He was by LUCKY BLANTON...the "cowboy's cowboy horse".
I don't know who the Browns purchased him from.  He was bred by Eli Rogers, Wilcox, Az...and in the AQHA Stud Book (Combined 1-5), it lists his owner as C.E. Nichol, Cottonwood, Ca.  Without further investigation, it looks like the Browns did not transfer him into their name.
The Browns, bred him to some of their Quarter Mares, and registered those foals.  He sired many "colts" in and around Cottonwood area.  He was a made to order "cowboy horse"...he could run, work the ranch, rope and breed the mares.  I also found out that another friend of mine roped off him too.  He was also used for "mustan-ing" in Nevada...it was a way of life and making a living in the 40's and early 50's.
Even though he is a Quarter Horse...its history behind PAISANO that is important...a good horse is a good horse!  There never has been any doubt in my mind that PAISANO was by ARIZONA GOLD AQHA 26618 and out of BUNNY F521.  Many years ago R.E. "Bob" Hawkins, verified my research, that  both PAISANO's parents were registered.
As for BUNNY's sire...RED WINGS MHC-7965...he was a "using ranch type Morgan"...bred by Rowland G. Hill of Chowchilla, Ca.  His dam TAD, was bred by Richard Spellman of Texas.  Many of the Spellman Morgans ended up out here in California.  Popular  Quarter Horse Texas ranchers and breeders had Spellman Morgans...lots of working cow bloodlines both top and bottom of PAISANO. He is one of my favorites!   The confirmation of RED WINGS MHC-7965 (not RED WING) was made to me thru letters to and from the ApHC back in the 70's, and then again with speaking to Hulsemans' daughter a couple years back...
PAISANO F1023 was placed 3rd in the Get of Sire class at the 1966 National Show. Pat Mefferd
---
Top
Back to Appaloosa History Index
This page last updated on March 15, 2006. ©2006 Robert Lapp