Appaloosa Territory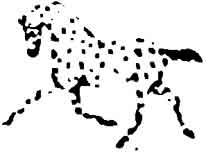 ---
Appaloosa History:
Outstanding Appaloosa Bloodlines
by Robert L. Peckinpah
This article was published in the Appaloosa News (now Appaloosa Journal), September 1972. It appears to have been written circa 1950-1951, so it may have been published previously.
---
Claude J. Thompson [1883-1972] of Moro, Oregon, is perhaps the oldest breeder who is still producing in a direct line from one horse. Producing stallions of his own breeding, from mares of the same breeding, with very little outside help. And to be successful at this, one must be an astute judge of horeflesh; Mr Thompson has been very successful. There are others who have bred Appaloosas as long as he has, but none have ever placed the faith in one stallion as he did, and few, if any, took the painstaking trouble to set their pedigrees down on paper as he did for posterity's sake.
In the early spring of 1927, Thompson was on the lookout for a suitable spotted stallion for his mares. In the late spring of that same year he relates that..."I noticed a bunch of mares and foals in a pasture close to the Columbia River Highway some 30-40 miles east of Portand. I was so impressed with the foals, I traced their sire and found him west of Fossil, Oregon, among the Buttes adjacent to the old Chas. Busby ranch, running in a very large pasture with a bunch of mares."...Old Painter, snow white with black spots over the hips, at the time belonged to Fred Busby, the son of Chas., and was a six year old. For the record, he was first noticed as a colt around Prairie City and Fossil, Oregon, following a white mare who was used s a pack animal and who was owned by an old prospector. The colt was taken for a grubstake or gambling debt and subsequently sold to Fred Busby. The story on his sire, although it never has been actually substantiated, was that he was by a bay stallion, half "thoroughbred" and half "standerdbred".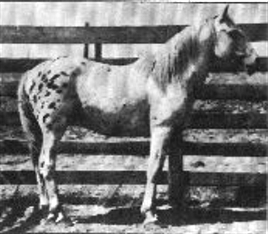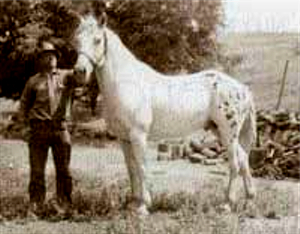 Old Painter
Thompson never owned Old Painter but immediatley after he first noticed him, leased him for a year and bought one of his sons, Young Painter, then 18 months old who was out of a black mare named Dusty Bell. She was sold later and used in a Prairie City bucking string. The next spring his mares foaled the fillies, Marvel and Snowflake No. 2 [F-2]. Babe No. 1 [F-1] was foaled on the Busby ranch at the same time and was afterwards purchased.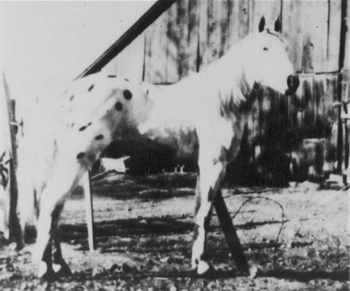 Young Painter
Marvel died as a yearling. Thompson raised several sons by Young Painter, Old Painter's most famous son, but only one was kept as a stallion and this was Miracle Man No. 17 [F-17]. The latter was sold, eventually to a man on Long Creek, Oregon.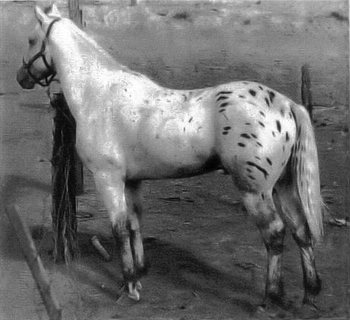 Painter III F-8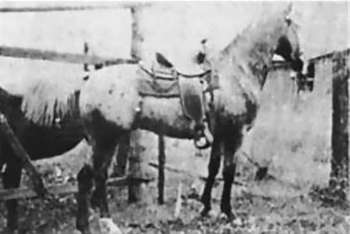 Flash F-12
By this time he had purchased Ferras, an outstanding Kellogg Arabian No. 922, a sorrel with a light mane and tail, and was breeding him to Babe and Snowflake (both by Old Painter), and Kentucky Girl No. 3 [F-3] and Marvel's Angel No. 4 [F-4] , both by Young Painter. The two outstanding stallions from this cross were Painter III No.8 [F-8] and Flash No.12 [F-12] which he later used with fine results on the Painter bred mares. Ultimately, Flash was sold to Clarence H. Parker of Minot, North Dakota and Painter III went to the Pine Ridge Indian agency, Pine Ridge, South Dakota.
---
Until recently, Thompson had three stallions resulting from continuation of this breeding in El Zorro No. 108, Spotted Eagle No. 208 and Red Eagle No 209.These three stallions carry, as do many of this breeding, Old Painter's "Look of the Eagle" - or perhaps it can best be described as the "listening look". El Zorro, the oldest, was sold in the spring of 1950 and is on a ranch owned by Norman Brown, a prominent Polled Hereford breeder, of Smith, Nevada. He traces to Old Painter twice through Kentucky Girl No 3 and Marvel's Angel No 4 and had Ferras as his grand sire on the paternal side. El Zorro put his last Painter bred mare in foal last June; and where the latter left off, Spotted Eagle stepped in to take his place.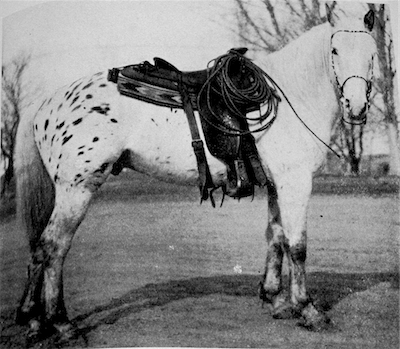 El Zorro F-108 (owned by Norman Brown of Smith, Nevada)
traces to Old Painter through Kentucky Girl F-3
and Marvel's Angel F-4. El Zorro sired Spotted Eagle F-208 in 1946,
another popular stallion of this bloodline.
Mr Brown reports that El Zorro is siring some
outstanding colts for him on his Smith Valley, Nevada ranch.
---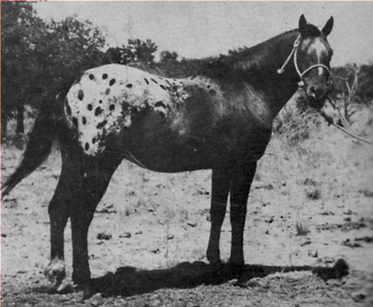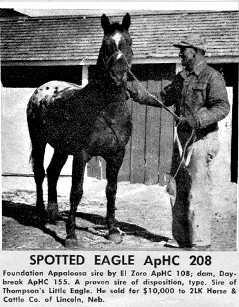 Spotted Eagle F-208
Spotted Eagle was foaled in 1946, a result of a union between El Zorro and the mare Daybreak No 155 (she traces through her dam to Solamon Figueroa twice - a bloodline foreign to the Oregon country). Mr and Mrs CA Schmidt of the Sunnybrook Stock Farm, Chattaroy, Washington took over Spotted Eagle's training as a yearling in 1947; in June 1950, when he was returned to Moro, Oregon, to replace El Zorro, he had sired many spotted foals and the Schmidts, well satisfied, will get their last crop this spring.
---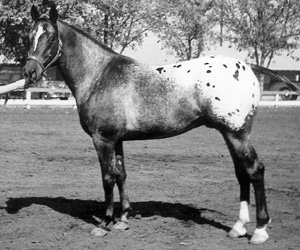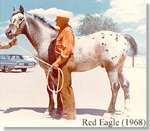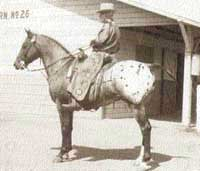 Red Eagle F-208
Red Eagle, the third stallion, was also foaled in 1946 and was by Ferras and out of Painter's Marvel No 47, who traces to Old Painter twice through Painter III No 8 and Snowflake No 2. Later on Thompson plans on coming back with Red Eagle on the Painter bred mares and on Spotted Eagle's fillies.
Old Painter, Young Painter, Painter III and El Zorro were all white with black rump spots Red Eagle and Spotted Eagle are solid colored, white blanket over rump with dark spots. To date, Red Eagle has done little breeding - it's reported that he put one mare in foal last year, owned by RH Cox, Riverside, Caifornia, and of Old Tony breeding - nevertheless, he has gained widespread fame through magazine pictures, posters, by word of mouth, due largely to his breeding, color and conformation. Red Eagle is a well porportioned horse standing 14.2 or 3 and weighing very close to 1000 pounds. He has a good head - faintly dished - is wide between the eyes and has medum jowls. Has a good wither, medium high, is short backed with slightly sloping croup and his tail is set fairly high. The mane and tail are sparse and extremely fine. This clean legged horse is smooth and stut looking, stands well collected at all times and is the perfect gentleman around mares and geldings. Thompson, who spends his winters in the southland keeps him at 1047 Dudley Street, Pomona, California.
---
This man that discovered and placed his faith in Old Painter, over the years has been primairly a breeder and not a showman. Nevertheless, El Zorro, Spotted Eagle and Red Eagle have done very well when they have been shown. El Zorro took 2nd place in a field of 10, in the three year old and older stallion class at Lewiston, Idaho, at the 1948 1st All Appaloosa Show; Spotted Eagle took the blue ribbon in the two year old stallion class at the same show. From 1947 to 1950, under the guidance of Fern Schmidt, the latter took several blue ribbons in the different county and district fairs near Chattaroy. Red Eagle took 1st prize and was reserve champion in the half-arab class at the 1950 all Arab show held in Pomona.
---
Out of 338 horses registered in the first Appaloosa Stud Book, 53 animals trace to Old Painter; as of January 2, 1950, out of 1274 registrations, over 73 trace to Old Painter. From only examining the stud book, a person can readily see the signifiance, importance of the effect of the Painter family on the Appaloosa.
---


Top
Back to Appaloosa History Index
This page last updated on January 29, 2011. ©2011 Appaloosa Territory