Appaloosa Territory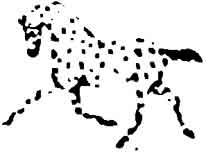 ---
Appaloosa History:
Quanah F-706
Appaloosa Historical Tidbits # 1 by Robert Lapp
---
Introduction: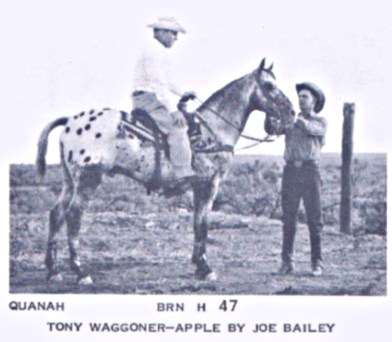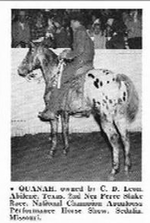 The Basics:
a.  Foaled April 6, 1947; according to the ApHC stud books,  was bred by Pete Tindall  of Eastland, Texas and owned by J.W. Ratliff,  Ranger, Texas.  Remember the name Tindall and town of Ranger...they will  become part of Quanah's story.
b. Note the spelling of Quanah's name...one "n"...some  publications have spelled it incorrectly as Quannah.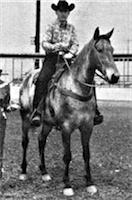 Pancho A
c. Ratliff sold Quanah in 1951 to the M.M. Atkinson family,  Kenedy, Texas. The Atkinsons became long-time Texas Appaloosa breeders,  owning and campaigning four Texas "greats": The famous stallions Tejas  Punto, Choya F-1951; the legendary mare Udo, and the great gelding by  Quanah, Pancho A., 1960 Texas ApHC Halter and Performance Horse Champion.
d.  Atkinsons sold Quanah to J.D. Davis, also of Kenedy, who in 1958 sold Quanah to his final and probably most famous owner, C.D. "Toad" Leon, owner of the world famous Pendaries Ranch in the foothills  of New Mexico's Sangre de Cristo mountains.  It was at Leon's ranch that Quanah stood with two of the most famous Appaloosas of the day, Lucky Dott  and Chief of Fourmile.  How good was Quanah? Leon eventually paid $10,000 for  Chief of Fourmile, but had purchased Quanah site-unseen, strictly  on pedigree and reputation.  (1955 National Champion Stock Horse, Nat'l  Champion Men's Western Pleasure; 1955 G.C.S.  at Baird, Texas; 1956 GCS  and 1st in Stock Horse Reining, San Antonio, Texas)  
e.  While we have no definitive death date for Quanah, the  best evidence says he was still alive on the Pendaries in 1967, long after Leon  had sold Chief in 1963, and converted part of the 4,300 acre estate into a resort and housing development.
f.  Ranger, Texas (remember above); Dan Coates was an early  Texas rodeo producer and announcer.  He produced the first Appaloosa  show in the State of Texas in 1954.  Earlier, in 1950 at a rodeo he was  producing in Ranger, Texas, he saw Quanah for the first time, tried to buy him,  but the price was too high.  However, he saw a colt at that same rodeo,  described as "so muchin the image of his sire," that he later settled for the  next best thing. The baby was the second ApHC registered foal by Quanah, and in his own right: Son of Quanah. 
The Pedigree:
a. Sire: Quanah's sire was the QH Tony Waggoner P-1357, who was by  Pretty Boy P-2229 (a leading maternal grandsire of AQHA Champions)  and a mare by the famous Coke Roberds stallion Buck Thomas. Pretty Boy  was sired by Dodger, by Harmon Baker by Peter McCue.  Sire side...Quanah was  loaded with the early legends of the AQHA.
b. Quanah's dam is where things get interesting.  She was Apple,  registered with the NQHBA as # 428, listed on Delmar Pedigree site as a QH by another AQHA great, Old Joe Bailey P-4.  We know however that Appaloosa color cannot be produced without at least one Appaloosa parent, and from descriptions by Quanah's owners, Apple was a roan who eventually developed some spots; her dam was another Appaloosa mare named Dazy. Remember the name Tindall above?  Well, ole Apple produced another colorful Appaloosa, Lucky Dott F-2057, also of the Pendaries.  Lucky Dott's sire--the great QH sired by King P-234, Tindall Bailey.  Apple must have been the "apple" of somebody's eye, considering the stallions with whom she produced two great Appaloosas!! But there's more....Quanah also had a full brother, Van Horn Waggoner, F-1700, foaled on Christmas eve, 1945, and eventually stood  at stud in Louisiana. What a Christmas present for somebody, color and a great pedigree.
The select show record:
Shortly after being purchased by Leon in 1958, Quanah was  placed in cutting training. With only 3 months on cattle, he placed 2nd in  cutting at the ApHC 1959 National Show in Santa Barbara, California.  With  more training and competing in open cuttings, he won cuttings in Plainview,  Fort Worth, Texas, Durant, Oklahoma, and Albuquerque, New Mexico, where  he was the only Appaloosa entered.
b.  Leon described Quanah in probably the best and broadest terms in his  1961 production sale catalog: "he was a  Champion at Halter, and a stallion who passes natural cow sense on to his colts." While additional show records will not be detailed here, suffice it to say Quanah won or placed in W. Pleasure, Nez Perce Stake race, and actual 1/4 mile races.  A champion equine athlete with color and speed... Appaloosa versatility at its best.
The offspring:
  Quanah produced 87 ApHC registered foals. The first was  registered in 1950 and the last two in 1965. Most foals were produced between  1959 and 1963.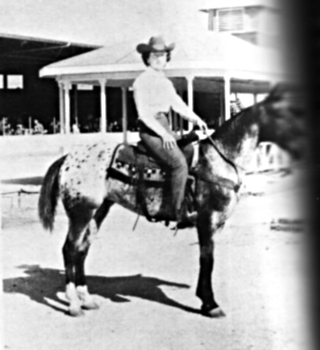 Quanah's Frosty Britches
Quanah's Frosty Britches F-3252, Dam: Cooterville Cheetem F-2321 1970 World Champion, Jr. Reining Appaloosa News 6-70:87, 5-65:104, 1-71:16*,24*, 10-66:14*, 3-67:26*, 4-67:79*, 6-69:77*
Chief Apache F-3033; Dam: Sugar sire of the infamous Acomb halter mare, Painted Lady Appaloosa News J-A58:31
Prairie Flower F-2106 Dam: Minnie Ha Cha F-2105 AN 1-70:139
Son of Quanah F-2674 Dam: Ratcliff's roan Appaloosa News 1-70:139, N-D 57:14*, 11-61:3, Mar'62:32
Quanah's Blast 28529 Dam: Pendaries Get Along 11030 Appaloosa News 1-65:85
Smoke Signal F-1689 Dam: Wiggins Lucy F-1064 Appaloosa News 8-65:79, 9-65:92
Leon's Poco Quanah F-2811 Dam: Cooterville Cheetem F-2321
Lone Wolf F-3207 Dam: Manfielda F-2983 Appaloosa News N-D 57:7* (photo)
Apache Warrior F-3277 Dam: Wiggins Star Eyes F-3261
Quanita F-2270 Dam: Nacoma F-1708
Auer Can Can 35560 Dam: Falette ApHCC 340
Quanah Dancer Dam: Dancer's Talon (from Allbreed)
Quanah Texas This last foal had perhaps the best name, Quanah Texas, a stallion representing two "legends" in the annals of Appaloosa history.
Quanah Ann T-2255 Dam: Molly D Appaloosa News N-D 57:7*
Quanah Linda T-4247 Dam: Ranger Girl Appaloosa News Nov-Dec'58:7*, AN Jul-Aug'59:5
Pancho A T-1805 Dam: Pronto Squaw T-1805 Appaloosa News Nov-Dec'58:8* May-Jun'60:55*, Jan'61:C*,7*(article),42*; Apr'61:39*
Cinco's Snow Hawk T-473 Dam: blue roan
Pacosa or Pocosa T-873 Dam: unknown
Half Moon T-880 Dam: Jinnie
Drum Beat T-1209 Dam: Wiggin's Ginger T-271
Chee Chee T-1621 Dam: Pitchfork Ida AQ
Cooterville Ocie T-2218 Dam: Princess Ochelata T-914
Princess Haffa T-2266 Dam: Wampum D T-1078
Paul's Chief T-3721 Dam: Paschal mare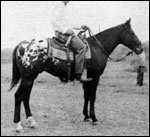 Lone Wolf
Quanah Picture references:
Appaloosa Journal, November 1981 p.57
Appaloosa News Nov-Dec 1957 p.7, 14; Jan-Feb 1959 p.22, Jul-Aug 1959 p. 5; Nov-Dec 1959p. 44; May-Jun 1960 p.61; Jan 61 p. 64; June 1961 p.27; Nov 1961 p. 56, Dec 1961 p. 27
The Appaloosa breed has produced a host of unsung "legends". Quanah has to be one of them. He did the breed proud.
Bob
---
Top
Back to Appaloosa History Index
This page last updated on December 2014.