Appaloosa Territory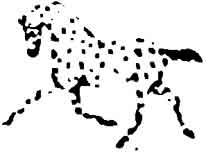 ---
Appaloosa History:
Revel Junior F-1728
Appaloosa Historical Tidbits # 2 by Robert Lapp
---
Introduction: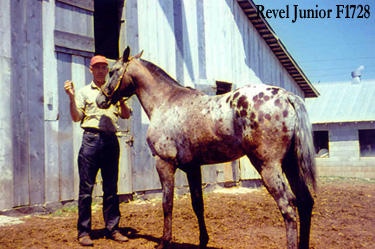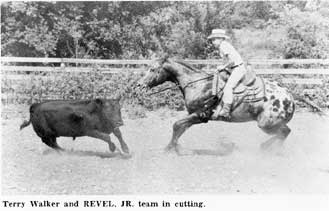 A. For many in the Appaloosa industry, seeing the name "Revel" usually brings to mind two historically well-known horses, Sunspot Revel and Caliente Revel, both premier performance horses and sires. Much has been written about them. Less frequently does one recognize a "Junior" associated with "Revel". However, without "Junior", we would have no Sunspot or Caliente, for he was the sire of Sunspot, and one of his daughters, Revel Ann, was Caliente's dam. As this tidbit hopes to document and explain, Revel Junior deserves far greater recognition in the annals of Appaloosa history.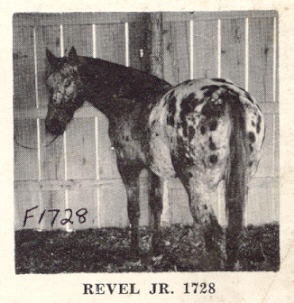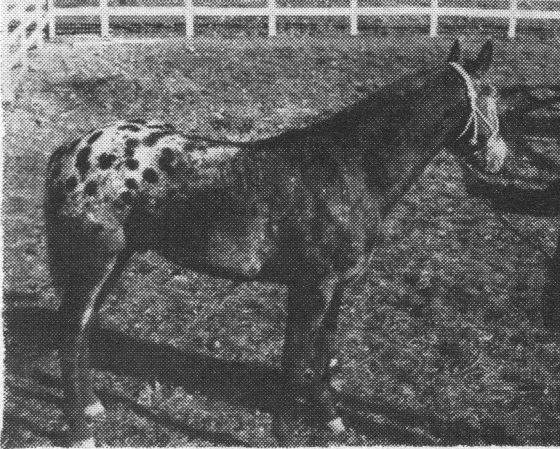 B. The early 1960s were the start of what became the "Glory Years" for the ApHC and Appaloosa. One event in particular helped usher in those years and involved the formation of a historic new relationship between Appaloosa cutting horses and the National Cutting Horse Association (NCHA). Starting in 1961, the NCHA formed an agreement with the ApHC to keep records on the number of points ($) won by registered Appaloosas competing in NCHA-approved open Championship Cutting Horse Contests. At the end of each season/year, the NCHA would determine the high money-winning Appaloosa and award the title, Appaloosa Cutting Horse of the Year. Such an innovation would catapult a regionally well-known Appaloosa into the national lime-light, as both a performance horse and sire.
The Basics:
a.  Revel Junior (usually identified in publications as Jr. but technically Junior), foaled April 26, 1952, bred by the legendary Oklahoma horseman, Roy G.Wood, Chelsea, Oklahoma.
b. Junior had only four owners. While the date is uncertain, Wood sold Junior to Cliff McMurtry, Denver, Colorado. McMurtry was an ApHC National Director (1952-1954) originally from Amarillo, Texas, and one of the founders of the ApHC's Mountain and Plains regional club, eventually serving first on its Board of Directors and later as its President. McMurtry moved to Powell, Missouri, in late 1957, taking Revel with him, and became active in the newly formed Missouri Appaloosa Association. Around spring 1959, he sold Junior to Don Walker, Ozark, Missouri, because, in his own words, "we are now breeding his fillies and can't use him any longer." It was at Walker's farm, Revel's Roost, that Junior started his rise to fame as a cutting horse and sire, having already established a Colorado and Missouri reputation as a champion reining horse. Walker was an established breeder and show exhibitor. In 1965, he decided to cut back operations, hosting his "Revel Jr. Dispersal Sale" in September, 1965. Not unexpectedly, the 13 year old Revel Junior was high-selling horse, going to his final owner and long-time Appaloosa breeder, Jesse Rayfield of Ellington, Missouri, for $5,700.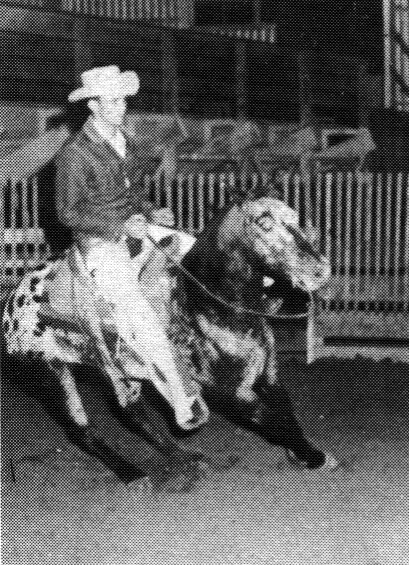 c. The ApHC has no death data for Revel Junior, but we know 1971 was his last breeding season--no foals were registered after 1972. Interestingly however, Revel was offered and sold by Rayfield as one of the stallions in the Appaloosa Reining Horse Association's 1972 Sire and Dam Futurity program.
The Pedigree:
a. All of the 7 registered Appaloosas in Revel's first three generations are "F" or Foundation numbered. The entire sire side consisted of Texas Appaloosas bred by John Harper of Van Horn and Marfa, Texas. The dam side started with a New Mexico and Oklahoma mare. Her top side was founded in the 1930s/40s Appaloosa country around La Junta, Colorado, famous for the "Rocking Chair" bloodlines which eventually produced the dam to Sunspot Revel.
b. Sire: Revel F-773, by Texas Cherokee F-265. Dam: Marbles, F-1727, by Spot F-133 by Antelope, F-132.
[Pedigree chart is at the bottom of this page.]
The select show record:
a.  While in Colorado with McMurtry, Revel Junior was shown 17 times in open reining, winning 15 of them. At the Mountain and Plains ApHC Regional's first show, Estes Park, July, 1955, Revel placed 2nd in halter behind the immortal Patchy Jr. At the 2nd M and P show in 1956, he was pinned 1st in Aged Stallions and won Reserve Champion Stallion. Still with McMurtry but now in Missouri, he won 1st in Trail and 2nd in Ladies Horsemanship at the Missouri ApHC Regional's first Appaloosa show, September, 1958.
[And from Pat Mefferd, a list of his winnings:

1961 NCHA Appaloosa High Point Cutting Horse
1962 ApHC World Reserve Champion Sr. Cutting Horse.
1962 NCHA Appaloosa High Point Cutting Horse.
1963 ApHC National Show Sr. Cutting Horse, placed 5th.
1964 ApHC National Show Sr. Cutting Horse, split 5/6/7/8th.
NCHA COA
NCHA LTE: $680.96

1st Appaloosa to receive NCHA Appaloosa High Point Cutting Horse Award
Incorrectly advertised as NCHA World Champion Appaloosa. The 1961 NCHA World Ch Cut Horse earned 16,688.95 in 1961.
The 1962 NCHA World Ch Cut Horse earned 16,909.56 in 1962.
REVEL JR's entire NCHA LTE was $680.95.
The yearly NCHA World Champion, NCHA Reserve World Champion and Top Ten titles are open to all breeds....PMM]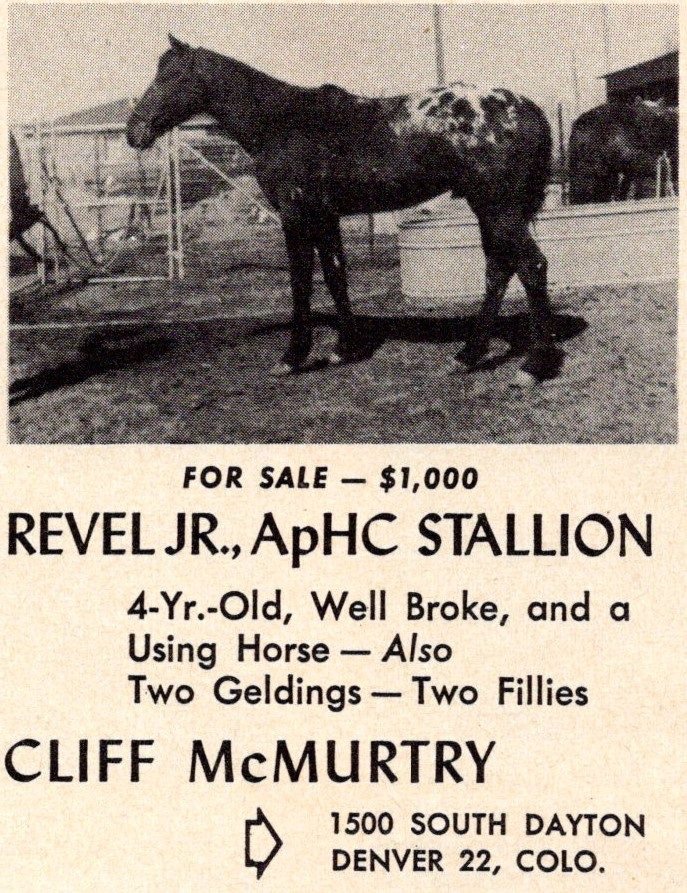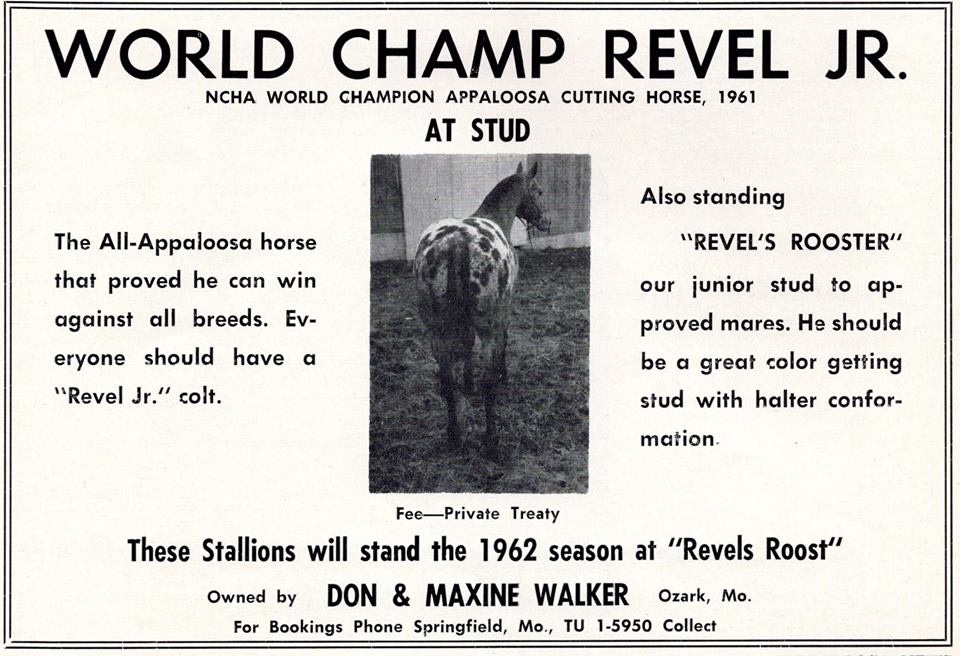 1962 ad
b. Having been sold to Don Walker, Revel was still a reining horse, winning the Southwest Missouri Stock Horse Championship for 1960. The award was based on points accumulated in open show competition. As is often said however, the best is yet to come.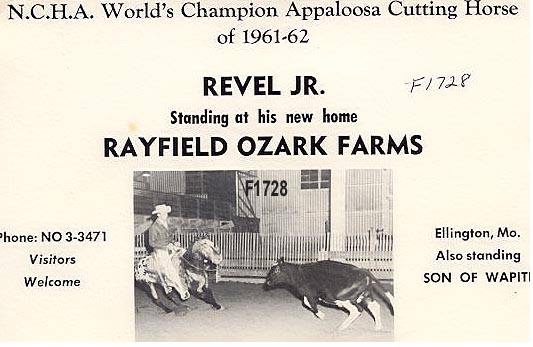 c. Revel was placed in cutting training in late 1960 with noted trainer, Clell Osburn. Osburn had worked only with Quarter Horses earlier in California. Now in Missouri, Osburn spent the year 1961 travelling 30,000 miles on the NCHA cutting circuit, ending the year with Revel being named NCHA World Champion Appaloosa Cutting Horse. The feat would be repeated in 1962. Osburn said it best about Revel: "Like most other people who hadn't ridden on an Appaloosa, we assumed the breed we were training had a monopoloy on cow sense and cutting ability. The first one I trained made a believer out of me. This Appaloosa (Junior) was further along at one of month training than most horses are at six". (Revel Junior and Osburn were featured on the cover of Appaloosa News, February, 1961, and this before Osburn would witness the full cutting ability of his newly discovered Appaloosa mount.)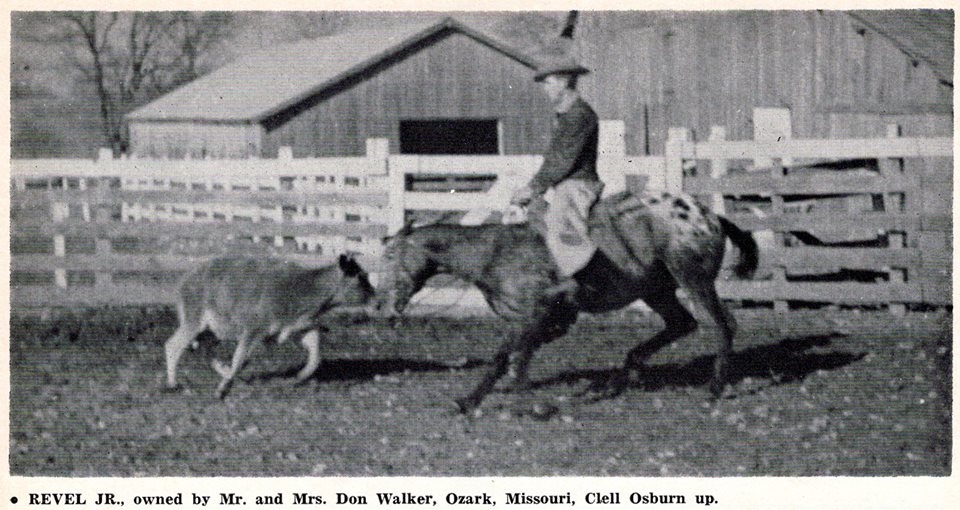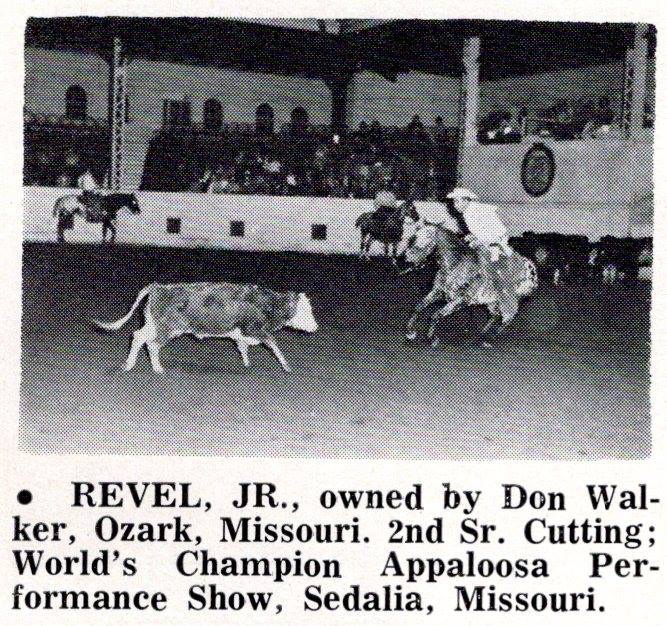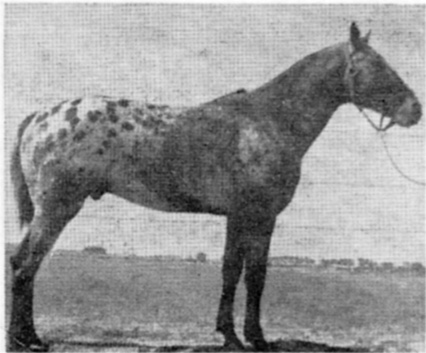 circa 1957
The offspring:
Aside from the previously noted Sunspot Revel and Caliente Revel, Junior produced a host of regional award winners in halter, reining, and cutting. While Revel's Decidely was his only national Cutting Champion, winning the 1971 National Appaloosa Championship in Senior Cutting, the following sons and daughters established Junior's state and regional noteriety: Revel's Promise , Revel's Rawhide, Revel's Red Dog , Revel's Rooster , Revel's Star and Revel Red Fox , only to name a few.
A partial list complied by AT:
Revel's Red Dog T-3293 (1957) Dam: Red Dog mare
References: Appaloosa News 1-65:15, 1-66:89

Shokokon Revel 32025 Dam: Shokokon Squaw Lady 12026
Revel's Decidedly
Revel Ann 16787 mare Dam: Ronie
Reference: Appaloosa News 12-73:72p
Nicholson's Revel Dam: Regina Lou
Reference: Appaloosa News 9-82:46p
Revelene mare Dam: Fawny
Clark's Revelene mare Dam: Clark's Palousa Gal 5652
Wilcliff's Chipewa T-3384 (1957) Dam: McMurtry mare
Buck A Loosa R T-3517 (1957) Dam: Pet
CR Patti Paycheck T-4006 mare (1958) Dam: unnamed
Revel's Star Pepe T-4011 gelding (1958) Dam: Chocolate Gal
Silver Revel T-4661 (1958) Dam: Silver Bell
Janice's Bay Buttons Dam: Scattered Acres Tico
Reference: Appaloosa News 11-74:11p
*Revel's Bear Paw 103936 Dam: Blue Eagle's Papoose 5696
Reference: Appaloosa News 2-77:267

Sunspot Revel F-1904 (1957) Dam: Rocking Chair Sun Dance F-587
References: Spotted Horse 4-79:11, BBF 71#47, Appaloosa News 5-70:8, 2-76:159, 2-75:172, Apr61:46, Oct61:39, 1-73:71, 12-73:55, 1-71:164, 1-72:135, 2-78:90, 3-67:49, 8-68:73, 1-69:115, 3-69:100, 10-69:34, 2-74:186, 2-77:331

Revelous King 80623 Dam: Pooketa F-2895
References: Appaloosa News 11-79:117p, 11-67:66, 2-69:108

*Revel's Rawhide T 63770
References: Appaloosa News 5-75:97, 9-75:29, 12-67:58, 12-69:49
Revel's Sun Up F-1905 mare (1957) Dam: Miss Sundance F-235
References: Appaloosa News 9-71:88
Chief of Sky High F-1950 (1957) Dam: Juanita Rose F-1496
References: Appaloosa News Jan-Feb60:51, Oct61:43, 7-68:24

Southern's Snake Eyes F-2626 (1958) Dam: Miss Sundance F-235
Revel's Rooster (1960)
Reference: Appaloosa News Jan61:15
Revel Red Fox F-2986 (1959) Dam: Pooketa F-2985
Reference: Appaloosa News Jan62:51

Revel's Red Man K F-2987 (1960) Dam: Pooketa F-2985
Pooketa Lou F-3177 mare (1959) Dam: Pooketa F-2985
Kreider's Revel Junior K F-3182 (1960) Dam: Cliff's Honey B F-3181
Revel's Promise F-3183 (1959) Dam: Cliff's Honey B F-3181
References: Appaloosa News 1-65:32, 3-65:54, 1-66:43

Cooterville Two Mama F-4709 mare (1956) Dam: Cooterville Leopard Mandy F-4673
Reference: Appaloosa News 1-65:27
Revel Bee Dam: Molly B
Reference: Sooner NL Oct08:42
Revel Rickle Ell 2 mare
Reference: Appaloosa News 4-80:172p
King Chocolate Revel T-1286 (1956) Dam: Chocolate Drop K T-1285
Revel's Crow Foot 23689 Dam: Coffey Bean
Reveleta 5697 (1957) mare Dam: Princess Irene T-4910
Reference: Appaloosa News 11-67:66p
Cliff's Pride 5973 (1958) mare Dam: Cliff's Racine
Navahoe Jo 6813 gelding (1957) Dam: Matador (mare)?
Chief's Little Dude 6944 (1958) Dam: Speck
Leon's Revelation 8133 mare (1958) Dam: Speck Palouse
---
Picture reference:
Cover, Appaloosa News, February, 1961; cow-cutting with Walker's ten-year-old son;
Appaloosa News, December, 1964, p. 49;
cutting goats, bridle-less, Appaloosa News, October 1961, p. 53
---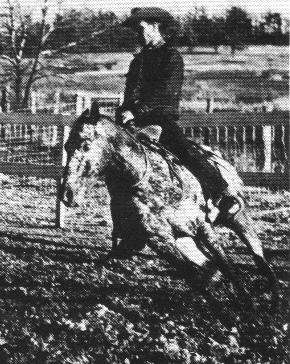 Revel Junior was one of many Appaloosas whose contribution to the Appaloosa industry has gone unchronicled, yet to be fully appreciated. Hopefully, this "tidbit" has given him his just reward. ~Bob
---
Articles from Appaloosa News: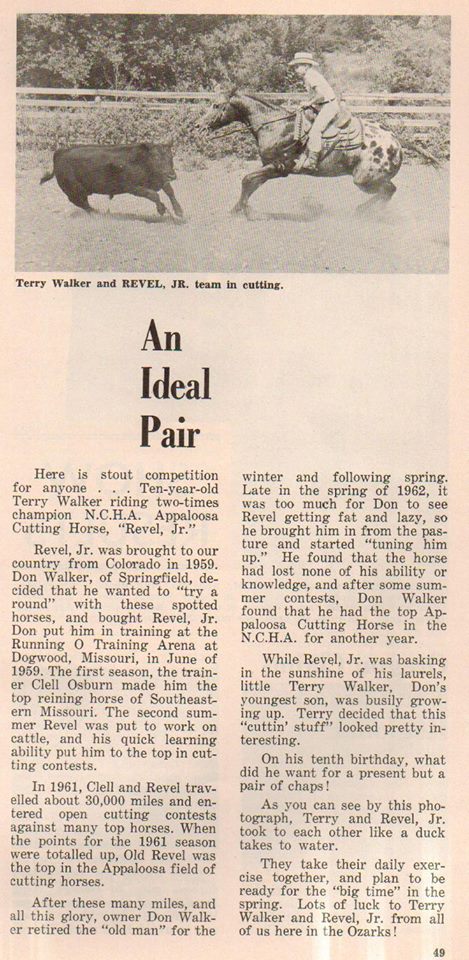 Articles from Appaloosa News
---
Pedigree of Revel Junior
----
unknown
----
Texas Cherokee F-265
----
unknown
----
Revel F-773
unknown
Rainbow F-61
unknown
Flick F-200
unknown
Pequena
unknown
Smoky
Antelope F-132
Fourth of July
Spot F-133
unknown
Stockings
unknown
Marbles F-1727

Dr Howard JC
Mansfield Comanche F-3096
Juanita M
Warzon
[not sure pedigree is correct on Warzon]
----
unknown
----
Top
Back to Appaloosa History Index
March 14, 2006 This page last updated on July 2016. ©2006 Robert Lapp