Appaloosa Territory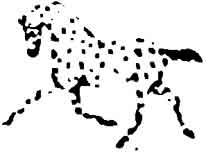 ---
Tidbits: Carson Appaloosas, Witter, Arkansas
Burch Carson of Carson Appaloosas sold us two daughters of Rainbow Rex over several years: Rex's Leopard Joy (bay leopard) and Carson's Miss Rainbow (black leopard). We kept in touch for a number of years afterwards. We made the trip from Pennsylvania to Arkansas twice. Two great horse adventures.
Burch had advertised consistently in the Sundance Newsletter. I had always admired his horses. I had so wanted to buy Rainbow Rex when he was offered for sale, even more so when Burch took us to visit Rex at his new owner's place. What a beautiful stallion. Below are the shots we took of Rainbow Rex, and a few that Burch supplied.
Rainbow Rex #199809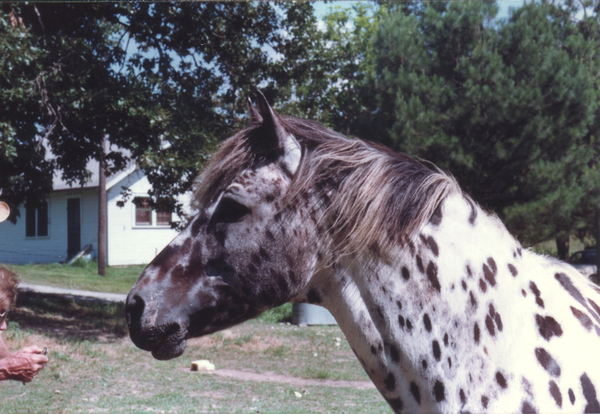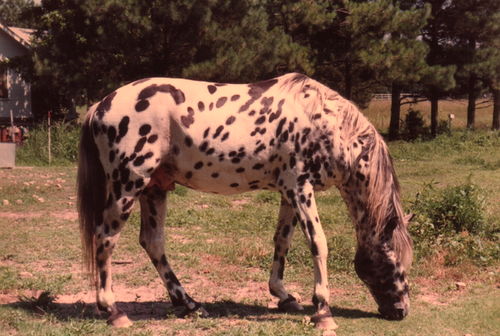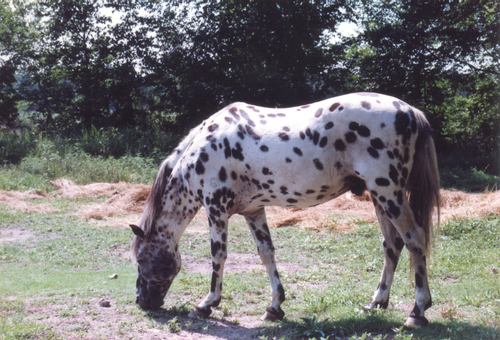 ---
Photos from Burch.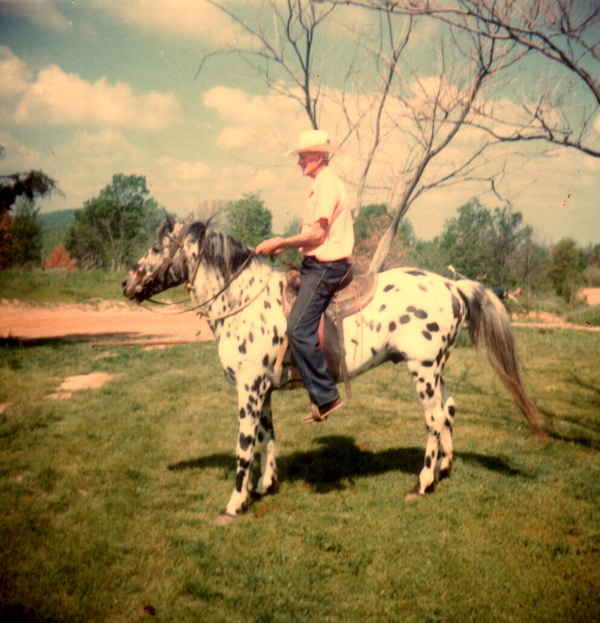 The back of this photo had the following written in Burch's hand: "Rainbow Rex Registered with 3 Horse assn. His bloodline went back to Gen. Grant's 2 leopard studs imported from Turkey and very little kin to the Nez Perce Indian blanket hipped Appaloosas of Idaho. These horses are born with many spots that never change with age. Mostly black spots but some red spots on loins and head. Blue on head and neck. Smartest and best saddle horse I ever owned." [Burch Carson astride.]
This photo labeled: "Rainbow Rex - Tri colored true leopard spotted stud CRHA 1937-N"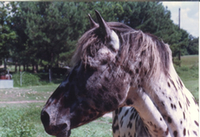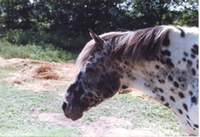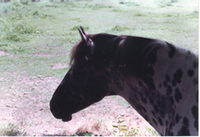 ---
Carson ad that was in the Sundance Newsletter.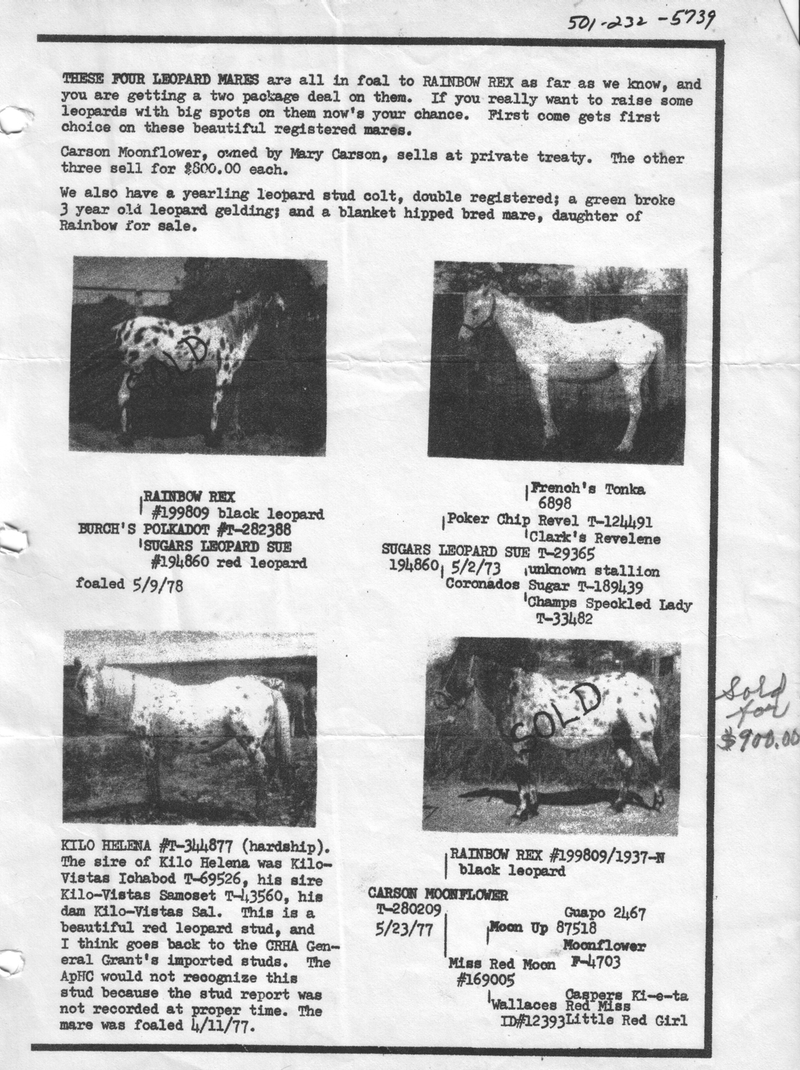 ---
These two Carson mares are the dams of the mares we bought: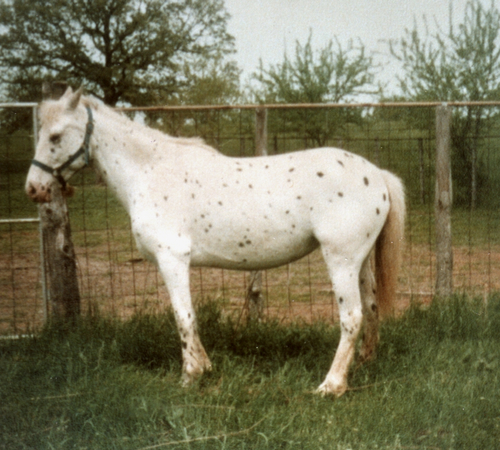 Sugar's Leopard Sue, dam of Rex's Leopard Joy.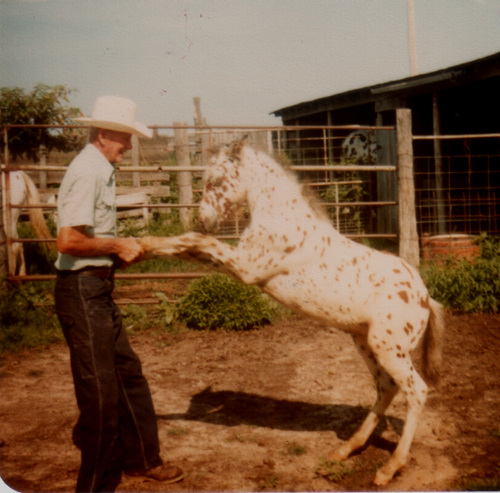 This is Rex's Leopard Joy (at 4 months), daughter of Sugar's Leopard Sue and Rainbow Rex, and Burch.
---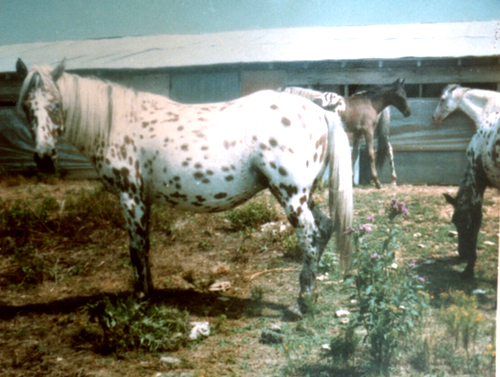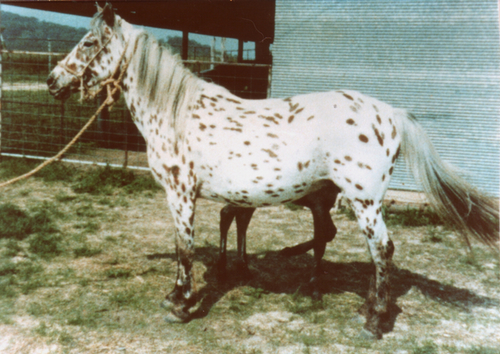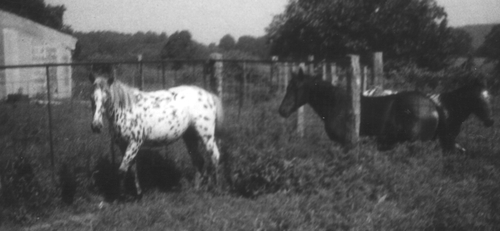 Kilo Helena #344877 (hardship) Foaled 1977. Her sire was Kilo Vistas Icahbod 69256. His sire was Kilo Vistas Sal, a red leopard that Burch thought was CRHA. The ApHC would not recognize this stallion because the stud report was not recorded at the proper time. Kilo Helena is the dam of Carson's Miss Rainbow.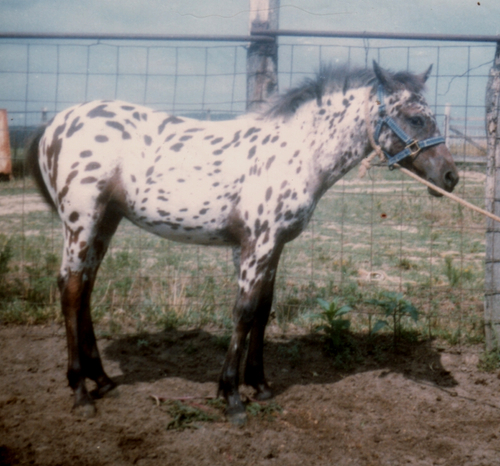 Carson's Miss Rainbow, daughter of Kilo Helena and Rainbow Rex.
---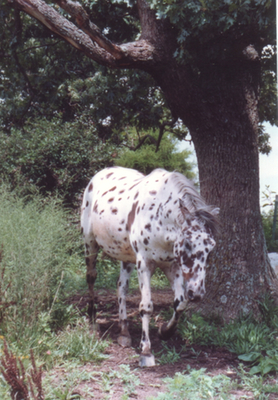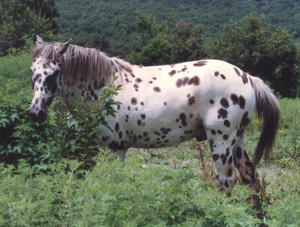 A leopard gelding Burch had, I would assume a son of Rainbow Rex.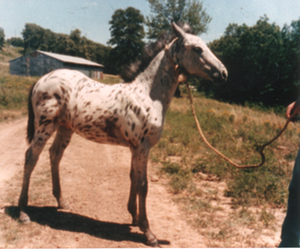 Photo of a five month old colt Burch sent us. Said he was sired by a black AQ out of a Carson leopard mare.
---
Did someone say snickers?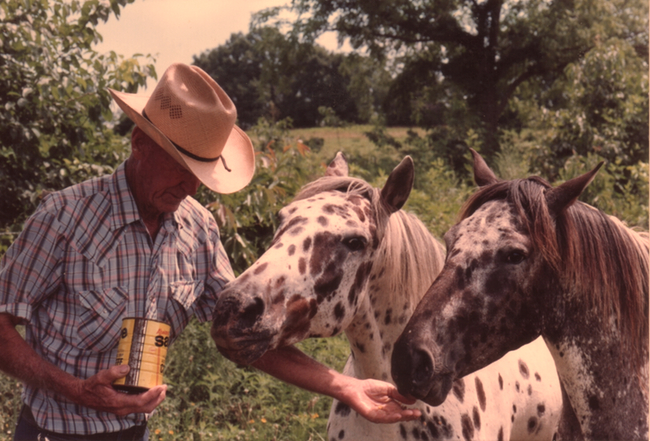 Yummm, snickers.
Burch Carson, a man who loved his large spotted leopards.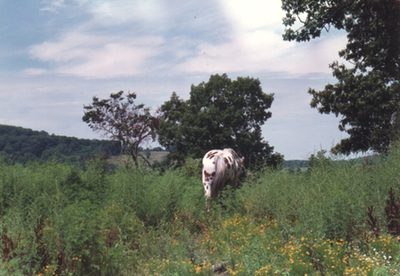 Adios, no more snickers.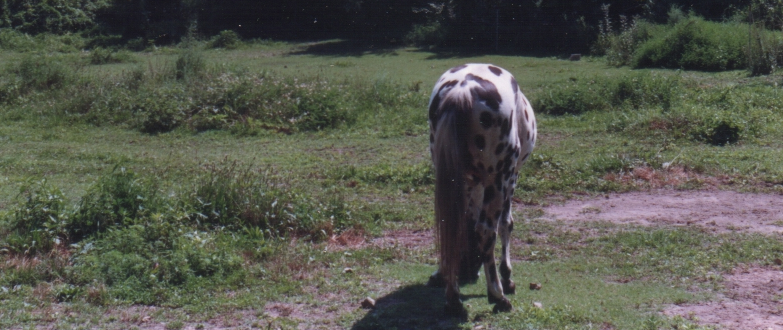 The End
---
---
---
This page last updated January 2013.