Appaloosa Territory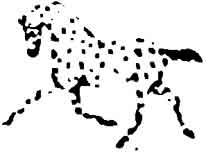 ---
Tidbits:
From Strickland Appaloosas, California: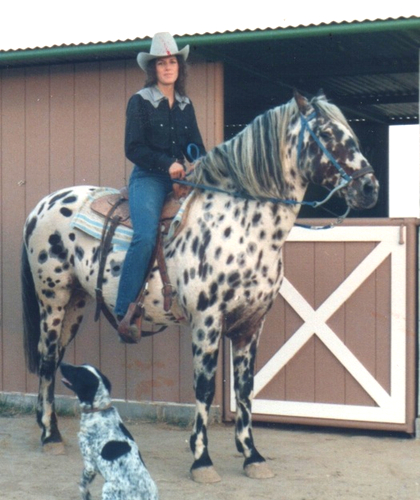 Secret Weapon #100247 with Teri Strickland on board.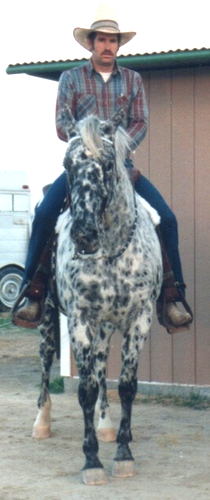 Tumalo Windsong #170451 with Gaylen Strickland on board.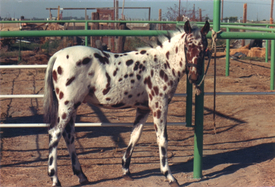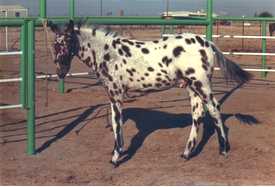 Laser Blast #445709, a 1986 colt sired by Secret Weapon out of Tumalo Windsong, combining Argentine lines with Arab Toswirah Alkhar.
---
---
Also from California, Lise Lee and her mare, Tade Gleska and foal Sara:
Tade Gleska was sired by RH Ghengis Khan F-3204 (son of Siri Sheik F-1833). Her dam was Spanish Leopard (Khangi Gleska), daughter of Bama's Jenks #42154 (Argentine leopard).
(Being a combination of Ghostwind/"Libyan Leopards" and Argentine leopards had my tongue dragging on the ground...)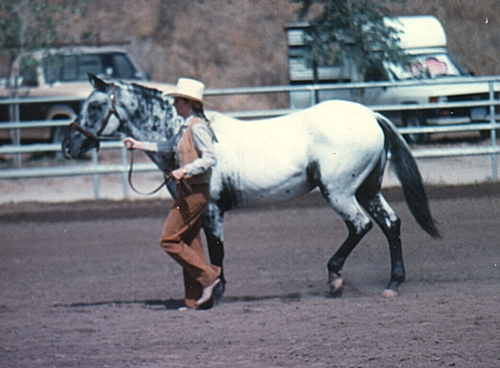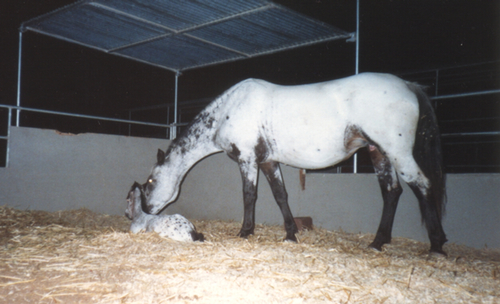 Along came a little filly named Sara.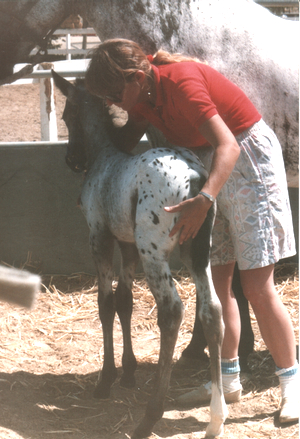 Getting halter training at 4 days.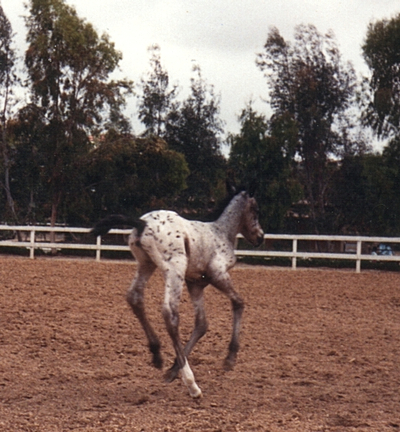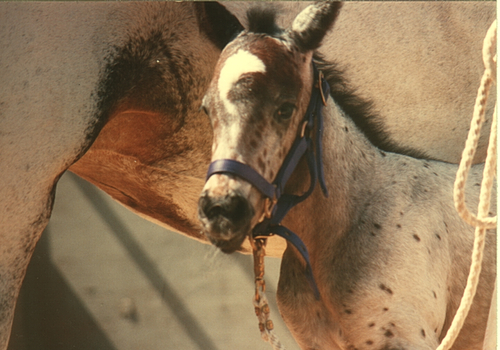 Finding her legs and just looking cute.


And growing...
---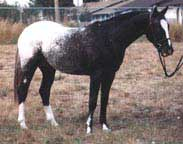 Historical update: As it turns out, Tade Gleska is the dam of JAS Rockin Robin, (pictured above) which makes her a granddam to a whole slew of awesome Appaloosas. (This is a link to just one page, look around their site for Oh so many more!)
---
---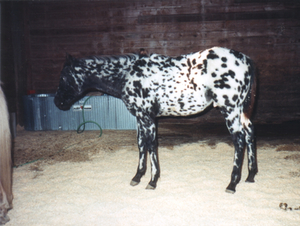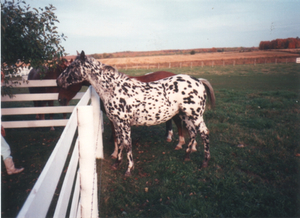 A colt named Chief Barney's Tail at 5 months and 18 months.
He was sired by MJK Silken Shadow. (below)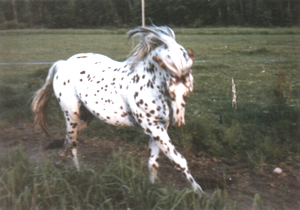 ---
---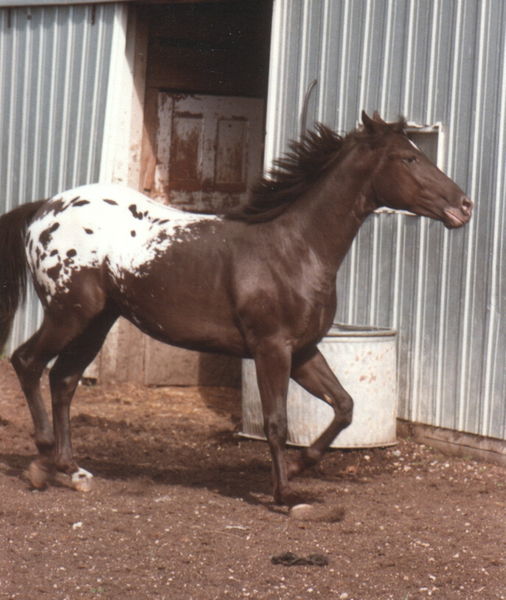 Sonny Dee James from Hiawatha Appaloosas. Yearling photo.
---
---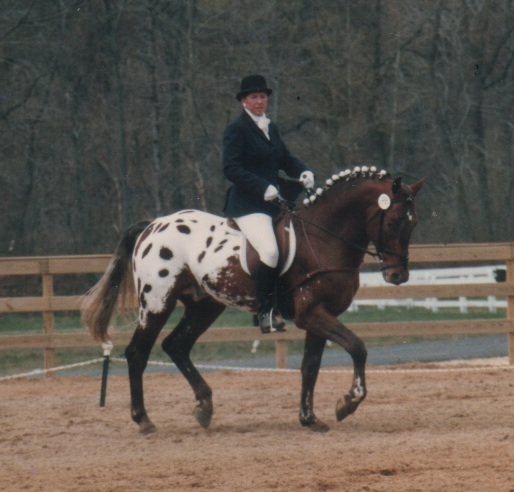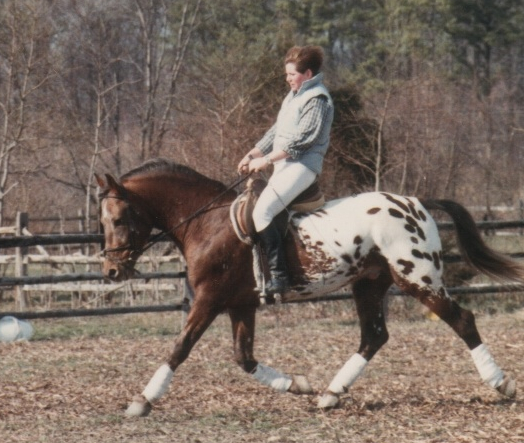 D&J's Stormy Morn, #390509 sired by D&M's Redman. He was ridden by Rodney Grant in Clinton's First Inaugural Parade.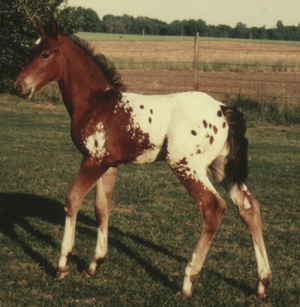 D&J's Bo Duke, brother to Stormy Morn.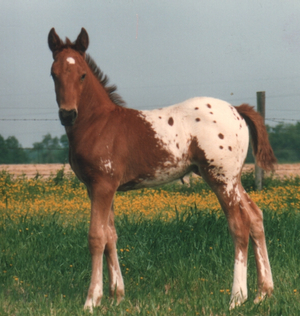 D&J's Image, 1/2 brother to Stormy Morn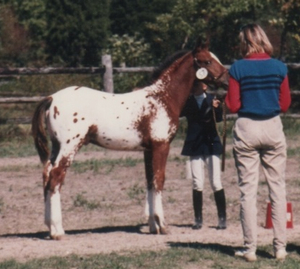 D&J's Heartbreaker, brother to Stormy Morn
---
---
This page updated January 2013.