Appaloosa Territory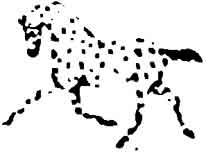 ---
Buckhorn Ranch Photos

Appaloosa Territory is proud to present this album of photographs from Buckhorn Ranch. You will be treated to some beautiful photos if you wait for them to load:


---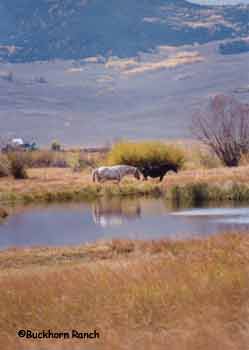 Pasture scene from the Buckhorn Ranch, Gunnison, Colorado.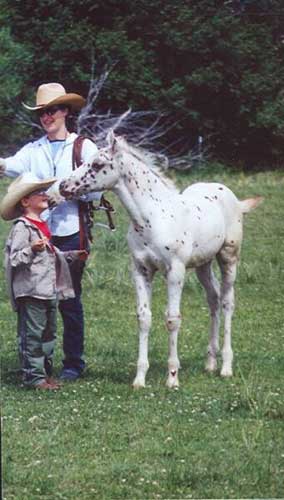 Candy Jr, 2006 colt, by Kline's Candy Saiela out of Flicka Feather.
This photo won the 2006
Sundance Personality Plus Photo Contest
.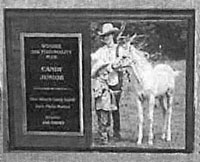 The Sundance award for the photo contest.
---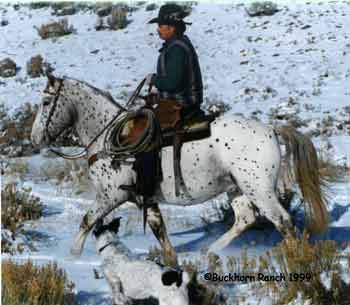 One of my favorite photos of all time: Dave Nelson riding Horse Creek Ranger.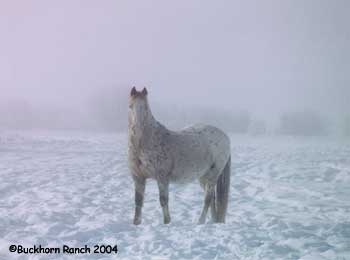 This is Horse Creek Ranger in his pasture, winter 2004. Photo taken by a friend. Jan titled it "Snow Ranger." Very appropriate, and a stunning photo!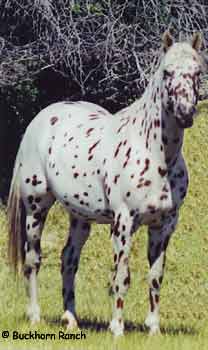 Kline's Candy Saiela (grandson of WOA Sarcee's Candy), herd sire at Buckhorn Ranch.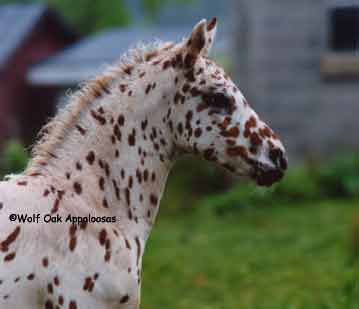 Saiela as a foal. Didn't he have "The Look" even then?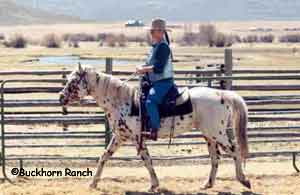 Jan Coury riding Saiela. (Eat your heart out, Easterners!...well I did...I mean, look at that landscape.)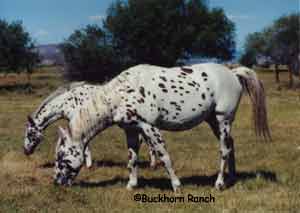 Kline's Candy Saiela and one of his daughters, Penny Candy. Like father, like daughter?
---
Some Saiela "kids"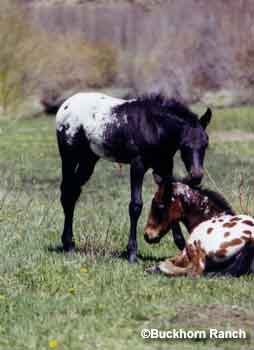 Bluebird Candy (standing) and Candy Twist, now owned by Dana Sciolaro, Missouri.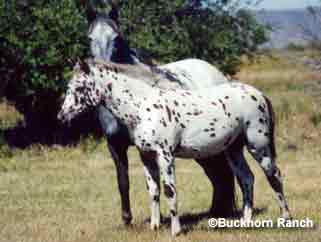 This is Penny Candy and her dam, Prima Kiva. Penny Candy now lives in Texas.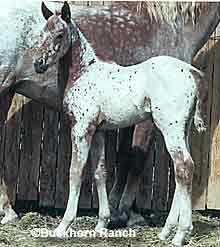 Sassy Lassie Candy - Sassy has been sold to Amber Fasick of Denver, Colorado. Sassy may some day be seen pulling a carriage on the streets of Denver. That will turn some heads. [July 2004]
---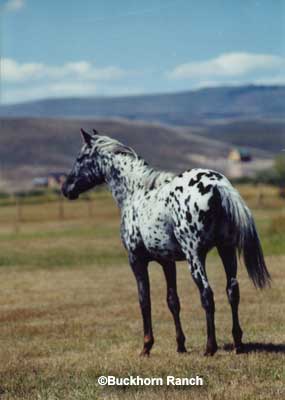 This is Nightshadow Fancy, who will soon begin her training.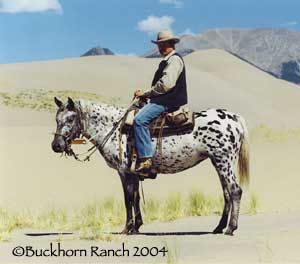 Update, Fancy under saddle in the Great Sand Dunes National Park, with Dave on board.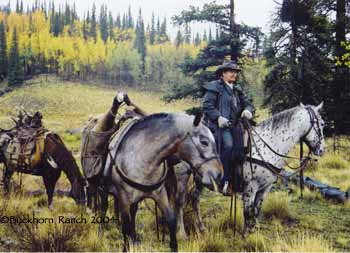 Dave riding Horse Creek Ranger, packing out an elk with Cochetopa Comet.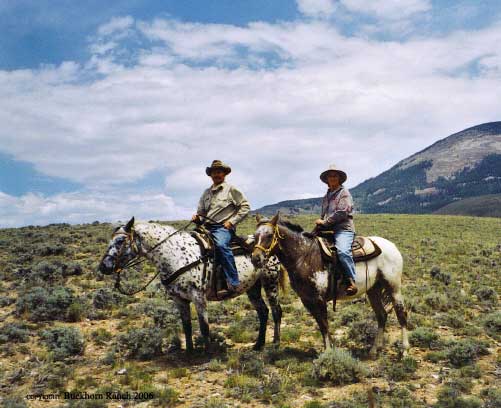 Dave riding Nightshadow Fancy (now 5) and Jan riding Sugar Bars Candy (now 4).
Aren't they some lucky folks!
---
Buckhorn Broodmares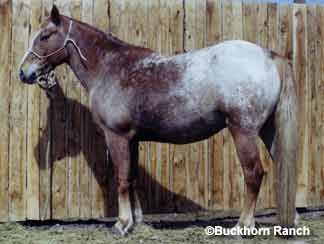 Lady Red Feather, a Candy F-320 bred mare,
one of Buckhorn Ranch's homegrown broodmares.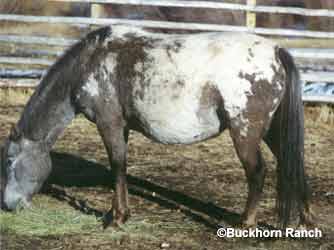 Prima Kiva, another of the Buckhorn Ranch broodmares.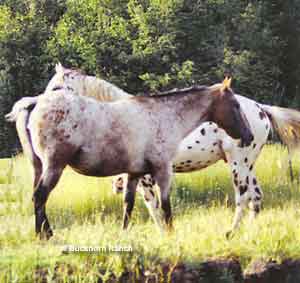 Flicka Feather, another broodmare of Buckhorn ranch.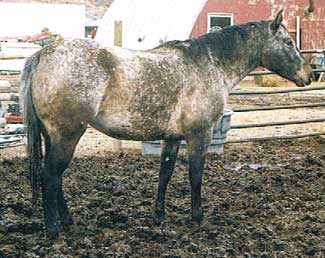 The newest broodmare at Buckhorn Ranch is Price of Color, a daughter of MM Man Of Color, who is owned by Elaine Pierson.
---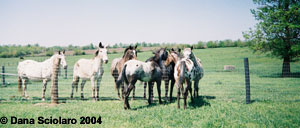 Update on Bluebird Candy and Candy Twist! Dana sent this spring photo of her Appaloosas with the fillies in the foreground. (Note the long eared 'Appaloosa" - second from left.) Nice pastoral scene. We will be waiting for more pictures as the girls grow. Thanks Dana!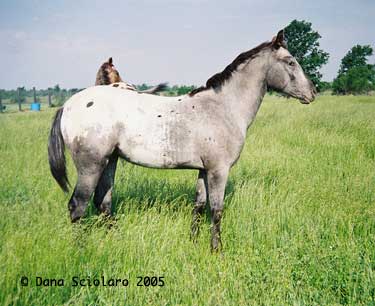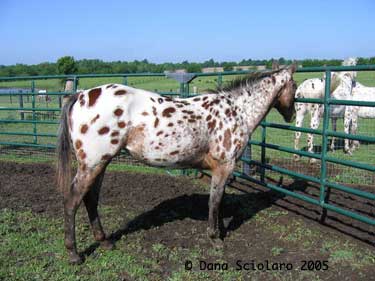 Here are Bluebird Candy (top) and Candy Twist in 2005. Haven't they grown into beautiful young ladies? They are looking great! Thank you for the update, Dana.
---
Most photos copyright Buckhorn Ranch, Gunnison, Colorado, Amber Fasick of Denver, Colorado or Dana Sciolaro, Missouri.
---
Top
Back to Kline's Candy Saiela
This page last updated on April 13, 2007. ©2003-2007 Wolf Oak Appaloosas/Appaloosa Territory/Buckhorn Ranch/Auburn Appaloosas