Appaloosa Territory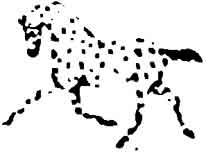 ---
Foals

OBR Constant Sorrow
ApHC, CRHA, SBC pending
2004 colt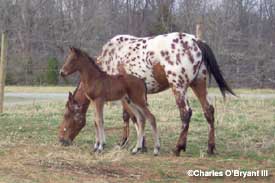 OBR Constant Sorrow is a product of the C3 O'Bryant Ranch. Charles wanted to name a horse "ConstantSorrow" after an old Ralph Stanley Bluegrass tune, and here he is. He also came close to being called Rank Stranger Ð but Charles thought "that" might carry an "odd stigma"... more than odd in my book - Whew! Life is tough enough.
Charles said "Drats" about his color. I said something a little more impolite. But hey, he's a healthy little (bay) bugger (and from such Loud colored parents too...) Anyone have a herd of fewspot and snowcap mares? I do believe he is for sale. Contact Charles if interested. His sire is Candy K Tahintate, his dam is Eastowest Destiny. Pedigrees of sire and dam are available at these links.
---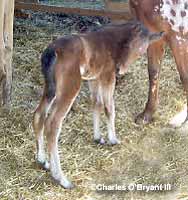 My first look at the new fella at two days old. Yup, he is sho'nuff a "little bay thing."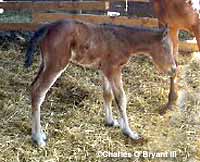 Side view....still a little bay thing.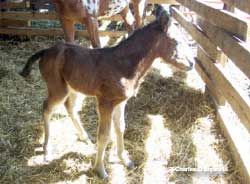 My, this planet is so bright. How is one supposed to see?
---
A week later....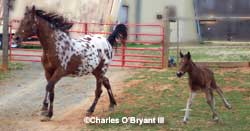 Coming....(Desi and son getting some exercise.)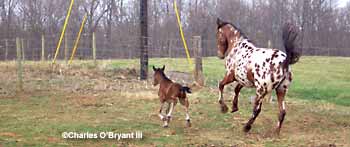 Or going... (This kid can fly...and Mom can show off)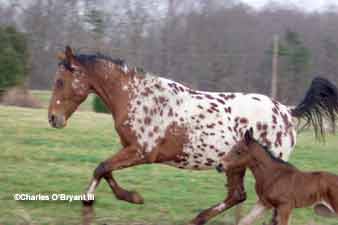 Nice shot, Charles!
He is a cute colt even if he is a little bay thing. (Just grandma talking...)
---
All photos courtesy of C3 O'Bryant Ranch
---
This page last updated on March 6, 2004. ©2003, 2004 Wolf Oak Appaloosas/Appaloosa Territory