Appaloosa Territory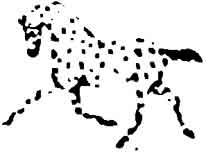 ---
Foals
Micante's Hope of Bay River Appaloosas
2003 filly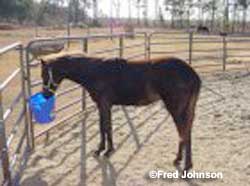 Micante's Hope [My Heart's Hope] is the first result of crossing a WOA Sarcee's Candy daughter, WOA Moriah , to Joecoatofmanycolor, (see him below) the leopard stallion owned by Fred and Sheila Johnson of Bay River Appaloosas in North Carolina. Hope arrived a solid little black filly and she is still a solid black filly, but she has found a home with a little girl, Avery, who appears to be the perfect friend and companion for Hope. I hope they grow up together and have many wonderful adventures together.
---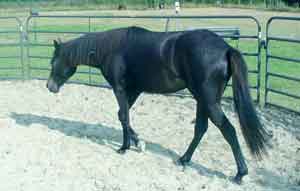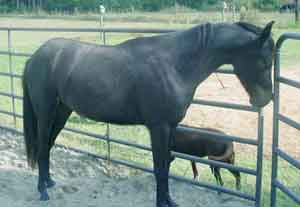 Here are two recent photos of Hope as a long yearling. She is developing into a beautiful young lady. I can see both her dam Moriah and sire Joe in her.
---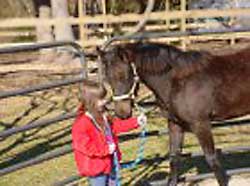 Here is Hope and her new owner Avery.
They look like they enjoy each others company.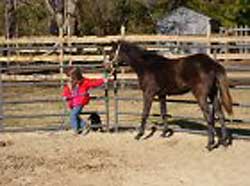 Avery and Hope Ð Going places?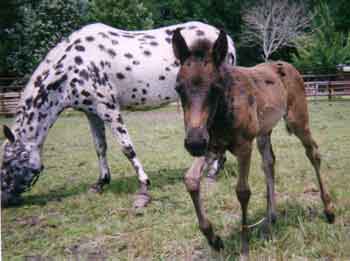 This was Hope in 2003, covered in baby fuzz, with mom Moriah in the background.
---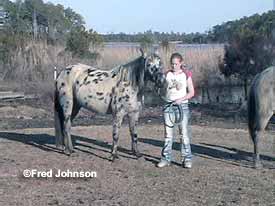 WOA Moriah, dam of Micante's Hope in North Carolina, spring(?) 2004.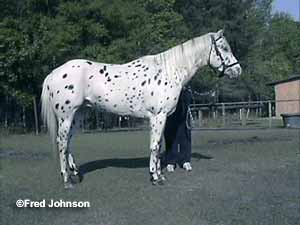 This is
Joecoatofmanycolor
, the leopard stallion owned by Bay River Appaloosas, and sire of Micante's Hope.
---
All photos courtesy of Bay River Appaloosas or Lynn and Avery M., current owner of Hope.
---
This page last updated on March 20, 2005. ©2003-2005 Wolf Oak Appaloosas/Appaloosa Territory