Appaloosa Territory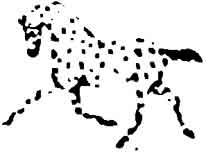 ---

WOA Sarcee's Candy, "Candy"
Candy was purchased from Timberline Stock Ranch
with the aid of a few polaroid pictures in 1984.

Candy, with his white tipped ears, in their 'hootie owl' configuration

Candy on the move

With a little encouragment, Candy loves to make speedy laps in his pasture.


Candy airborne,
photo by Friedrich Stocker.

Candy and Gretchen, early spring 2003.
Photo by Charles O'Bryant.




WOA Sarcee's Candy circa 1991




Ulrich's Many Coups, photo from Don Ulrich

Candy and Many Coups are 3/4 brothers - both sired by Navajo's Candy and out of leopard daughters of Simcoe Sarcee.

Navajo Candy, sire of WOA Sarcee's Candy.
Cover photo from Timberline Stock Ranch Sale Catalog.

Weeping Water and Weeping Willow. Weeping Water is the dam of WOA Sarcee's Candy.

Candy looking regal.
---
This page last updated on January 23, 2004. ©2003-2004 Wolf Oak Appaloosas/Appaloosa Territory