Appaloosa Territory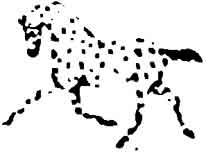 ---
Foals
Candy Revel Rain
ApHC #625831 - 97% FPD
July 2003 filly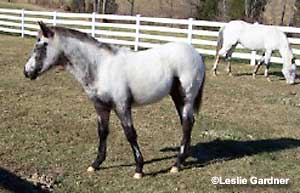 Leslie bought OBR April Wind from C3 O'Bryant Ranch. April was bred to Candy K Tahintate, and produced Candy Revel Rain.
---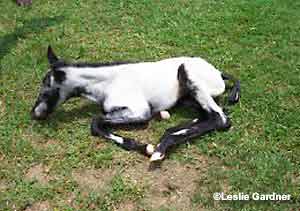 A beautiful bundle of fewspot leopard filly arrived - a jet black filly with two red parents. Wow!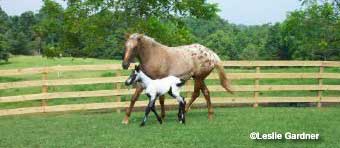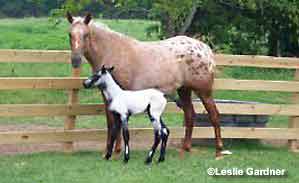 OBR April Wind is a doting mom. Who wouldn't be with such a beautiful daughter?
---
A few months later....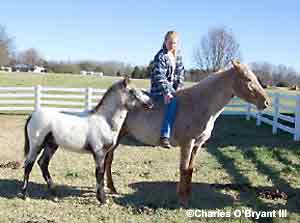 Owner Leslie astride April. Candy Revel Rain has grown.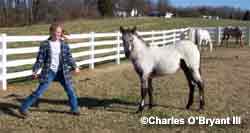 All she wants to do is EAT. (Typical horse...) Does every horseperson recognize Leslie's gyrations trying to get her horse to "pose"? I surely do...been there, done that.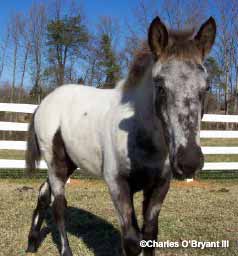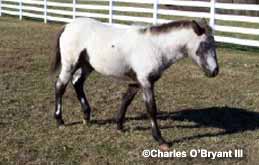 Ohhhh, you want my nose on the camera? I can do that. How's this? Or, I can wander about with my ears flopping and look like a distant cousin... Any better?
---
Several months later...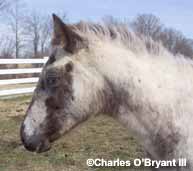 OK, I'm older now, how's this? And you will have to overlook my fuzzy coat. Spring isn't here yet, not even in North Carolina.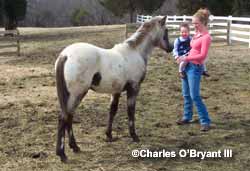 A not so little, little one, meets a very little one. February 2004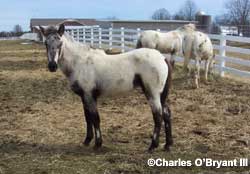 Well here I am, just past my seventh month birthday. [February 29, 2004]
Just wait til you see me in my summer coat!
---
All photos courtesy of Leslie Gardner and C3 O'Bryant Ranch
---
Top
Return to Candy K Tahintate's page.
This page last updated on February 29, 2004. ©2003, 2004 Wolf Oak Appaloosas/Appaloosa Territory