Appaloosa Territory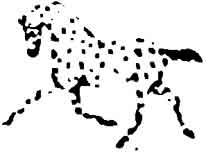 ---
Stallions
Kline's Candy Saiela
Son of WOA Ramblin Candy, grandson of WOA Sarcee's Candy,
full brother to Candy K Tahintate
ApHC #572060, SBC 1204 E, CRHA 5664 O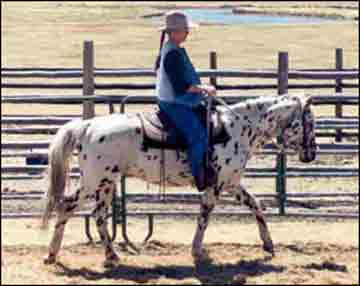 "Saiela" is a part of the Buckhorn Ranch Appaloosa program, located in Gunnison, Colorado.
Owned by Jan Coury and David Nelson, Saiela has been siring awesome foals, shown below.

You may contact Buckhorn Ranch, PO Box 791, Gunnison, CO 81230 or phone 970-641-4114.
E-mail: buckhornapps@aol.com.

The Buckhorn Ranch Photo Album is ready for viewing...Jan takes beautiful photos.


Pedigree of Kline's Candy Saiela
| | | | |
| --- | --- | --- | --- |
| | | | Candy F-320 |
| | | Navajo's Candy #85389 | |
| | | | Crusty T-691 |
| | WOA Sarcee's Candy #440668 | | |
| | | | Simcoe's Sarcee F-1634 |
| | | Weeping Water #121193 | |
| | | | Charlie W Peterson mare |
| WOA Ramblin Candy #502971 | | | |
| | | | Pat's Leopard Chief |
| | | Hydaway's Pat Scat #180445 | |
| | | | Scat Kat JC |
| | Hydaway's Sun Vixen #305669 | | |
| | | | Ibn Jasul AHCR |
| | | Hydaway's Ruafa #170962 | |
| | | | Hydaway's Snow Vixen |
| | | | |
| | | | |
| | | | |
| | | | Heritage Mac #200397 |
| | | Prince Towhee #248189 | |
| | | | Fairview Fanny #248187 |
| | Kline's Prince #314689 | | |
| | | | Shug Bar Bailey AQHA |
| | | Time Will Tell Too AQHA | |
| | | | Turf Bar's Babe AQHA |
| Kline's Blossum #371685 | | | |
| | | | Holy Smoke |
| | | Holy K Smoke #142205 | |
| | | | Tiny's Sugar |
| | Joker's K Blossum #207261 | | |
| | | | Joker's K Moon |
| | | Joker's Moon Girl #142262 | |
| | | | Pipestone Call Girl |
Get of Kline's Candy Saiela
Sunlight Candy CRHA 6073 O - 2001 fewspot colt - Dam: Flicka Feather #580877 - sold to Suzie Jordan, Kansas
Nightshadow Fancy - 2001 black leopard filly - Dam: Prima Kiva
Sugar Bars Candy CRHA 2175 - 2002 chestnut blanket gelding - Dam: Black Sage
Penny Candy - 2002 red leopard mare - Dam: Prima Kiva -sold to Texas?
Tumbleweed Robin - 2002 solid bay filly - Dam: Flicka Feather #580877 -sold to Elaine Pierson
Bluebird Candy - 2003 black blanket filly - Dam: Prima Kiva -sold to Dana Sciolaro, Missouri
Sassie Lassie Candy - 2003 red leopard filly - Dam: Lady Red Feather -sold to Amber Fasick, Denver, Colorado
Candy Twist - 2003 bay blanket filly - Dam: Flicka Feather #580877 -sold to Dana Sciolaro, Missouri
Storm Cloud Ranger - 2004 black fewspot colt - Dam: Prima Kiva -sold to Amy Seglund, Clarkston, Utah
Tumbleweed Billie - 2004 solid sorrel filly - Dam: Flicka Feather -sold to Leah Serrano, Gunnison, Colorado
Flight On Time - 2005 bay fewspot colt - Dam: D White Pearl- sold
Mighty Black - 2005 black colt - Dam: Black Mesa
Tumbleweed Jack - 2005 bay blanket colt - Dam: Flicka Feather- sold to Glenwyn Dawley, Gunnison, Colorado
Sunflower Candy - 2005 red leopard filly - Dam: Lady Red Feather- sold to Meg Goblet, Colorado
3R Wovoka - 2006 Palomino Leopard colt - Dam: Doubly Pretty (AQHA) - Bred/owned by Rick Rignall, 3R Appaloosas, Grand Junction, Colorado (deceased)
Candy Junior - 2006 red leopard colt - Dam: Flicka Feather- sold
Unnamed - 2006 red leopard filly - Dam: Sheza Worry - Bred/owned by Cheryl and Flip Hawkins, Grand Junction, Colorado
Unnamed - 2006 red leopard colt - Dam: Miss Prime Time - Bred/owned by Cheryl and Flip Hawkins, Grand Junction, Colorado
Navajo Snow Chant - 2006 fewspot colt - Dam: Prima Kiva
Price of Candy - 2006 bay fewspot/snowcap filly - Dam: Price of Color - sold
Cinnamon Dixie - 2006 sorrel filly - Dam: Lady Red Feather
Unnamed - 2006 sorrel filly - Dam: Josie Bar Apache AQHA - Bred/owned by Rick Rignall, 3R Appaloosas, Grand Junction, Colorado
Prima Vera - 2007 black fewspot filly - Dam: Prima Kiva
Angel of Candy - 2007 black blanket filly - Dam: Price of Color
Candy Pearlesence - 2007 black fewspot filly - Dam: D White Pearl
Top Gun - 2008 red leopard colt - Dam: Springdale Valentine - Owned by Ray Sansom, Arizona
Native Sun - 2009 bay leopard colt - Dam: Price of Color
Sunlight Candy
Nightshadow Fancy
Sugar Bars Candy
Penny Candy
Tumbleweed Robin
Bluebird Candy
Sassy Lassie Candy
Candy Twist
Storm Cloud Ranger
Tumbleweed Billie
Flight On Time
Mighty Black
Tumbleweed Jack
Sunflower Candy
3R Wovoka
Candy Junior
unnamed filly
unnamed colt
Navajo Snow Chant
Price of Candy
Cinnamon Dixie
Prima Vera
Angel of Candy
Candy Pearlesence
Top Gun
Native Sun
---
Top
Back to Stallion Index Page
This page last updated on May 2, 2009 ©2003-2009 Wolf Oak Appaloosas/Appaloosa Territory