Appaloosa Territory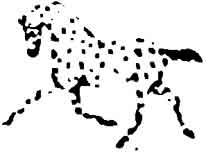 ---
Appaloosa History:
Nansel's Chocolate Sunday #10056
Appaloosa Historical Tidbits # 4 by Robert Lapp
---
Introduction: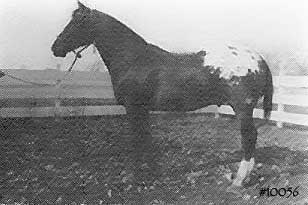 A. It was a gathering of legends--the 4th ApHC World Show, October 28-31, 1964, Sedalia, Missouri. Known then as the World Championship Appaloosa Performance Show (The Play Offs), the 9 events featured horses and people who had already established their place in Appaloosa history. Years later, some of them would enter the ApHC Hall of Fame.  Names like Jack Hennig riding High Time, sire of not-yet-born High Sign (1972); Absarokee Sunset and Bob Hankla; Lloyd Donley and Tem Pop, who would go on to win both National and World Champion Performance Horse titles in 1966; Marge Meisinger on W-M's Copper Dollar, 1962 Nat'l Champion Performance Horse, 1963 Reserve Nat'l Champion Performance Horse and already a cutting legend; Son of Snow Cloud and Lupe Martinez, who had won the 1964 Nat'l Peformance Horse title and would go on to win the World Performance Horse Championship in 1965, 1968, 1969. Though not National or World Performance Horse champions, Chief of Swan Lake, Caliente Jr., Burnside's David M., Revel's Red Dog, came to Sedalia with nationally-established credentials.  Some of the best-ever Appaloosas were present at this, the ApHC's biggest performance play-off to date. The show photographer described it best: "Here was the place to find out if you owned a horse that could take it." The 4-year-old Nansel's Chocolate Sunday, shown by noted North Dakota trainer and champion calf-roper Alvin Gabbert,  took it all, winning World Champion Performance Horse for owners Ruth and Arlo Nansel, Miles City, Montana.  Considering the competition, "Chocolate" as he was called, beat out some of the all-time, best-ever Appaloosas.
B. Nansels knew years earlier that they had a good horse...in the making. It started at the prestigous National Western in Denver, January 1961.  Only the third year for Appaloosas at this infamous event, Chocolate Sunday won 1st place over 67 other entries in the class of Stallions Foaled in 1960.  His sire was there too, Sunday Pants--who placed 5th in Aged Stallions. Denver was an equine family event that year---Chocolate Sunday's grandsire, the great eventual Hall of Famer, High Hand, won Reserve Champion Stallion. From a family of halter and performance horses, only time would tell if this halter baby would ride. And ride he did, early-on too. Shown as a 2 yr. old at a Montana QH show, he placed 3rd in the Open Pleasure class, the only Appaloosa in a class of 40 Quarter Horses.
C. The Nansel family, Ruth, Arlo and son Ron, were long-time Appaloosa breeders from Miles City, Montana.  Long-time is an appropriate label. They started cattle and horse ranching in Montana in 1954, six years after Arlo had completed his D.D.S. degree (Dental) from the University of Southern California and started a dental practice. Now 82 years old, Arlo is semi-retired but still a practicing dentist.  Ron Nansel, a long time open show judge and ApHC-approved judge, now runs the Flying N, raising bulls and hay.  Until just a few years ago, Arlo was still riding, for as Ron said, "he always liked to ride a good horse." Raising Appaloosas a few years before the arrival of Chocolate Sunday,  Ruth and Arlo hosted the first Nansel's Flying N Annual Production Sale around 1963 and continued each year for the next 21 years. The last sale was in August, 1983. With upwards of 75 broodmares, plus foals, yearlings, and two-year olds who Ron had started training, the Flying N was a large-scale horse operation by 1960s/70s standards and produced 60 to 100 sale offerings for many years. This annual sale was one of the longest, continuous running sales in ApHC history. In its later years, the sale featured foals from a Chocolate Sunday son, Chocolate Float, and their new High Hand son, High Pockettes, crossed on Sunday's and Float's daughters. The Nansel horses haltered, performed in the show ring, rode trail, and worked cattle.  Versatile, yes, but because of the Appaloosa temperament, disposition and trainability, especially characteristic of "ole Chocolate".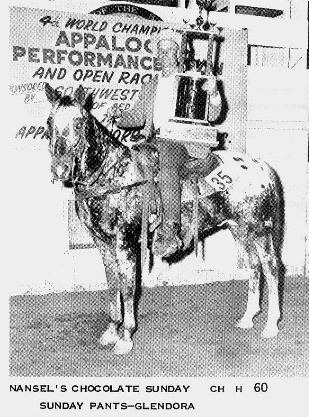 The Basics:
a. Nansel's Chocolate Sunday: not to be confused with the California horse, Chocolate Sunday F-485
b. NCS, foaled June 28, 1960; bred by Jim Devine, Miles City, Montana, owned by Ruth and Arlo Nansel, Miles City, Montana; no other owners, although offers to buy him were always turned down. 
c. Like most of the Nansel ranch-raised horses, Chocolate lived a very long life. He was put down in spring 1987 after suffering complications from respiratory problems.
The Pedigree:
a. Sire: Sunday Pants  T-2509, owned early by J. Devine and sold later to Rocking A Ranch, Pumpville, Texas.  "Pants" was sired by the great Hall of Fame stallion, High Hand (often spelled incorrectly as Hands) by the equally famous, Hands Up.  Sunday Pants himself deserves more coverage as a sire.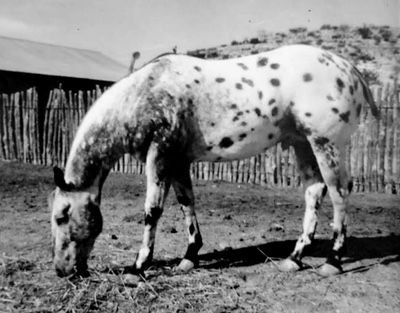 Sunday Pants
b. Dam: Glendora  T-8007, unknown pedigree, owned first by Devine and then sold to Nansels--for many years, one of their best broodmares.  She was a halter and performance mare, many times the winner of Produce of Dam classes.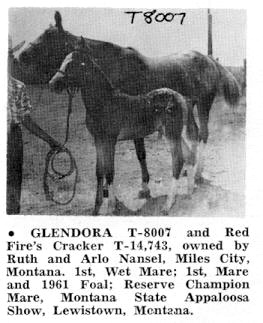 The select show record:
a. "Chocolate", personified Appaloosa versatility--halter horses that not only performed, but were winners in different events. Remember those horses from that 1964 "gathering" in Sedalia: nearly all had been peformance champions in one place or another. And of course, Chocolate bested them all for the 1964 Performance Horse Championship.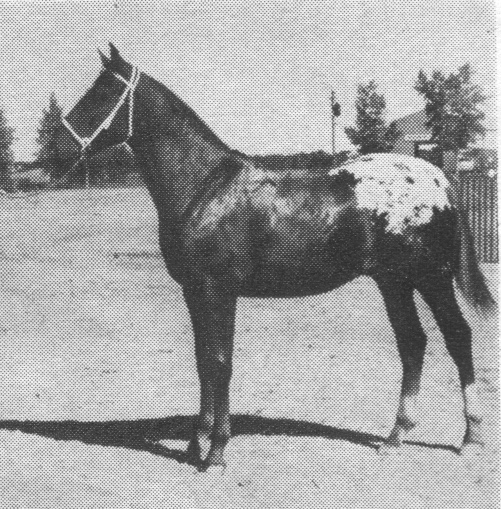 b. At shows throughout Montana and South Dakota, Chocolate was a multiple award winner.  To list just a representative few: Glendive, Montana Spring Expo-1962: 1st 1960 Stallions (10 entries) and GCS, besting older but outstanding stallions, Hubbards Tomichi, Bubson of AA and Carbine of AA. Lewiston, Montana Appaloosa Show-1962: 1st 2yr. old Stallions and went Grand..notably against his daddy, who went Reserve. Shown only 4 times in 1964, GC Performance Horse, 4 times. Hardin, Montana Show, July 1964: GC Peformance Horse, 1st in Cutting, Reining and Trail, 2nd in Matched Pairs (color). Sioux Nation Show, 1964, South Dakota: GC Performance Horse 1st in Adult Bareback, 1st Stump Race, Tied 1st in Calf Roping with Absarokee Sunset, who won Reserve Performance Horse. January 1967, Montana Winter Fair: 1st Reining, 1st Matched Pairs, 2nd in cutting, 1st in Calf Roping, 1st Barrels, and GC Performance Horse. Not to diminish his record nor play on words, he was a "pleasure" to ride!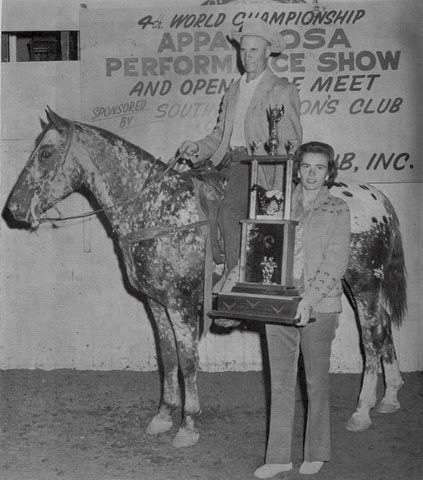 c. Leonard Milligan and Jack Brainard, noted QH breeders and judges, had judged Chocolate and noted his many qualities.....by any, not just Appaloosa standards.
The offspring:
a. Chocolate Sunday produced 131 ApHC registered foals. The first in 1963 and the last in 1978. Most were foaled between 1964 and 1969. 
b. Though Chocolate was not advertised extensively in the App. News, he was a well-known halter and performance horse/sire throughout Montana and the upper Plains states.  Obviously, a 21 year running of the Nansel Sale serves as strong testimony to the quality of his foals and the Nansel horses.
c. Some of the more notable get: race horses Nansel's Chocolate Flakes 68694, Chocolate Float, *Chocolate Tango 54338 (AN3-68:80); show mare *Chocolate Star 68696 (AN8-67:77); the great youth show mare, Nansel's Chocolate Chip 34176; another youth-horse producing mare, Chocolate Gem; the show mare and futurity producer Chocolate Kisses; and one of his last best sons, Billy Sunday One, who won 1st in 3 yr. old Stallions and GCS under all three judges at the 23rd Canadian National Show, Regina, 1980.
[g] Others: Nansel's Sunday Glen 24530, *Chocolate Cowboy's Honey ID 12175 (AN 9-75:87), *Chocolate Topping 43828 (AN12-71:92*, WH6-65:95), Chocolate Made 43827 (WH6-65:95)
Picture reference:
N's Chocolate Sunday
Cover, App News, January 1965; World win pic; AND 9-67:77
yearling, April 1961 p. 45; great pic, 2 yr. old, June 1962 p. 44
Sire pic: Sunday Pants, May 1964 p. 62 AND 10-61:35
Dam pic:  Glendora, June 1962 p. 40. AND 10-61:36
also [g] Appaloosa News 11-70:7, 1-65:91, 1-65:98, 9-65:114, 10-61:34
Nansel's Chocolate Sunday was another of many fine Appaloosas who helped build the breed's reputation and deserves to be remembered in our history. Bob
---
Top
Back to Appaloosa History Index
This page last updated on July 2017. ©2006 Robert Lapp