Appaloosa Territory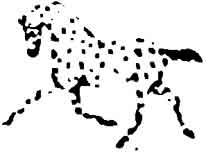 ---
Appaloosa History:
Peggy Davis Gilman and Sundance 500
Written by Peggy Gilman
---
---
"The 1949 Story"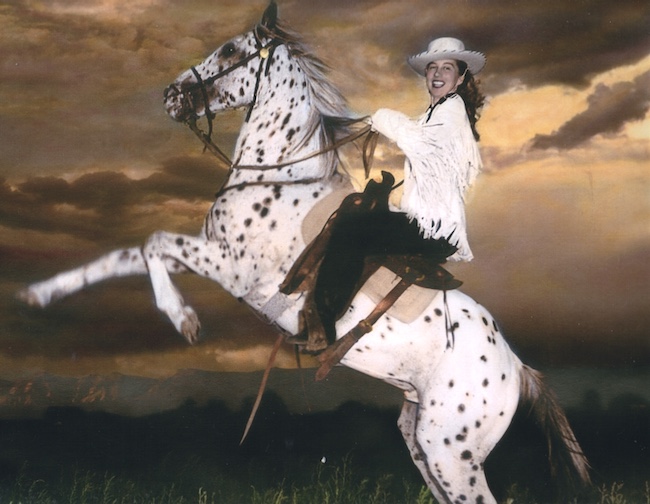 Sundance and Peggy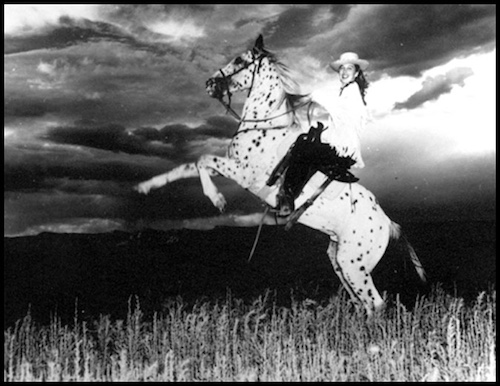 And, as usually seen, the black and white version.
This "1949" story is about Sundance, Ben Johnson, and myself. At that time I was Peggy Davis.
---
"The" Photograph
I would never have written this if I could have found my copy of the Western Horsemen magazine that Ben Johnson had given to my parents and myself back in 1949 or 1950. [If anyone could send this to Peggy, please let me know.] It contained an article written by Ben Johnson with the pictures of Sundance and myself above Ben Johnson's article.
When my step-daughter Nora, learned of my dilemma, help was on the way! She immediately went to her computer, trying to find that copy of the Western Horsemen for me. To date - no luck. However Nora did discover that there has been and still are, Appaloosa horse lovers everywhere, and the bloodline of Sundance is adored and owned with great esteem.
Unbeknownst to me until I lost the magazine in the fall of 2015, I never knew the picture taken of Sundance and myself was printed in so many publications and on display.
This picture of Sundance was taken at the Veteran's Memorial Park, Grand Junction, Colorado, July 17, 1949. Grand Junction and Fruita, Colorado, where Ben Johnson lived, are located in a beautiful valley on the western slope of Colorado.
Also, I would never have known the beautiful legacy that Sundance has left behind for all of us to enjoy in many different ways.
---
Sundance:
My happy memories of Sundance and Ben Johnson go back to July 1949. As of this year 2016, it was 67 years ago. I was 20 years into my life span.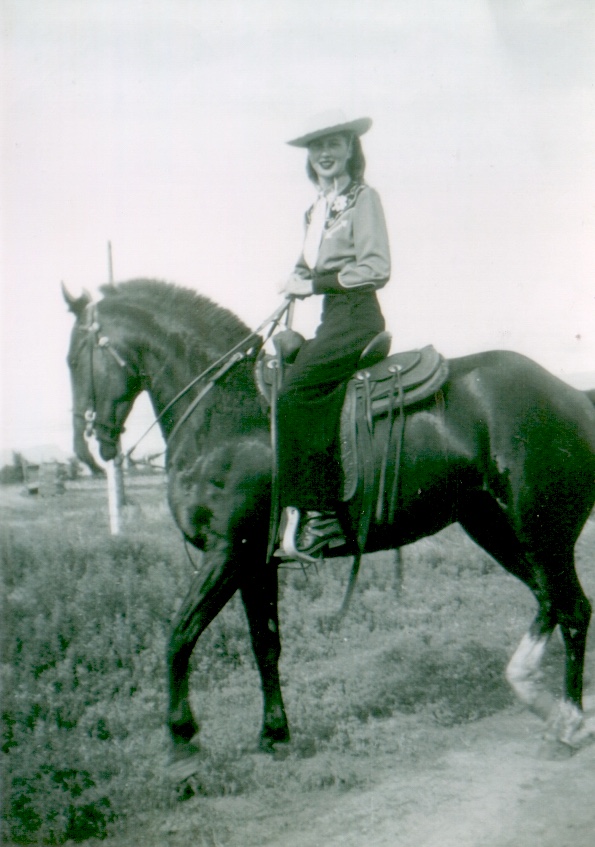 Peggy on Sherry
A Ladies Quadrille Team was being formed to ride in the rodeo to be held in July 1949 at our Veteran's Memorial Park, Grand Junction, Colorado. I became one of the 23 riders in the Quadrille Team. I became acquainted with Ben Johnson when somehow he learned about my mare, that I was riding in the Quadrille Team, had become injured. Ben said he had his half Arabian mare Sherry that I could ride if that would work for me. So, Sherry and I enjoyed practicing and performing together extremely well in the Quadrille Team.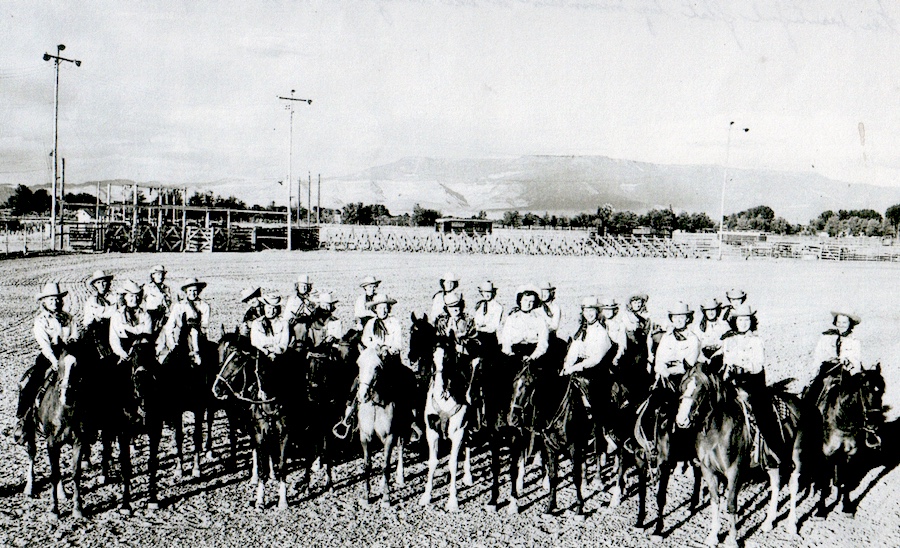 The Ladies Quadrille. Peggy is third from right in the front row, on Sherry.
****
A day or two before the parade and rodeo, Ben Johnson introduced me to Sundance. I had no idea Sundance was such a celebrity. I learned that he had been brought over from the eastern slope of Colorado and was owned - I thought by a doctor - who lived in Brush, Colorado. As most all of you know, Sundance was owned by Doc Edwards and evidently never lived in Brush, Colorado, but in that area. So much for what I thought I knew at the time.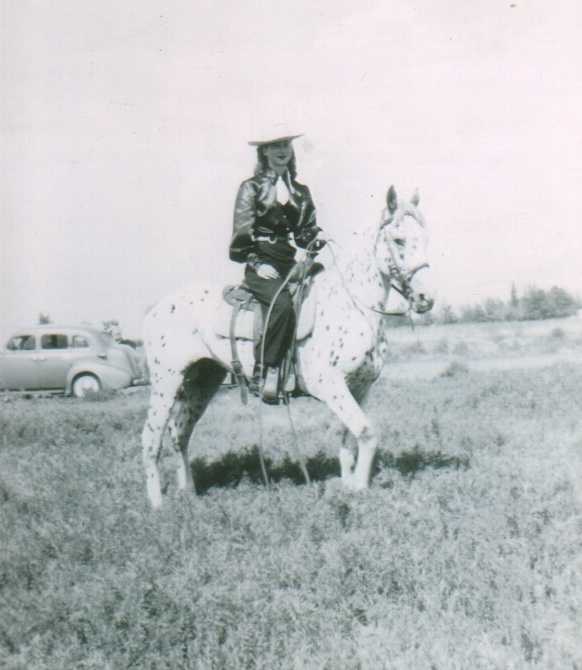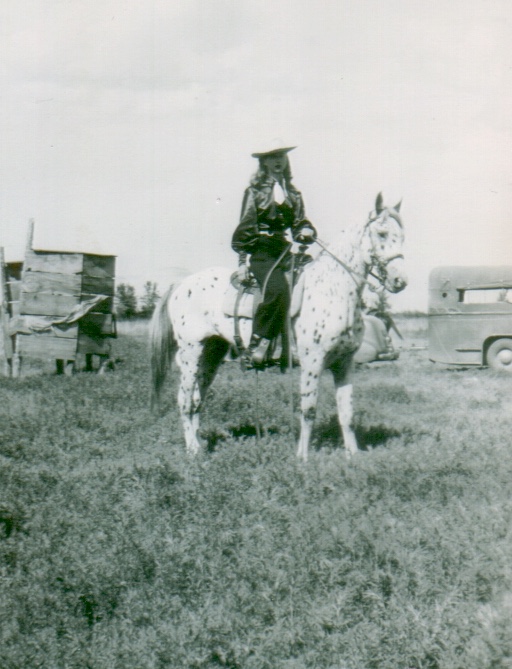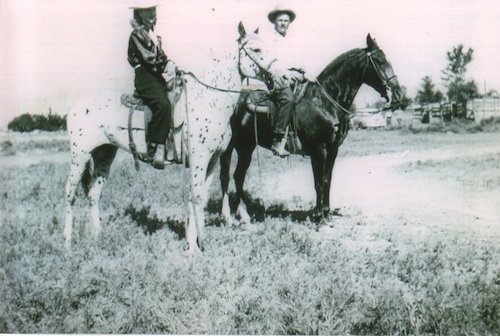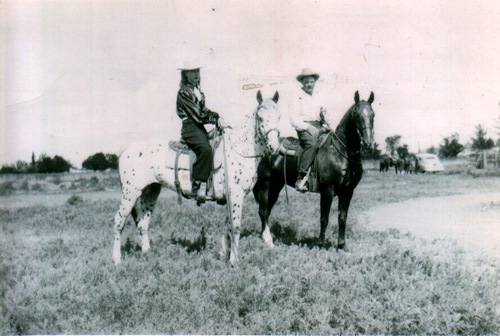 Anyway, Ben got Sundance and myself acquainted with each other. The day of the parade, Ben brought Sundance to downtown Grand Junction for me to ride and show Sundance off. That was my pleasure. Sundance performed perfectly as if we had been in parades together, forever.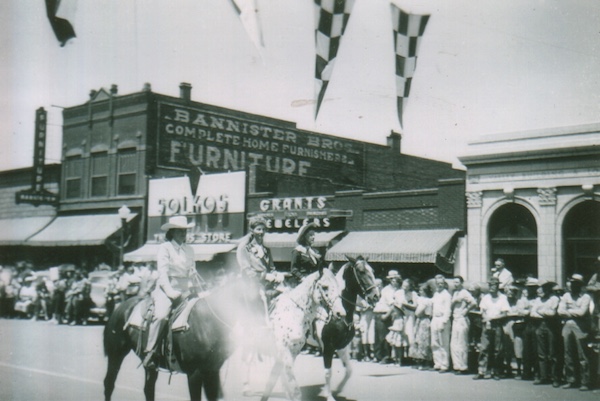 In the background of all this activity with Sundance, the parade and the ladies Quadrille, the story continues with this:
In 1949, I had been asked by the 20-30 Club Organization to represent them for their candidate in the 1949 Rodeo queen Contest. In 1950, the 20-30 Club Organization asked me to be their Rodeo Queen Candidate again. This time, I was the Runner Up for them in 1950, riding Ben Johnson's mare Sherry.
---
Another little side story of mine:
Until about 1952, I continued to ride for my pleasure. I rode the horses that Ben Johnson owned.

I was married in 1951. My husband was not comfortable being around horses. He did consent to go for a ride with me.
Everything went pretty well until we turned around to head for the barn.
You can guess what happened.
I was glad the horse stopped before going through the barn door.
---
Some historical photos ... Peggy's captions.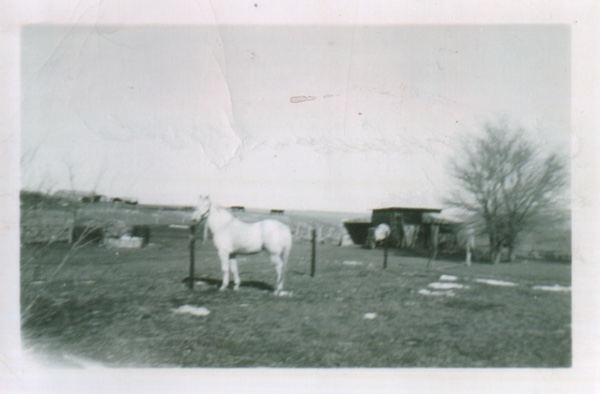 Colomino CRHA [Could not locate this name in the CRHA Studbooks]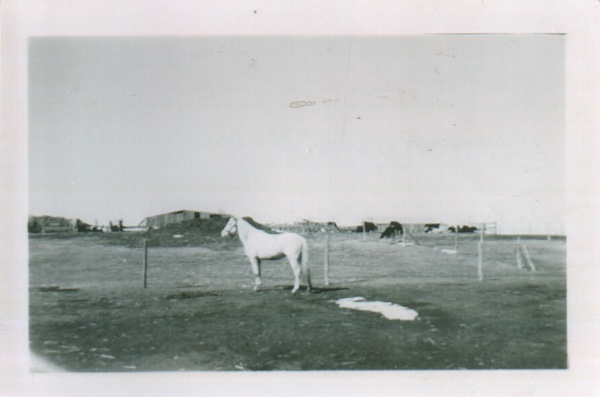 Pancho - TB breeding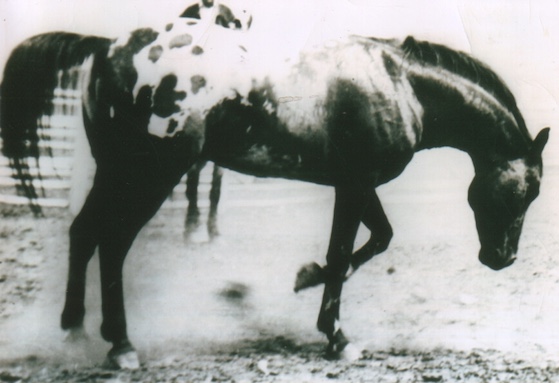 And, of course, Patchy F-416.
---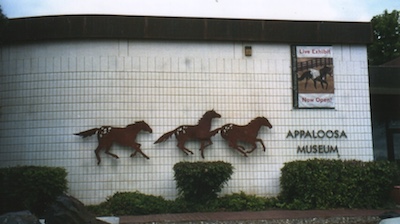 Peggy visited the Appaloosa Horse Club Museum in Moscow, Idaho this past spring. [2016]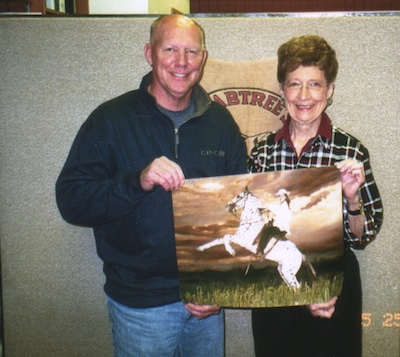 Peggy Davis Gilman and Steve Taylor.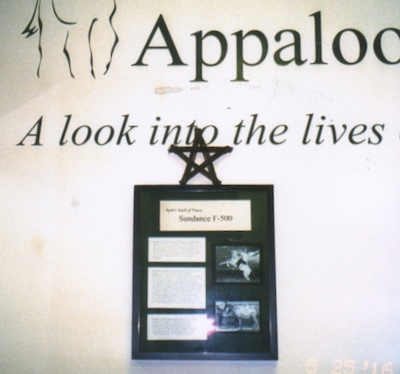 She met ApHC President Steve Taylor and saw Sundance in the Hall of Fame. She donated her original photos to the Museum.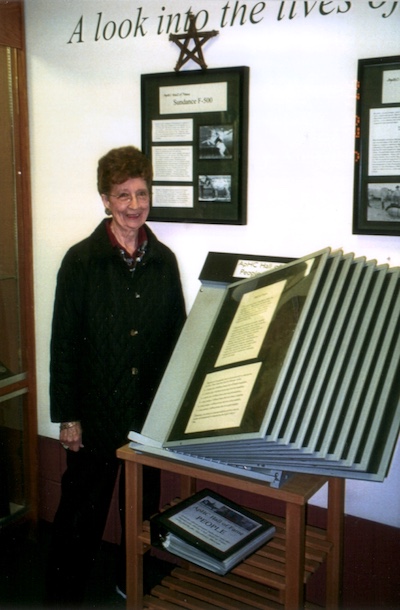 Top
Back to Appaloosa History Index
This page last updated on September 2016. ©2016 Peggy Davis Gilman