Appaloosa Territory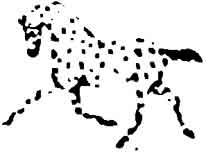 Randall's Silver
---

by Palmer Wagner. This article was originally published in the Appaloosa News: Builders of the Breed: Randall's Silver December 1974:45-46.

---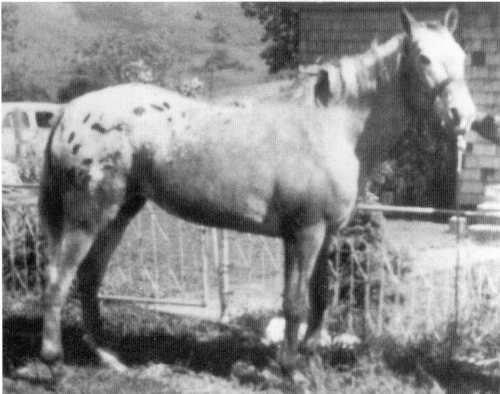 The Lamb Ranch
One of the larger Appaloosa brood mare bands not in Indian hands in 1910 was that owned by Guy Lamb's father.This man was an Appaloosa fancier who valued stamina, quality, performance ability and color. He and his sons took great pride in the appearance of their stock and attracted much attention. Lamb had property near Lewiston, Idaho and Central Ferry, Washington, and ranged horses as far away as the Grand Coulee area and the Walla Walla valley. This operation also attracted the attention of some enterprising horse thieves who in one theft drove off more than 120 head southeastward through the Blue Mountains of Oregon. This had some influence thereafter on more recent breed history.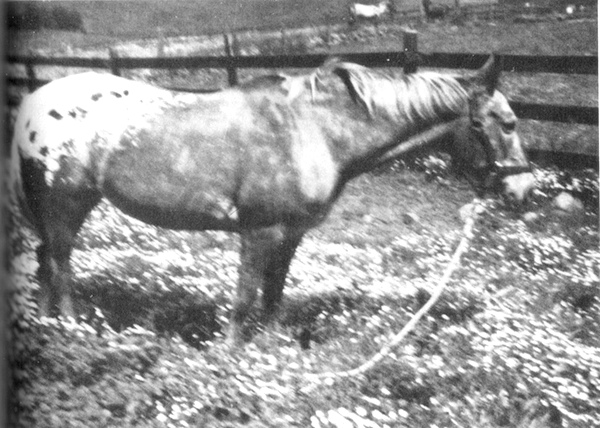 Randall's Silver
Even so, the mare band which the Lambs brought into the 1930s was recognized to be as fine as any in the Northwest. Years later, when the elder Lamb chanced to pass through the Camas Prairie area of Idaho, he came upon Appaloosa mares, aged by then, that bore his brand.
It was in this part of Idaho that the mare, Randall's Silver F-841, who rates as a reference mare, was foaled and matured. Her color was uncommon for a mare and her lines were quite racy for being foaled over 30 years ago. Along with her color and conformation, her tractable disposition was notable. She seemed to like people and her responses were intelligent and cooperative. Because of this, she was used as a pleasure mare for most of her life and produced fewer foals than many other mares her age.
Her real value was assessed late in life, but a study in retrospect emphasizes her value for consistently transmitting her desirable traits through various individuals to her now widely scattered progeny.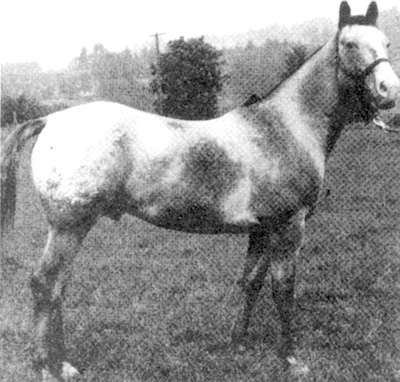 Apache II
---
At age eight she foaled Apache II F-1607, sired by Apache F-730 who was a superior working ranch horse and match race winner in his day. The emphasis on many Apache F-730 matings was for racing performance and, as a consequence, there is a smaller percentage of known brood mares and not so many stock and arena performers as in the direct descendents of Apache II. His dam had quite a bit to do with that.
Among the many notables sired by Apache II are Marcus, Waluks, Northwind's Apache Princess, Apache Joe C, and Kyloe Apache Roco.
---
Marcus, [F-1921], was a small horse that was a threat in any cutting contest he ever entered.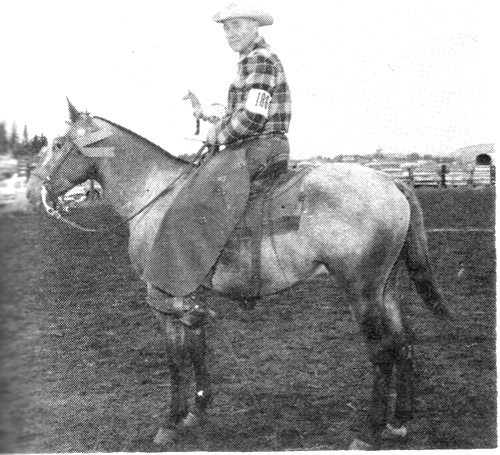 Waluks
Waluks [F-2003] was a plain varnish marked horse especially suited to rough trail work. his appearance belied the strong color genes so obvious in many of his offspring. I recall seeing a bay filly by him with a large blanket and many bay spots out of a line-back buckskin mare. That isn't the easiest way to get such fillies and says quite a bit for the genes of the sire in this case.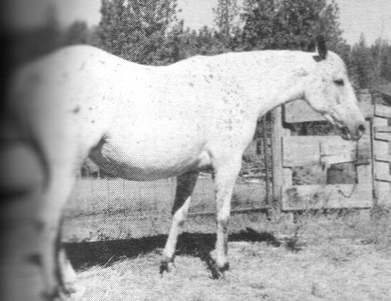 Northwind's Apache Princess
Northwind's Apache Princess [#10763] was a smooth individual much more highly colored than either her sire or dam and was a superior producer of color with five different stallions. [One of her foals is Kuetan's Princess, sired by Artesian Toby's Chief #43571.]
Apache Joe C [T-2872] was an Idaho bred colt of bay roan, near leopard coloration, that made a name for himself as a brood mare sire. He also was developed into a superior arena performance and took many blue ribbons in the coastal area of southern California in the early 1960s. [Three of his foals are Cheetah Besst #33701, Piegan Pemican #11465 and Gem #11464.]
The only daughter of Randall's Silver known to be registered is Robin's Silver Sequoia 23441. [Sire: Robin's Cochise F-2153] To my knowledge the mare has never been shown in a halter class, but several competent judges, on seeing the mare, have stated they'd be hard put not to place her above some better known halter-winning mares in their area were she to appear. Show mares that truly represent their breed should become brood mares and there are some, like Sequoia, who did so without ever being in official competition.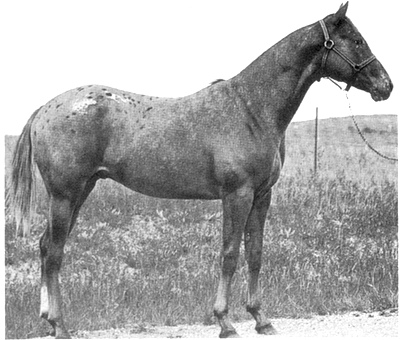 Kyloe Apache Roco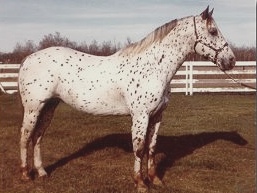 Spinnaker Boone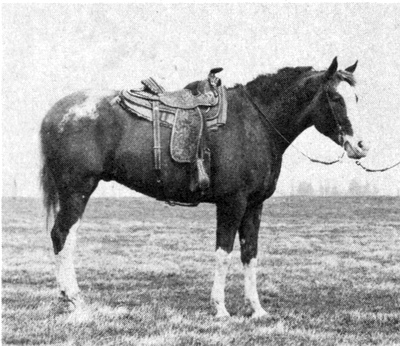 Tori's Apache Gold
In conformation, Sequoia and her foals appear much like Kyloe Apache Roco, [#109328] a son of Apache II [out of Roco Cherry AQ]. [Two of his foals are Spinnaker Boone #188173 and Tori's Apache Gold #143194]. This again bespeaks the over-riding influence of Randall's Silver that qualifies her special attention. Sequoia also has an exceptional disposition and a high percentage of color transmission.
This page last updated January 2015.
---